Back to Events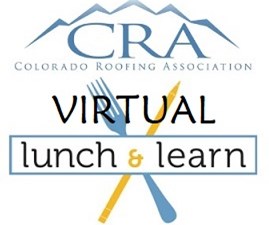 Membership VIRTUAL Lunch - March 2022
MEET. EAT. LEARN.
Thursday, March 31, 2022
* Registration open until 3/31/22 at 12:15 PM ()
Event Details
NOTE TO CRA MEMBERS: IN ORDER REGISTER AND TRACK CIUs, YOU MUST LOG-IN.* (Do not use the 'continue as guest' tab.)
*Once you've successfully logged-in, click the event tab, then view all events and select this Member Lunch from your new dashboard to complete your registration. If you don't know your CRA login, click here for instructions on how to activate/create your account.
---
Membership Lunch | Thursday, March 31, 2022
Email for Beginners: How to set up an Effective Roofing Email Campaign
Presented by Old Town Media (.OTM)
E-mail marketing is a terrific tool when used right. So how do you send an email campaign without becoming a spammer?
We have invited our marketing partner, Old Town Media (.OTM), to present at our next membership lunch and learn to help you understand how to set up an effective roofing email campaign. From setting your goals to using the right targeted email list to message content, timelines and more, this webinar is aimed at helping you build a successful campaign.
Who should attend? This webinar can help benefit a small email campaign by an "estimator" to a larger campaign by a Service Manager all the way to a full scale monthly marketing campaign by a marketing coordinator. Not a beginner... hop on the webinar anyway, you may learn a tip or two you didn't already know!
If any of you has an up front questions or topics of concern, please send Debbie an email with the questions or include them in your online registration and we will try and work the question(s) into the program with the speaker beforehand.
Grab a lunch and join us on March 31st and learn to harness the power of email marketing but with realistic and reachable objectives that don't leave you feeling overwhelmed.
Thursday, March 31, 2022

Virtual Lunch | Zoom Webinar

Noon - 1:15 pm

Cost: Free
Register to attend, by clicking on the "Register Now" link above when registration opens.
(CRA Member CIU's = 2 per person)
For More Information:
Debbie Hathorne
Executive Director
Colorado Roofing Association
---
About our Presenter(s):

Founded in 2007, OTM is an award-winning creative agency with a flair for business. Our team is made up strategists, enthusiasts, and visionaries who are propelled each and every day by the idea of helping our clients grow. With headquarters in Fort Collins, Colorado, our team hails from around the entire United States and works with businesses that span the globe.
More info: https://oldtownmediainc.com
---
** TAKE A-WAY! **
Attending a virtual CRA membership lunches are a great opportunity to take advantage of the good SPEAKERS and PROGRAMS to help your business!
These lunches are a free and quick way to invest in yourself and your TEAM.
---
No Show Policy – Cancellations must be received by Mar 30. No refunds after this date. All attendees who RSVP and are a "no show" are still responsible for payment and will be subject to a $20 service fee.