Member's Area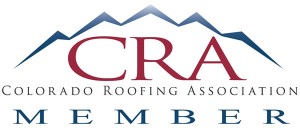 MEMBER ALERT! MEMBER ALERT!
Beware of Scammers who have Claimed to be in "Need of a Roof" using the CRA Contact Us Form
. Click Here for more info.
---
The Colorado Roofing Association is a non-profit organization established in 1978. Our continued commitment is to promote the ethics, education, and image of the roofing industry throughout the State of Colorado.

Our membership includes over 275 roofing contractors, consultants, engineers, manufacturers, distributors, and associated professionals throughout Colorado's roofing industry.
Our goal with the member section of the website is to help you with your roofing related questions and to provide you with information on upcoming events, newsworthy issues, and to educate consumers on roofing issues.
For CRA MEMBERS looking for up-to-date information, use the red button links on this page (i.e., Code Guidelines, Who is CRA, Education, Training, etc).

For information on "What CRA Membership Get's You", click here.

For companies or individuals LOOKING TO JOIN our organization, click here.
---
The success of our association is not without the help and support of our generous sponsors.
Industry Leader Sponsors
| | | | |
| --- | --- | --- | --- |
| | | | |
| | | | |
| | | | |
| | | | |
| | | | |
| | | | |
| | | | |
| | | | |
| | | | |
Level 2 Silver Sponsors