National Safety Stand-Down May 1-5
"Recognizing the fall stand down and remembering lives lost in Colorado"
National Safety STAND-DOWN To Prevent Falls in Construction | May 1-5, 2023
In Colorado, roofers account for 50% of all fall fatalities in 2021.
These deaths are preventable!
---
CRA is proud to participate with OSHA and many others across the country in the roofing and construction industries to promote and recognize the National Safety Stand-Down on May 1-5. The purpose of the Stand-Down is to raise awareness of preventing fall hazards in construction.
Sadly, there were 17 construction fatalities in Colorado in 2021. Of those, 6 were fall related and 3 of those were roofers. Nationwide in 2020, there were 351 construction deaths of which 47 were roofers. These numbers are far too high, and also completely preventable.. The National Safety Stand-Down raises fall hazard awareness across the country in an effort to stop fall fatalities and injuries.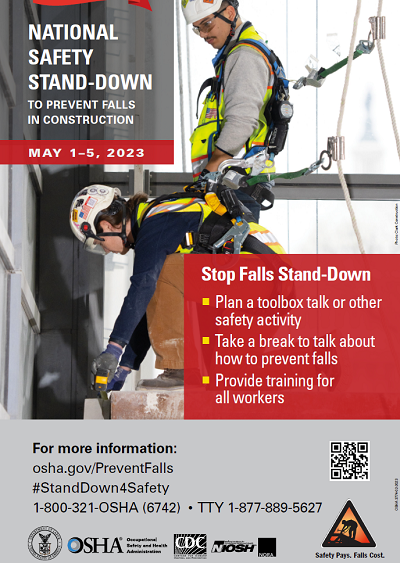 LET'S JOIN TOGETHER, "TAKE A STAND," AND GET INFORMED TO PREVENT ANY FUTURE FALLS FROMHAPPENING!
Here in Colorado and at the CRA, we want to remember and honor lives that were lost, particularly in the roofing industry, and encourage all our members and non-members to participate in the Safety Stand-Down starting on Monday, May 1. Our hope is that you will take a break each day or at least once during the week to have a safety toolbox talk or to conduct another safety activity (i.e., develop a rescue plan, inspect equipment or discuss a specific job hazard).
Steps to Participate
1. First, check out OSHA's National Stand-Down page for the details on how to participate.
2. Next, conduct a Safety Stand Down! Whether it's 15 minutes or several hours of training, please take the time!!!
3. Last, share your story with us and OSHA by email and/or social media.
#StandDown4Safety
Email Debbie Hathorne your story.
---
Tag us in your Facebook & Instagram posts
1. First, LIKE the Colorado Roofing Association on Facebook
2. Next, Write a post from Your Business Facebook Page
3. Last, at the end of the text area of your Facebook post, type @Colorado Roofing Association until you see us appear, then POST so we can re-share your stories.
---
CRA Store
Wear Fall Protection Banners

Send an email to the CRA Office and let us know if you are interested in a these banners.
---
Other Resources for Safety Prevention Information
We thank you in advance for your participation and encourage you to KEEP IT SAFE each and every day, all year long.
Quick Links