AUTHORIZED PROCERTIFICATION™ TESTING CENTER
RCA ProCertification™
PROFESSIONALISM | PRECISION | PRIDE
NRCA's national certification initiative, NRCA ProCertification™, will help create a competent, sustainable and high performing roofing industry workforce. NRCA ProCertification™ provides an opportunity for experienced roofing workers to demonstrate their skills and knowledge to become ProCertified™ roof system installers in specific roof system disciplines; these currently include thermoplastic systems, asphalt shingle systems and roofing foreman.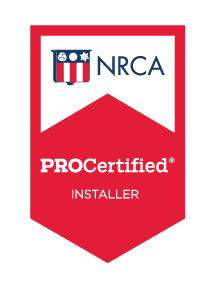 A roof system installer certification is earned by passing a two-part exam:
Part One—Knowledge Exam. In an online exam, participants must answer questions correctly to establish their knowledge.
Part Two—Performance Exam. Participants are instructed to complete tasks to demonstrate their installations skills, including following safety requirements. A Qualified Assessor observes and scores the performance.
BECOME NRCA PROCERTIFIED - INFO & COSTS
---
Authorized NRCA ProCertification™ Testing Center
CRA Training Center | 1660 Jasper St., Unit I | Aurora, CO 80011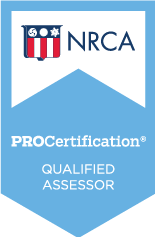 CRA is proud to support this revolutionary industry initiative! CRA's Training Center is an authorized testing location that meets the standard testing conditions for NRCA's ProCertification™ hands-on performance exams. As an authorized testing center, we provide:
Low & steep slope mock-ups that meet NRCA ProCertification™ standard testing conditions
A clean, safe indoor testing environment
Roofing materials, tools and equipment provided for exams
CRA sponsored Qualified Assessor pool to conduct performance exams
Have you completed part one - knowledge exam - and ready for your performance exam?
Here is a list of our CRA Sponsored Qualifed Assessors that can help you and arrange for the testing to be done at the CRA Training Center.
CRA Qualified Assessor Pool List - Coming soon!
---