Habitat for Humanity
CRA/HFH Roof Over Your Head Program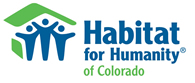 CRA is working with Habitat for Humanity (HFH) of Colorado in our 'Roof Over Your Head' partnership. The goal is to connect local Habitat building projects with contractors, suppliers & manufacturers who are willing to donate labor and materials so that hard-working families across Colorado can have a roof over their heads.
Habitat for Humanity is 'A Hand Up – Not a Hand Out' program, with partner families investing hundreds of hours of their own labor, sweat equity, into building their own home and homes of others. Habit houses are new construction projects, typically with simple roof lines ranging between 13-22 squares. No tear-offs or permits are involved, making the process clean and straightforward. Both GAF & Certainteed have their own partnerships with Habitat for Humanity, which allows for a simple material access process as well!
As of the tenth year of our partnership, the estimated value of this donation is more than $950,000, making the Colorado Roofing Association one of Habitat for Humanity of Colorado's largest corporate partners.
As the CRA continues to further our community service ideals, this is a wonderful opportunity to be involved in something positive and project an image of professionalism and corporate citizenship within our own communities.
If you have an interest in participating in a Habitat project, through a donation of either labor or materials, please contact CRA directly so that we can choose a home in a community and a timeframe that works for you!
A heartfelt thank you to these participating CRA members who have stepped up to help with our "Roof Over Your Head" program
| | |
| --- | --- |
| 4-Corners Roofing & Sheet Metal, LLC | Interstate Roofing |
| ABC Supply Co. | J & K Roofing |
| Academy Roofing, Inc. | Jenesis Roofing |
| Advanced Exteriors | Johnston Construction Services |
| Advanced Roofing Technologies | Kessler Roofing, Inc. |
| American Roofing Supply | Krueger Brothers Construction |
| Arapahoe Roofing & Sheet Metal | Kudu Roofing LLC |
| Avalanche Roofing & Exteriors | M & R Roofing, Inc. |
| B&M Roofing of Colorado | Modern Roofing |
| Beacon Roofing Supply | Old World Roofing |
| Bear Brothers Roofing | Owens Corning |
| Black Roofing, Inc. | Petrali Roofing |
| Bob Behrends Roofing | Professional Roofing |
| Boulder Roofing, Inc. | PRQ Exteriors |
| Brian Pierce Roofing | Reliable Roofing Systems |
| Capital Roofing & Restoration | Reynolds Roofing Systems |
| Certainteed | Roof Check, Inc. |
| Colorado Roof Toppers | Roofology |
| CRW, Inc. | RTP Roofing Co. |
| Denali Roofing | Schroeder Roofing |
| Drexel Metals | Select Roofing Contractors |
| Elite Roofing | SPEC Building Materials |
| Elite Roofing Supply | Stone Creek Roofing |
| Formula Roofing & Remodeling | Superoofs |
| G&G Roofing | Sweet Roofing |
| GAF Materials | The Roofing Company |
| Gold Roofing | Tiley Roofing, Inc. |
| Heritage Roofing | Total Roofing |
| High Impact | Turner Morris |
| Integrity Building & Roofing | Urban Exteriors |
| Rampart Roofing, Inc. | |
| | |
| | |