November 2018 Newsletter
Date posted
November 15, 2018
PRESIDENT'S MESSAGE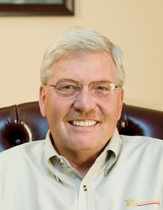 Greetings to all,
It's November 9th and this year is flying by! It was only a few months ago that I was talking about the heat across our state. However, this morning, I woke up at my house in Tabernash to 17 degrees below 0 and 10 inches of snow on the ground that isn't going to melt until Spring. So, Winter is here in the mountains, but I hope the rest of you have a couple more months of mild weather.
On to CRA business. First item… I want everyone to get their Job of the Year project in by November 30th. I realize this may be a daunting task for some of you to collect job pictures and come up with a unique storyline for the job, but the feeling of pride when placing in one of the categories, or even just to have CRA acknowledge one of your projects is a great feeling. TRC has had seven 2nd place finalists and one 1st place finalist in different divisions. Our team is still proud of those awards. Get your submission into Debbie Hathorne's hands by 5pm on November 30th.
The next topic is about the required CIUs, or Continuing Involvement Units. These are the 8 points that are required to maintain your membership with the CRA. If you live too far to take advantage of the many opportunities we have, there are other ways you can gain points. The easiest way is to show community help or involvement with donated roofing projects or safety involvement. There are 47 contractors on the list with ZERO CIUs, and a lot of you are long time, reputable members that we do not want to lose. The Membership Committee and Board of Directors are taking a strong stance in that if you are not involved with the Association at some level, then you are merely using the Association name to enhance your business. CRA is one of the strongest roofing associations in the country, and your member participation has gotten us there. So please, get in and earn those CIUs in the next 60 days!! We have several opportunities in November and December.
I hope to see some of you at our Nov 15 membership luncheon.
Jeff Johnston
The Roofing Company
CRA President
---
THANK YOU to our 2018 Sponsors!
| | |
| --- | --- |
| 2018 Industry Leader Sponsors | |
| A to Z Roofing | GAF Materials |
| ABC Supply Co. | GCP Applied Technologies |
| Academy Roofing, Inc. | Gulfeagle Supply |
| Advanced Roofing Technologies | Interstate Roofing |
| APOC | Johns Manville |
| Arapahoe Roofing & Sheet Metal | K & P Roofing LLC |
| Architectural Sheet Metal & Panels | Malarkey Roofing Products |
| B & M Roofing of Colorado | Moody Insurance Agency |
| Beacon Roofing Supply | Owens Corning |
| Black Roofing, Inc. | Pinnacol Assurance |
| Daly & Black P.C. | Premium Panels |
| CertainTeed | RoofLine Supply |
| Elite Roofing | SPEC Building Materials |
| Elite Roofing Supply - CO, LLC | Tamko Building Products |
| Flatiron Steel | Tecta America - Colorado |
| Flynn Southwest LP | The Roofing Company |
| Front Range Roofing Systems | |
| 2018 Silver Sponsors | |
| Alpine Roofing Co., Inc. | GBS Enterprises Roofing |
| American Roofing Supply | RTP Roofing Co. |
| Boral Roofing | Schafer and Company |
| Boulder Roofing, Inc. | Sheffield Metals |
---
FRIENDLY REMINDER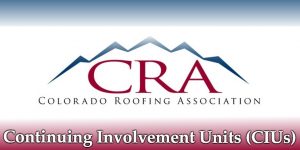 Continuing Involvement Requirement for Members (CIUs ) – We would like to see our entire membership get more involved and to participate in the many association activities provided throughout each year.
We have made it very simple to earn the 8 required CIU credits. The requirement is per company not per person. Please click the link below for our informational CIU flyer and learn how to earn your CIUs. Note: ALL Contractor members must earn 8 CIUs for renewal in 2019. Associate members are encouraged to participate, but are exempt from this requirement.
Click here for a copy of the Continuing Involvement Requirement for Members and see Event Announcements section below for a list of upcoming opportunities to educate yourselves and earn CIUs.
Click here to view the full the 2018 Event Calendar.
---
EVENT ANNOUNCEMENTS
MEMBERSHIP LUNCH | THURSDAY, NOV 15, 2018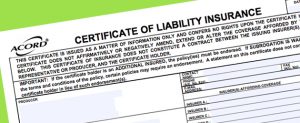 Come for lunch and a FREE* 45-minute presentation featuring: CERTIFICATES OF INSURANCE: Pitfalls, Misunderstandings and Fraud.
What exactly does a certificate of insurance tell you?
What does it tell you about your subcontractor?
Have you ever had trouble with a certificate of insurance?
Has coverage not applied?
What exclusions should you look for in a certificate of insurance?
Many, if not all, of our member contractors use a "subcontractor" at one time or another. It's important that you and your company are properly protected. This lunch is intended to present an in depth look at common pitfalls of insurance certificates and ACORD forms – COI's. Without a valid COI or "correct" coverage, your company and your insurance provider could be on the hook for injuries or losses caused by your subcontractors on your project. So, it's wise to be vigilant and watch for fraud and or lack of proper coverage.
In this 45-minute session, we hope you will gain an understanding as to why your company should care or look at the COI and its endorsements for your subcontractors.
Board Elections are also taking place at the November lunch. A reminder to you that this luncheon is a great opportunity for your company to earn CIUs (Continuing Involvement Units). Lunch Attendance = 2 CIUs per person and admission is FREE for the first two people from each member company.
Thursday, November 15, 2018
The Denver Mart – Forum Meeting Room #1
451 E. 58th Ave (I-25 & 58th Ave)
11:30 a.m.
First 2 Members from Same Company: FREE | 3 or more Members from Same Company: $20: | All Non-Members: $40 | Member CIU's = 2 per person
Sponsored by:
---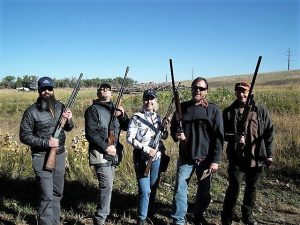 CRA FALL SPORTING CLAY TOURNAMENT | FRIDAY, OCTOBER 12, 2018 | Event Recap & Photo Gallery
CRA's 5th Annual Tournament was a huge success! A little chilly to start the day off, but it turned into a beautiful Colorado day. We had over 140 shooters who took time out of their busy Fall season to enjoy some time off of work for a day of camaraderie and to test their shooting skills and abilities. We want to especially thank and acknowledge our participating members for being considerate and mindful of others throughout the course and for staying SAFE!! Members were treated to a delicious BBQ lunch followed by prize give-a-ways, the announcement of the tournament 1st, 2nd and 3rd place teams and our top two individual men and women shooters. The tournament made over $25,000 and directly benefits our association by allowing us to do a better job of educating Colorado consumers on making informed decisions about replacing their roof and selecting the right professional roofing contractor. Our fundraising efforts would not be possible without the support of our participating members and station, breakfast, and lunch sponsors. A BIG THANKS to our Sporting Clay Committee members for organizing such a great event – Mark Bellitt, Arapahoe Roofing; Mike Kelly, American Heritage; Michael Baker, TAMKO Building Products, Dennis Sowatzke Jr., Drexel Metals and Jeremy Wangerow, Advanced Roofing Technologies. Congratulations and thank you to everyone for a successful day!
Click here for List of Winners, Photo Gallery & Thank you to our Sponsors! <LINKS TO http://coloradoroofing.org/member/member-events/sporting-clay-tournament/2018-sporting-clay-tournament-highlights/>
---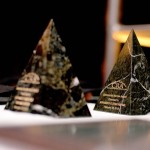 AWARDS DINNER | Call for Job of the Year and Lifetime Achievement Entries
We think the majority of our members can safely say that 2018 has been a good, if not outstanding, year for roofing here in Colorado. Contractors, suppliers and manufacturers continue to stay busy as we wind down towards the end of the year. CRA has started planning and sending out the Job of the Year & Lifetime Achievement applications for our 18th Annual Awards Dinner to be held on February 21, 2019 at the Omni Interlocken Hotel in Broomfield.
Submit your job(s) today! In the past 18 years, we've seen and showcased some incredible jobs and honored several amazing individuals. We can't wait to see the projects completed in 2018. See the nomination details and form links below.
Award Categories
Job of the Year – Job of the Year awards are given to roofing contractors in recognition of their outstanding work. Awards are given based on size of contract. Nominated projects must have been worked on and completed between December 2017 and November 2018. See application for complete details, list of all categories and the entry rules.
"First Timer" Submission– Your company must be submitting a job nomination for the first time in the past 18 years. Based on the numbers of entries received, jobs will be categorized by contract dollar size if necessary.
Community Service – Contractors, material suppliers, manufacturers and other associate members can nominate a worthy charitable roofing project that has benefited a local community or individual during 2018. Please note that projects coordinated as CRA Community Service Projects (i.e., Habitat Roof Over Your Head, etc.) are excluded. Manufacturer/Supplier/Contractor collaborations will be accepted & you can nominate yourselves.
Lifetime Achievement Award– The Lifetime Achievement award is given to an individual in the roofing industry whose contributions have impacted our industry in a positive way. A Lifetime nominee should be an individual who has contributed to the success, development and continuation of the Colorado Roofing Industry. You may nominate anyone who is currently working in the industry, retired from the industry, or is deceased.
Let's make this year's Awards Dinner the most successful yet. All entries must be received by November 30, 2018 by 5 pm (no exceptions!) and judging will be conducted by a panel of roofing industry experts selected by CRA.
CLICK HERE for Job of the Year/First Timer/Community Service Nomination Form.
CLICK HERE for Lifetime Achievement Award Nomination Form.
Interested in sponsoring the dinner? Click here for details.
---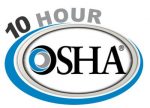 CRA Sponsored OSHA 10-Hour Construction Safety and Health Training (English) | Nov 29-30, 2018
In partnership with Pinnacol Assurance, CRA has scheduled an OSHA 10-Hour Training on Nov 29-30, 2018. The Member cost is only $50.00. You can't beat this price for a day and ½ course with food!! Topics Include: Occupational Safety and Health Act Overview, Materials Handling, Personal Protective Equipment, Fall Protection, Electrical Safety, Health and hazard communication, Hand and power tools, Stair and ladder safety, Scaffold safety and Excavation and trenching safety. Upon successful completion of this course participants will receive an OSHA Construction Safety Health 10-Hour Card. Class registrations will be taken on a first come first serve basis. Class will hold 40 – limit 4 per company. | Member CIU's = 4 per person
---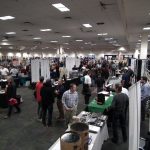 TRADE SHOW | Thursday, January 24, 2019 | Call for Vendors
CRA's trade show is designed to provide an educational exhibit of the equipment and materials used in the roofing and associated industries; to provide a platform in Colorado for exhibitors to meet and network with customers and potential customers on a one-on-one basis; to distribute information on new products and services; and to provide the opportunity for attendees to compare existing products and services.
We are looking for vendors to be a part of the shows continued success. Whether you want to showcase your products and services or build your company image, the 2019 CRA Trade Show is for you. Sign up today for this low-cost opportunity to meet face-to-face with your customers and prospects.
ACT NOW to save money… our EARLY BIRD pricing deadline ends DECEMBER 23, 2018.
VENDORS – REGISTER ONLINE NOW
LINKS TO <http://coloradoroofing.org/member/member-events/cra-trade-show/>
---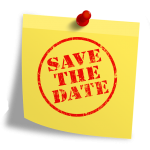 Technical Update from NRCA | Pinpoint Seminar
Tuesday, December 11, 2018. – On December 11th the CRA has invited Mark Graham, Associate Executive Director of Technical Services for the National Roofing Contractors Association, to give a presentation featuring a "Technical Update" for the end of 2018 and beyond.
SAVE THE DATE and look for more details to arrive in your inbox within the next couple of weeks.
---
Click here to view the full 2018 Event Calendar – calendar includes additional event dates, member luncheons, pinpoint seminars, Training Center courses, etc.
---
CODE NOTICES & UPDATES
The following city and/or counties have made updates this past month. Please log-in to the Code Guidelines to see their updates.
DENVER | Green Roof Ordinance Modification Update
On Oct 29 the Denver City Council amended the Green Roofs Ordinance by a 12-0 vote. The new Green Buildings Ordinance replaces the original Initiative passed by the voters in Nov 2017. (Video footage of the council meeting can be viewed here.) The new ordinance took effect Friday, November 2, 2018.
DENVER OPEN HOUSE | Getting Building Permits for Projects under the Green Buildings Ordinance
On November 15, Community Planning and Development (CPD) will host an open house for developers, contractors, property owners, and other interested individuals to discuss the flexible options available for buildings under the new ordinance.
4:30 p.m. – 6 p.m.
Thursday, November 15, 2018
Denver Post Building Auditorium
101 W. Colfax Ave., Denver, CO 80202
Denver Green Building Ordinance website page has up-to-date information.
Elbert County – Effective immediately, Elbert County has switched back to ON-SITE mid-roof inspections. Previously, Elbert was allowing photos for mid-roof inspection and has changed their policy back to performing onsite inspections. Please try and coordinate/schedule your mid-roof inspections accordingly. Click here for current updates from Elbert County Building Department.
Larimer County – The Larimer County Building Division is proposing adoption of the 2018 International Codes with local amendments, to replace their 2015 codes. Developed with the help of a public-private Code Review Committee, the code amendments are going to be heard by the Planning Commission and Board of County Commissioners this Fall, and are proposed to take effect January 1, 2019. If you have questions, comments or concerns, contact Building Official Eric Fried at efried@larimer.org or 498-7705.
---
Have you heard of any upcoming building code changes with any of the municipalities you work with? Please share them with us by emailing the BC&S Committee via Debbie at debbie@coloradoroofing.org.
The CRA Building Code & Standards Committee is tasked to represent our members in code, inspection and enforcement issues related to the roofing industry and to facilitate improved communication between the roofing industry and Colorado Building Departments and Code Officials. Through the Code Guidelines on the CRA Website and in this monthly column, committee members share Building Department news and updates.
---
ITEMS OF NOTE
WELCOME 2 New Members(s)… Arvada Roofing & Home Improvement, 7130 W. 61st Ave, Arvada, CO 80003, Ph: 720-402-8039 (Roofing Contractor – Comm/Res) and Supreme Roofing Done Right, LLC, 14 Inverness Drive E, Ste G-120, Englewood CO 80112, Ph: 303-792-0051 (Roofing Contractor – Comm/Res).
---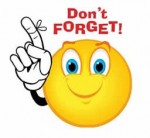 City & County of Denver Occupational Privilege Tax
This has been a topic we have covered in the past and recently a member brought it back to our attention. The member contractor has been doing business in Denver for over 15 years and was recently contacted by the Denver Finance office. He was not aware of the tax and is being invoiced for the unpaid taxes for the past few years. He wants to make sure that other member contractors are aware of this required tax. The City and County of Denver occupational privilege tax is owed on employees who earn at least $500 in gross wages in a calendar month from work done within the city. If your business in not in Denver, but you pull a permit in Denver, you are required to pay this tax during any month you do work in Denver. (It does not apply on months you are not working in Denver). Here is an informational PDF from Denver for construction businesses and the required taxes due within the City and County of Denver.
Denver Tax Guides for Construction, General Contractors and Subcontractors
---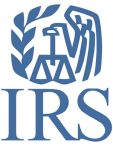 Mismatch Letter Program to Return
The Social Security Administration has announced that it will be re-instituting its W-2 mismatch letter program. Some notices have already been sent to employers, and the program is expected to be in full swing by March 2019. The practice of sending W-2 mismatch letters was suspended by the Obama administration in 2012. Its return provides another indication of the current administration's departure from the policies of its predecessor.
A "mismatch" occurs when an employee's name and social security number provided on the W-2 form do not match with Social Security Administration records. These can result from typographical errors, unreported name changes, or incomplete records, and a mismatch does not necessarily mean that falsification of records or other misconduct has occurred. But when an employer receives a mismatch letter, it needs to act promptly to resolve the discrepancy. An employer has 60 days to resolve issues raised by such a letter. Click here for the full article.
Source: Hendrick, Phillips, Salzman & Siegel, https://hpsslaw.com/.
---
SAFETY SPOTLIGHT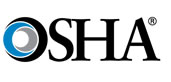 OSHA Clarifies Its Position on Workplace Safety Incentive Programs and Post-Accident Drug Testing
In May of 2016, OSHA published a final rule that amended 29 C.F.R. § 1904.35(b)(i)(iv) to include a provision prohibiting employer retaliation against employees who reported work-related injuries or illnesses. At the time, OSHA's position under the rule was that some drug testing and safety incentive policies might deter employees from reporting work-related injuries and illnesses and, as a result, would be a violation of OSHA's regulations.
On October 11, 2018, OSHA published a memorandum to better clarify its position on these programs. In the memorandum, OSHA stated that it believes "that many employers who implement safety incentive programs and/or conduct post-incident drug testing do so to promote workplace safety and healthy. In addition, evidence that the employer consistently enforces legitimate work rules (whether or not an injury or illness is reported) would demonstrate that the employer is serious about creating a culture of safety, not just the appearance of reducing rates." The memorandum further stated that safety incentive or drug testing policies would only violate 29 C.F.R. § 1904.35(b)(i)(iv) if the employer used those programs to penalize an employee for reporting a work-related injury or illness instead of using them for the legitimate purpose of promoting workplace safety and health.
In the memorandum, OSHA acknowledged that some safety incentive programs promote safety and health. Specifically, the memorandum clarified that permissible safety incentive programs include those programs that reward employees for reporting near-misses or encourage involvement in safety and health management systems. OSHA also stated that rate-based safety programs, which focus on reducing the number of work-related injuries and illnesses, are permissible as long as they are not implemented in a manner that discourages reporting. OSHA provided several examples of measures that employers could take to implement precautions which would avoid the unintentional deterrent effect of a rate-based safety incentive policies. Click here for the examples and full article.
Source: Hendrick, Phillips, Salzman & Siegel, https://hpsslaw.com/.
---
OSHA-Backed Online Training Now Available for Young Workers
OSHA-Backed Online Training Now Available for Young Workers . . . CareerSafe is an interactive online program that provides workplace safety training for young workers between the ages of 16 and 24 prior to starting their first jobs. CareerSafe recently signed a two-year alliance with OSHA to promote safety and health awareness among young workers in such fields as agriculture, construction, and healthcare. Students enrolled in CareerSafe's OSHA 10-Hour Construction Industry training course gain a greater understanding of common workplace safety and health hazards. The course also educates young workers on their rights, as well as the responsibilities of their employers, under the Occupational Safety & Health (OSH) Act. Upon successful completion of the online course, students receive OSHA Outreach 10-Hour Construction Industry course completion cards that demonstrate to employers that they have a safety mindset, thereby giving them a competitive edge in the job market. To receive their completion card, students must satisfy the following OSHA requirements: pass all assessments with a minimum grade of 70% or higher; complete the course within six months from the course enrollment date; spend a minimum of 2 days taking the course; and view and complete all course material, including the course survey. The cost for the CareerSafe OSHA 10-Hour Construction Industry Training is $25.00 per student.
For more information, contact CareerSafe at (888) 614-7233 or visit www.careersafeonline.com.www.careersafeonline.com
---
CRA TRAINING CENTER
Online Enrollment now open for the following training courses. Space is limited; be sure to sign up now!
November 15, 2018 | ROOF COATINGS: This 1-day course is intended for installers of all levels who are seeking in depth knowledge of roof COATING systems as well as learning the types and differences between coatings, damp proofing and waterproofing along with application methods. | Member CIU's = 8 per person | REGISTER NOW FOR ROOF COATINGS CLASS.
Starting Nov 29th – INTRODUCTION TO ROOFING: Our Introduction to Roofing class will expose students to the basics of roofing and teach them what they are doing, why they are doing it and give them an understanding that roofing can lead to several career paths within the industry. 6-day course. | Member CIU's = 8 per person | REGISTER NOW INTRO CLASS.
---
COLORADO LEGISLATIVE WATCH
Mid-term elections are over and we saw record voter turnout! We have NO specific updates to report this month but CRA is ready to work with the new (and old) members of the Colorado General Assembly when it convenes on January 4, 2019 to address any critical issues affecting the roofing industry in Colorado. Feel free to reach out to me if you have questions or hear of other legislation you are concerned about and would like us to follow!
Jeff Johnston
The Roofing Company
CRA President
---
NATIONAL NEWS FROM NRCA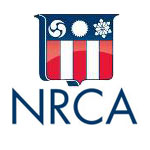 National Update: Worth sharing … from Reid Ribble & NRCA.
As I've traveled throughout the U.S., one thing I've heard a number of times is heavy rains and rough weather are significantly affecting our members. Although damaged roofs mean good business, the pervasive rain in many areas of the country has resulted in lots of pending work and lengthy backlogs. And we know less reputable contractors will use storms as a way to undercut prices and perform shoddy work. NRCA is working on developing a white paper to help you navigate around these issues. It is scheduled to be released later this year.
Roofing Day in D.C. 2019 registration is open! Next year's event will be held April 3-4. Following the midterm elections, April 2019 will be a pivotal moment in setting the government's agenda for the next two years. We need you to help fight for the industry and its initiatives. We strongly encourage contractors to bring one or more standout crew members to help share the industry's story. Congress needs to hear from all segments of the industry, and we're offering a $25 per roof system installer registration price. The inaugural event in 2018 was a resounding success, and we expect an even bigger crowd in 2019. I urge you to register and reserve your hotel room soon—we expect the space to sell out. To learn more, visit www.nrca.net/roofingday.
One of NRCA's biggest government affairs efforts in years involved enacting better tax rates for many of our members who are classified as pass-through businesses. Our Washington, D.C., staff worked hard to get a 20 percent deduction established in the Tax Cuts and Jobs Act of 2017. But now comes the detail work of implementing the law. The Department of the Treasury and IRS recently released the highly anticipated Notice of Proposed Rulemaking (NPRM) governing implementation of this new provision. Upon initial review, NRCA believes the NPRM generally is positive for pass-through entities. As the agencies worked on developing the proposed regulation, NRCA participated in meetings with the Department of the Treasury, White House, and Office of Management and Budget to urge administration officials to ensure the regulation allows for the aggregation of multiple legal entities for the purposes of calculating the pass-through deduction. NRCA is pleased to report these efforts were successful as the NPRM provides for such aggregation. NRCA is working with allies in the Parity for Mainstreet Employers Coalition to review the proposal in detail and will submit comments.
The Roofing Industry Alliance for Progress' goal to create more awareness of our industry among construction management students and faculty is succeeding. Twelve teams will be competing in the annual Construction Management Student Competition, six of which are new schools. Heightening the professionalism of our industry is a key component of NRCA's recently updated strategic vision, and these efforts are part of that vision. It's encouraging to see outside entities engaging with us and participating in record numbers. It all adds up to a more professional view of the roofing industry by the public and construction industry at large.
Have you noticed the price of gas lately? I know I have, but it's not just gas prices that are volatile—material price hikes are being reported across commodities throughout the U.S. The Dallas Morning News recently reported the tariffs in place and coming online with China could equal a $2.5 billion tax on the residential construction industry. Whether because of tariffs, oil politics in the Middle East, truck driver shortages and increased shipping expenses, prices have been going up, and the trends are likely to continue.
This may present a challenge for you to accurately price work slated for after the first of the year. One thing you can consider including in your proposals and contracts to protect yourself is material price escalation language. The National Roofing Legal Resource Center (NRLRC) has developed language you can use; you can find it by clicking here.
Reid Ribble
---
MEMBER BENEFITS & TOOLS
This month's highlighted member benefits and tools
ADVISORY NOTICE: Roofing Contractors Must Not Act as Public Adjusters – Check Your Contract Language
The CRA Board of Directors has issued an advisory with additional information and details about these public adjuster clauses we have seen being used in Colorado that basically state that the roofing contractor may negotiate or act as a public adjuster on behalf of the owner. This is against Colorado's Residential Roofing Law (SB38) and it is required that you must be a licensed public adjuster before you take on this role. Click here to view the advisory.
Concerning Ladder Liability. Help us in educating consumers and concerned citizens about the liability and risks involved with unattended ladders set for inspectors.
CRA Safety Group Workers' Comp Program. Receive a 4%-upfront discount, group or individual loss history dividend calculation and much, much more. Members of the program automatically belong to the CRA Safety Group whose focus is on continuing safety education and training and improving safety in the roofing community. In partnership with Moody Insurance Agency and Pinnacol Assurance. Call Kim Burkhardt. at 303-824-6600 to receive additional information regarding this program.
---
Delivery of the E-Newsletter to Your Inbox
To guarantee delivery of the newsletter to your e-mail inbox each month, we ask that you add Debbie Hathorne to your address book using the following email: debbie@coloradoroofing.org. By adding this address to your contact list, we hope to avoid spam blockers/junk mail folders and ensure your receipt of the CRA newsletter in your inbox each month. Thank you.
---
© 2005-2018 - Colorado Roofing Association