COVID-19 Information & Resources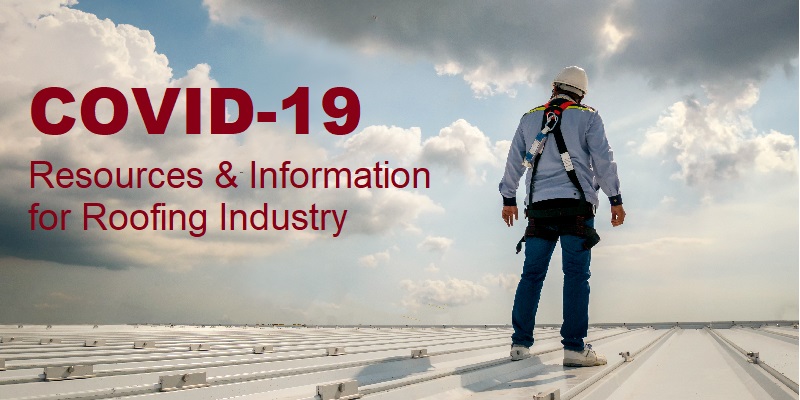 Updated 04/08/2020
Keeping workers and businesses safe!
There is a lot of good information being shared throughout the roofing industry on how employers can make adjustments to their businesses for the COVID-19 pandemic and measures that you can implement to promote and protect the health and safety of your employees.
You can continue to work. Residential and Commerical Roofing fall under the construction classification and are considered an essential service, with a few exceptions like Pitkin, Routt and San Miguel Counties. Please email Debbie if you know of others.
CRA, NRCA and several National and State Associations like ourselves have drafted and delivered letters at the Federal and State level to legislators, making the case that "roofing" be included in any definition of "essential services" at the federal and state level so that our members may continue to operate their businesses. The letter asks the administration to provide clear guidance regarding what an essential industry and essential worker is and makes it clear the roofing industry should specifically be cited in any guidance as essential. Click to view a copy of the letter CRA sent to Governor Polis.
We as an industry are fortunate to be able to continue operating our businesses here in Colorado when so many other businesses have been forced to close. To protect your employees, your customers and the general public, it is imperative that you require your employees to work safely and within the guidelines set up by the Centers for Disease Control and the State of Colorado. We in the roofing industry must follow these guidelines to ensure that we are doing our part to minimize the risk of spreading COVID-19!
Work smart, be careful and we will all get through this together.
CRA Board of Directors
---
Essential Work Hall Pass - Compliments of HENDRICK PHILLIPS SALZMAN & SIEGEL, P.C., here is a draft letter for companies to give to employees who are performing construction services.
---
> > > In addition to the resources below, the National Roofing Contractors Association (NRCA) also has an excellent resource page you should review at as well.
---
Stay-at-Home Orders

Construction Exceptions

STATEWIDE Stay-at-home Order - Gov. Jared Polis issued a statewide stay-at-home order for Colorado. It went into effect 6 a.m. Thursday 03/26/20 and was EXTENDED until April26. Construction continues to be listed as an essential service.

Adams, Arapahoe & Douglas Counties | Tri County Health Stay at Home Order - issued on 03/25/20 effective March 26 at 8:00 a.m. until April 17 at 11:59 p.m. does include commercial and residential construction as an essential service.

Boulder County Stay at Home Order announced on 03/25/20 effective March 26 at 8:00 a.m. until April 17 at 11:59 p.m. does include commercial and residential construction as an essential service.

City of Boulder Stay at Home order announcement 03/ 23/20 does include construction/skilled trades as an essential service. Order in place until April 10.

Denver's Stay at Home order announced on 03/23/20 does include construction/skilled trades as an essential service. Order in EXTENDED until April 30.

Jefferson County Stay at Home Order announced on 03/25/20 effective March 26 at 8:00 a.m. until April 17 at 5:00 p.m. does include commercial and residential construction as an essential service.

Pitkin County (Aspen area) extened their stay at home order issued on 03/23/20 halting residential and commercial construction and site closures until April 17, 2020.

Routt County (Steamboat) - Essential construction services policy is more stringent than the State of Colorado and is effective 03/29/2020, please check out the Covid-19 Construction Site Management Plan Requirements to see if your project still qualifies as essential. There is no end date for Routt's new construction policy.

San Miguel County Stay at Home order extended - amended on 04/02/20 halting active residential and commercial construction in the county effective midnight March 21st until May 1 at midnight. Exemptions are projects necessary to support essential services.

Gunnison County - all construction sites are required to have a written exemption from the Public Health Director prior to operating. If written exemption is obtained, they (carpenters, electricians, plumbers, painters, and other contractors) must adhere to the employees <60 rule, social distancing, screening employees for COVID-19 daily; hand hygiene and sanitation and environmental cleaning. File for a written exemption here.

Building Department Updates

Safety & Health Guidelines

Arvada

City of Arvada - all Arvada facilities will continue to remain closed to the public through Sunday, April 12, 2020 including in-person building permitting and contractor licensing services. Online permitting through arvadapermits.org will be available during this time and they will process permit applications as quickly as possible however, due to reduced staffing, delays should be expected. During this time inspections will be limited to inspections needed to restore electrical and gas utilities and inspections related to new construction. Arvada will not be performing inspections to existing homes during this time.

---

Boulder

Boulder County - New Social Distancing Requirements for all Boulder County Building Permits. Click here view March 25, 2020 notice.

---

Summit County

Summit County - New Social Distancing requirements and protocols. Click here view Covid-19 notice.

---

CISC

COVID 19 EXPOSURE PREVENTION, PREPAREDNESS AND RESPONSE PLAN describes how to prevent worker exposure to coronavirus, protective measures to be taken on the job site, personal protective equipment and work practice controls to be used, cleaning and disinfecting procedures, and what to do if a worker becomes sick. Please feel free to download and save this document and posters below to utilize and customize it as you see fit.

English CISC COVID-19 Exposure Prevention Preparedness and Response Plan

Spanish CISC COVID-19 Exposure Prevention Preparedness and Response Plan

---

OSHA

OSHA offers guidance for preparing workplaces for coronavirus. Resources are available for employers and workers.

Guidance on Preparing Workplaces for COVID-19"

---

CENTER FOR DISEASE CONTROL (CDC)

For further information about Coronavirus, please visit the Centers for Disease Control and Prevention and specifically for Employers the CDC's Interim Guidance for Businesses and Employers.

Training Opportunities

HR & Financial Assistance

Whether you have an employee in quarantine, you've qualified for the paycheck protection aid, etc., we encourage you to use this opportunity for ONLINE training and webinar education to keep workers engaged while not on the job/jobsite or working from home. Check out several resources below:

CARES Act Virtual Town Hall: SRS & NRCA - April 10 - Learn about Paycheck Protection Program and other economic relief programs available to you

GAF CARE Webinars - CARE offers professional, non-biased educational programs to the roofing industry.

RoofersCoffeeShop.com - Several resources available on their Read Listen Watch page - from webinars to articles, podcasts and more. Check it out!

S-5 Metal Roof Innovation Webinars

OSHA 10-Hour & 30-Hour Online Training

Dept of Labor (DOL)

Fair Labor Standards Act and job-protected leave under the Family and Medical Leave Act.

Families First Coronavirus Response Act | Paid Sick Leave Notice POSTER- All employers with fewer than 500 employees must display this new poster in a conspicuous place in the employer's main office.

---

SMALL BUSINESS ADMINISTRATION


The Small Business Administration provides low-interest disaster loans to help businesses and homeowners recover from declared disasters.

Economic Injury Disaster Loan Program

Colorado SBA branch: www.sba.gov/offices/district/co/denver

---

U.S. Chamber of Commerce

HOW TO FILE FOR A LOAN - The U.S. Chamber of Commerce has created a guide to help small businesses and self-employed individuals prepare to file for a loan. This guide provides questions you may be asking - and what you need to know. Click here to view the guide.

---

IRS

Tax Deadline for Individual Returns Extended to July 15 - the Treasury Department and Internal Revenue Service announced that the federal income tax filing due date is automatically extended from April 15, 2020, to July 15, 2020.

---

Other Key Colorado Links

Colorado Department of Labor and Employment

Colorado Department of Public Health & Environment

Colorado SBDC Disaster Recovery and Continuity Guide

Vail Valley Partnership COVID-19 Business Resources for Eagle County and Colorado

HENDRICK, PHILLIPS, SALZMAN & SIEGEL

COTNEY CONSTRUCTION LAW

04.01.20 HPSS Law eBlast - information on programs available to provide financial assistance to contractors under the CARES Act.

03.31.20 HPSS Law eBlast - Information on Dept of Labor Clarifies small business exemption for new paid sick leave requirements.

03.20.20 HPSS Law eBlast - Information on COVID-19 Coronavirus - Labor and Employment Implications of the Families First Coronavirus Response Act, Emergency Paid Sick Leave Act (EPSLA), Tax Credits for Paid Sick Leave.

03.19.20 HPSS Law eBlast - Information on COVID-19 Project Concerns and Contract Provisions, Delays and Extensions of Time, Force Majeure - Coronavirus Disease 2019 (COVID-19), Price Volatility and Increased Costs Due to COVID-19.

03.17.20 HPSS Law eBlast - Information on COVID-19 Coronavirus Frequently Asked Employment Law Questions and Answers, Employee Travel / Working from Home, Americans with Disabilities Act (ADA) considerations, OSHA Implications.

Resource information on protecting your business:

What Contractors Need to Know About the Payment Protection Program

Overcoming Social Distancing Challenges on Your Jobsite

COVID-19: Employer Guidelines for Employee Terminations

The right contract provisions can protect construction firms from coronavirus-related shutdown costs

Key Contract Provisions Needed to Combat Coronavirus

Employers' Response to COVID-19

VIDEO: Handling Crisis Management During the COVID-19 Pandemic


---
Other:
The Coronavirus Crisis Doesn't Have to Lead to Layoffs
An article by the Harvard Business Review that talks about alternatives and options and choices. Read here.