December 2021 Newsletter
Date posted
December 15, 2021

Our Members are the foundation of CRA's success and growth each year. As we close another year, we gratefully pause to say "THANK YOU" and to wish you a warm and happy holiday season and the very best for the new year!
Quicklinks

: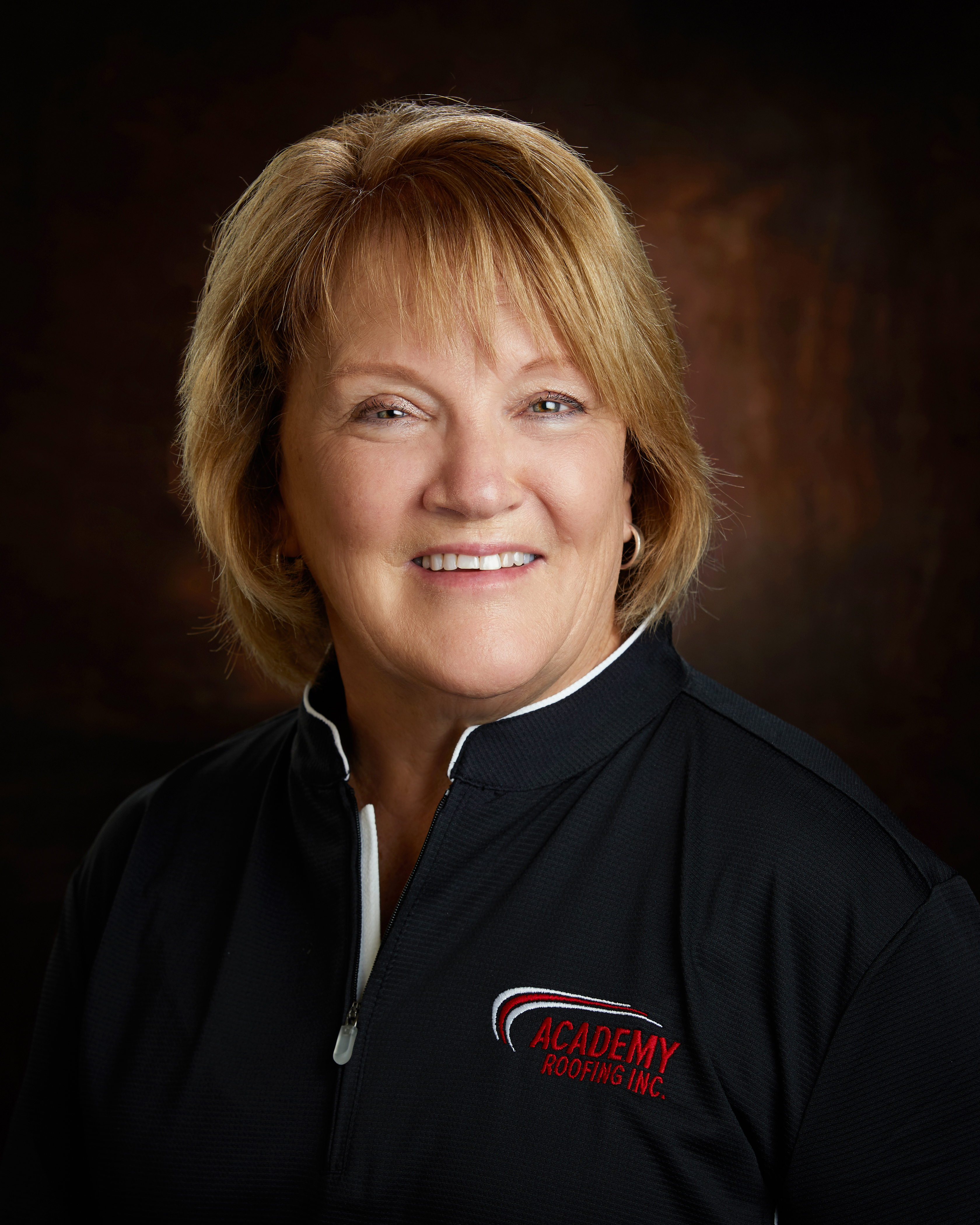 BEHIND and AHEAD. I don't know about you, but I remember feeling very hopeful at this time last year that 2021 would be infinitely better than 2020! After all, we were rounding the corner to a new year. We thought the pandemic would slow down and soon we would be able to return to some kind of "normal." Well, of course we know that didn't happen. Between the pandemic continuing its steady march across the globe, the supply chain issues that seemed to come out of nowhere, and the continuing lack of a decent labor force, roofing contractors, distributors and manufacturers will look back on 2021 as another tough year…a cousin to 2020.
I recently read an article in The Who's Who in Building and Construction, titled "From Recession to Recovery," by Brian Tonry. He recounted an interview he had with Richard Branch who is Dodge's Chief Economist. Branch outlined what he thought were the bright spots in an otherwise challenging year. He mentioned the great resiliency of the construction industry to rebound from an event that none of us could have predicted (i.e., the pandemic). He talked about the stimulus funds that he believes "provided a helping hand" to consumers and businesses. He noted that the housing market "took off like a rocket in terms of new construction" and with stimulus money in their pockets, consumers made long needed repairs to their homes. So, in many ways and despite continual pressures, 2021 wasn't a complete bust.
As for 2022, Branch mentioned that millions of square feet of warehouse space are under construction as online shopping continues to fuel the need for space to store inventory that is ordered online. Data center development is robust as more and more of the country comes online and use of the "cloud" technology increases. And while retail and hospitality segments have not recovered from the effects of the pandemic, health care facilities will continue to see robust growth. Condos and apartments are sprouting across the metro area. The Denver Business Journal recently noted that the largest condo building in 10 years is currently under construction.
As for the residential market, Branch says housing continues to hold up despite the shortage of materials and labor, but prices remain high. If inflation continues at its current pace, the housing market could be vulnerable to a slowdown.
Richard Branch is a veteran economist and I'm sure very good at what he does. But anyone who works in the construction industry knows we seem to board the roller coaster ride all too often. Let's just hope that 2022 is more like riding a Merry-Go-Round for a change.
I hope you all have some time to relax and enjoy your family and friends at the holidays! You deserve some self-care!
Stay safe and healthy out there!
Suzie Boyd
Academy Roofing, Inc.
CRA President
---
THANK YOU to our 2021 Sponsors!
| | |
| --- | --- |
| 2021 Industry Leader Sponsors | |
| A to Z Roofing | Horn Brothers Roofing |
| ABC Supply Co. | Interstate Roofing |
| Academy Roofing, Inc. | Johns Manville |
| Advanced Roofing Technologies | Malarkey Roofing Products |
| American Roofing Supply | Metal Mart Colorado |
| Arapahoe Roofing & Sheet Metal | Moody Insurance Agency |
| B & M Roofing of Colorado | Owens Corning |
| Beacon Building Products | Pinnacol Assurance |
| Black Roofing, Inc. | SPEC Building Materials |
| Boral Roofing | Superoofs |
| CertainTeed | Supreme Roofing Done Right, LLC |
| Daly & Black P.C. | Tamko Building Products |
| Elite Roofing Supply - CO, LLC | Tecta America - Colorado |
| Flatiron Steel | Tectum Roofing |
| Front Range Roofing Systems | The Roofing Company |
| GAF Materials | Tiley Roofing, Inc. |
| GCP Applied Technologies | Valor Roof & Solar |
| Gulfeagle Supply | |
| | |
| 2021 Silver Sponsors | |
| Calebs Management Enterprises, Inc. | RTP Roofing Co. |
| Cleasby Manufacturing | Sheffield Metals |
| F-Wave | |
| | |
Announcing 2022 Board of Directors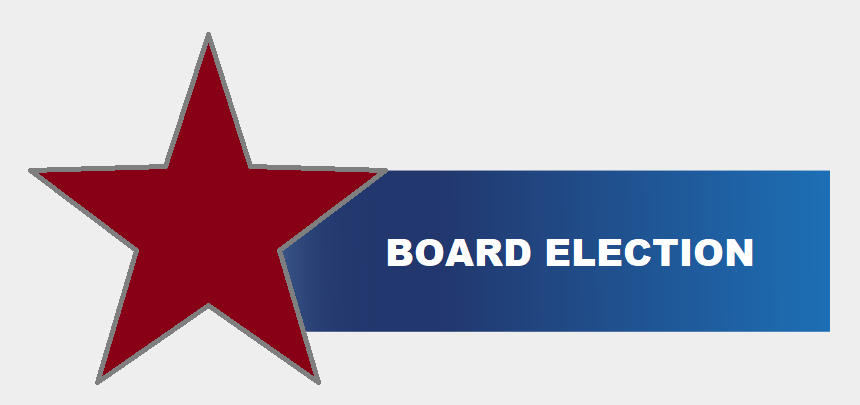 Announcing the 2022 Board of Directors
On December 7-8, 2021, the membership was balloted for the purpose of ratifying the actions of the Board and Nominating Committee with respect to the 2022 Board of Director openings and bylaw updates.
We are pleased to congratulate the following individuals who were voted in as your 2022 CRA Board of Directors.
OFFICERS:

Suzie Boyd, Academy Roofing (President)

Guy Mumford, Kudu Roofing (Vice-President)

Mark Bellitt, Arapahoe Roofing (Treasurer/Secretary)

---

DIRECTORS:

John Cook, Tecta-America Colorado

Alex Falcongrove, Tiley Roofing, Inc.

Mike Lesisko, Elite Roofing Supply

Jeff Johnston, The Roofing Company (Past President)

Steve Miller, Bighorn Rain Gutter

Scott Patz, Rocky Mountain Reps

Scott Ponzio, RTP Roofing Co.

Vance Roth, Cleasby Mfg

Jeremy Wangerow, Advanced Roofing Technologies
The willingness of each of these individuals to share of their time for the benefit of our industry and our community is greatly appreciated.
We also balloted the membership to ratify our bylaws to allow for use of electronic meetings when appropriate for the board, committee and membership gatherings. All 3 amendments were approved.
If you have election questions, feedback or want to be removed from future ballot lists, please email Debbie Hathorne.
Come find out what's new in Colorado's roofing industry.
37th Annual
Thursday, January 26, 2022
11 am – 3 pm
Arapahoe County Event Center & Fairgrounds
25690 East Quincy Avenue | Aurora, CO 80016-2026

REGISTRATION IS NOW OPEN!
New Location! Arapahoe County Event Center & Fairgrounds
Excitement is once again building for CRA's Annual Trade Show. With the closing of the Denver Mart, we have moved the trade show to Arapahoe County Fairgrounds and back in our normal January timeframe... so be sure to save the date and join us on January 26, 2022.
VENDORS
CRA's trade show is designed to provide a place to share your latest innovations and the hottest trends in equipment and materials used in the roofing and associated industries. The show provides a platform in Colorado for exhibitors to meet and connect with customers and potential customers on a one-on-one basis; to generate awareness on new products and services; and allows attendees the opportunity to compare existing products and services.
We are looking for vendors to be a part of the shows continued success. Whether you want to showcase your products and services, establish a presence in your target market or build your company image, the 2022 CRA Trade Show is for you. Sign up today for this low-cost opportunity to meet face-to-face with your customers and prospects.
ACT NOW to save money… EARLY BIRD pricing ends 12.23.2021.
---
ATTENDEES
The CRA Trade Show is a great chance to catch up on the latest industry trends, to make important contacts with suppliers and to compare existing products and services. The trade show offers a great networking opportunity for you to make and reaffirm business and personal contacts while educating you and your employees on the newest in Colorado's roofing industry. Admission is Free, but we do ask that you register in advance. (Member CIUs = 1 per person.)
Free Admission - Must Register to Attend - Click here
---
Click here to view the full 2022 Event Calendar – calendar includes additional event dates, member luncheons, pinpoint seminars, Training Center courses, etc.
CRA TRAINING CENTER
Facility Rental
NEED A SPOT FOR TRAINING - We just want to remind all of you that CRA's Training Center is available for your next employee/installer training, certification class or product demonstration. Whether you need to teach a new installation technique, train a new crew or showcase a new product, CRA's training space offers you a 'roofer friendly' indoor environment with class space for up to 30 individuals. The CRA Training Center is located at 1660 Jasper Street, Unit I in Aurora, CO and is designed specifically for roofers and roofing applications. The space can be used for all types of steep and low slope materials and roofing systems. We are 'application friendly' and there is no need for you to travel from a seminar room to the parking lot. You will be required to sign a rental agreement. Contact Debbie Hathorne for more nformation/details.
---
Calling all contractors, manufacturers and suppliers.
We need photos of roofing crews and people in action!!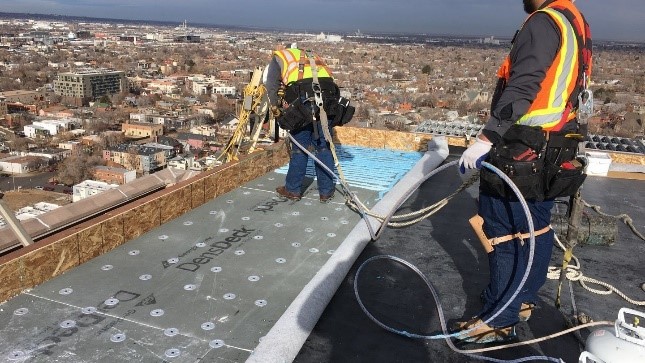 Showcase your business in our newly remodeled Training Center by sending us your high-resolution photos!
The CRA wants to showcase your "roofers in action" at our newly remodeled Training Center. This is a great opportunity for you to acknowledge your team and highlight your business in our training center at the same time!
We are looking for shots of TPO, EPDM, Coatings, Asphalt, Metal, Tile.
Your company name and logo will be included alongside the photo for all to see.
By submitting this photo, you have received permission from workers in the photo and give us full copyright to display them at the CRA Training Center located at 1660 Jasper St, Unit I.
We will be enlarging to poster size, so please e-mail/share link to high resolution (minimum 300 ppi or 5400x3600 pixels or larger) images to: debbie@coloradoroofing.org.
---
The CRA Training Center is located at 1660 Jasper Street, Unit I & J in Aurora, CO and is designed specifically for roofers and roofing applications. The space can be used for all types of steep and low slope materials and roofing systems. We are 'application friendly".
WELCOME to 2 New Members(s)…
Meet our newest member(s) who joined this past month.
buildingWorks LLC

PO Box 250 | Parker, CO 80134 | 224.456.1269

Manufacturer's Rep

Preferred Roof Lines

1209 North 6400 West | Cedar City, UT 84721 | 435.590.4803

Manufacturer's Rep
---
CRA Member Kim Plummer Passes Away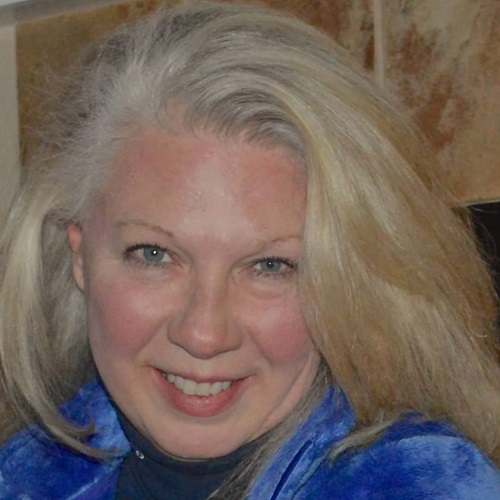 Kim Plummer (63) passed away on Tuesday, Nov 30, 2021.
Kim owned Interwest X Independent Sales, Inc. and represented several lines including Tarco Underlayments, AJC Tools, Cor-A-Vent Ridge Vents and Sashco Caulks/Sealants.
She was an active member of the roofing industry here in Colorado and was known by many. She was a consistent face at the CRA Trade Show and volunteered many times to assist with contest holes at the annual Golf Tournament.
She was well liked, had such a bubbly personality, loved her dogs and advocated for animals. Her infectious smile and laugh will be missed.
Our deepest sympathy & condolences to her family, friends and former associates and co-workers. May she rest in peace.
Memorial Service:
Services pending.
Donations:
Kim's friends in Colorado want to pay tribute to Kim and have set up a memorial fund in her name through the Douglas County Canine Rescue. Click below to make a donation.
---
2022 International Roofing Expo Registration Now Open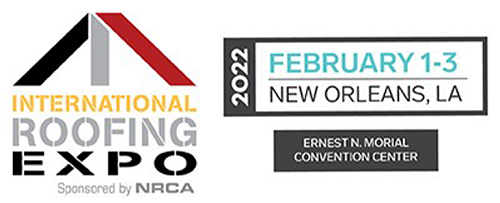 The International Roofing Expo is returning to New Orleans, February 1-3, 2022, at the Ernest N. Morial Convention Center.
Each year, the IRE brings the roofing and exteriors community together to help them stay current on trends, see the largest selection of products and services, and connect with their peers. Our goal is to help industry professionals grow their careers and find new ways to improve the way they do business.
Don't miss the opportunity to connect face-to-face and hear from leading experts, educators, and your colleagues as they show you how to capitalize on the industry's latest innovations, strategies, and best practices.
Get registration and show details here.
COLORADO LEGISLATIVE WATCH

Legislative Update
We continue to monitor legislative issues at the state and local level along with public policy processes and municipal & county policy issues. We have a few items to share this month before the Colorado legislature convenes on January 10, 2022.
Colorado
Statewide Building Code - We continue to hear of possible statewide building code legislation. As this article in the Colorado Sun implies, the idea is back on the table, in large part, to secure more federal dollars for the state's wildfire mitigation efforts. Lawmakers want to see local governments, builders and homeowner to pitch in to long-term efforts to prepare for wildfires driven by warning climate. Read more here.
National
ROOFING DAY IN D.C. 2022 | CAPITOL HILL FLY-IN | April 5-6, 2022. Mark your calendars -- the NRCA organized Roofing Day in DC will take place on April 5-6, 2022. Last year NRCA, CRA, and other members of the construction industry got together virtually with leaders in Washington, D.C. to talk to Congress about issues that affect our industry. We are Live again in 2022... please plan now to attend. Let's join together to advocate for the roofing industry as "one voice." Register or learn more about Roofing Day in D.C. 2022 and view NRCA's latest video!
Last, if you are aware of any specific legislation coming up in 2022 that will affect our industry, please contact me so that we can follow and share with the membership. With your help, we can continue to work together for positive changes in the roofing industry.
Stay safe and happy holidays to all of you.
Jeff Johnston
The Roofing Company
Gov't Relations Committee Chair
CODE NOTICES & UPDATES

This month's Building Code updates/notices:
We have a couple update for you this month:
Edgewater, City of - Edgewater has adopted the 2018 International Codes, and these will be in effect as of January 1, 2022. Below is the link to the City's Municipal Code, Building and Fire Codes, which includes Edgewater's amendments. Read more here.

Larimer, County of - Larimer County has drafted its 2021 building codes amendment package which are set to be heard again by Board of County Commissioners - January 10, 2022, 3:00 p.m., Courthouse Office Building, 1st floor Hearing Room, 200 West Oak St., Fort Collins. The 2021 codes are projected to take effect on March 1, 2022. Go here for more information.
---
Reminder. CRA has New Best Practice Resources!
The Building Code & Standards committee has been working hard to bring you a best practice resource document for low slope roofing applications. We are excited to announce that is done and ready to share with all of you.
We have also developed a "Buyer Beware - Understanding Total System Warranties" page on our website that you can use to help your clients understand that all low-slope warranties are not the same. Check it out.
Have you been using the other resources and tools available on the Member Education Page? You should!
---
GET YOUR FREE ROOFING CODE REPORTS
This is a valuable member benefit. Simply sign into your CRA member portal to receive instant access to free reports that hold the most valuable address specific building codes for roofers.

Ready to get started? Click below to pull your first report!
* If you don't know your CRA login, click here for instructions on how to activate/create your account.
** You can pull more than one report at a time, but you must return to the CRA Code page to enter each address.
---
Have you heard of any upcoming building code changes with any of the municipalities you work with? Please share them with us by emailing the BC&S Committee via Debbie at debbie@coloradoroofing.org.
SAFETY SPOTLIGHT
OSHA's Top 10 Most Cited Construction Violations for 2021
The Occupational Safety and Health Administration has announced its preliminary Top 10 most frequently cited workplace safety standards in constructions for fiscal year 2021.
Fall protection—Duty to have fall protection at 4,279 violations
Ladders at 1,602 violations
Scaffolds—general requirements at 1,468 violations
Fall protection—training requirements at 1,356 violations
Personal protective and lifesaving equipment—eye and face protection at 1,209 violations
Personal protective and lifesaving equipment—head protection at 651 violations
General safety and health provisions at 648 violations
Scaffolds—aerial lifts at 436 violations
Excavations—specific excavation requirements at 391 violations
Fall protection—fall-protection systems criteria and practices at 343 violations
OSHA handed down 16,749 citations from 6,624 inspections during fiscal year 2021 to construction companies, totaling more than $58 million in penalties.
Source: OSHA.gov
---
Slips, Trips and Falls-Head Injuries
Source: SFI Compliance, Safety Sentinel, December 21
You can work for years and hardly get a scratch, then one day a slip, trip, or fall can turn your life around. Slip, trip, and fall injuries may cause abrasions, fractures, and dislocations. However, one of the most serious results of a slip, trip, or fall, other than death, can be a head injury. How this will affect you depends upon which part of your brain has been injured because of a fall or impact.
Broken bones usually heal, but head injuries can result in life long serious problems, such as:
Changes in personality, such as increased anxiety, depression, or anger.
Difficulties with eye and hand coordination, and inability to handle tools or play sports well.
Defects in vision and visual illusions.
Short-term memory loss or interference with long term memory.
Increased aggressive behavior.
Difficulty in distinguishing left from right.
Changes in social behavior.
How you slip, trip, or fall often determines your specific injury. From the time a worker loses a secure grip, footing or balance, until impact, several factors influence what part of the body will be injured and how severe the damage will be. Some examples are:
Distance of the fall - momentum and velocity affect the impact on your body.
The angle of the body at impact - we're not like cats landing on all fours.
The obstacles the body strikes - what if you fall on railings, steps, or vehicles?
The surface eventually landed on - will it be a pile of hay, or broken concrete & re-bar?
What You Can Do: THINK!
Help remind your co-workers to play it safe and avoid taking risks.
Report unsafe conditions to the nearest supervisor.
Make it a habit to work safely, regardless of time pressures and productivity goals.
Practice caution at home - accidents and head injuries from falls happen more often off the job than at work.
Know how to use fall protection and fall restraint equipment. Never say, "I don't need to fool around with that stuff, I'll only be up there a minute."
Stay Alert!
Head injuries can have devastating consequences that may impact your life forever.
NATIONAL NEWS FROM NRCA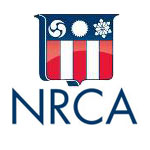 National Update: Worth sharing …
Rod Petrick, Chairman of the Board for the National Roofing Contractors Association, recently shared an update that included his insights from NRCA's Fall 2021 meetings. One thing is for sure, NRCA continues to work hard for the industry!! Here are a few of the key take-aways from a long list of things going on at the national level that we want to share with you:
NRCA General Counsel Trent Cotney addressed the Occupational Safety and Health Administration heat illness/stress program, which is being considered. With the OSHA temperature threshold being 80 F, this will be a concern for all our members. Stay updated by checking the legal resources section of NRCA's website for new developments related to this program.
NRCA's CTE/Workforce Development Committee has been working with the National Center for Construction Education and Research to help develop curriculum to be used in trade schools throughout the U.S. The roofing segment had not been updated since the mid-1990s. The committee also is working with SkillsUSA to incorporate roofing into its programs.
NRCA has been busy keeping up with the new OSHA Emergency Temporary Standard regarding COVID-19 vaccination and testing, which will affect our members. With various lawsuits and stays of enforcement already in the mix, this becomes an important issue to monitor. I am sure most of us already have clients requiring either vaccination or weekly negative tests for employees. In an industry struggling with a worker shortage, these requirements will add even more strain.
Supply chain issues continue to be the topic of conversation among contractors. Manufacturers are trying to figure out the true demand and keep pointing to ghost orders. I have not heard of any materials not being accepted by contractors or distributors. Demand for our services is outpacing the supply available from manufacturers. Roofing is a component-based system, and we need all the components to install a roof, so missing one component puts a contractor in a tough place. Our clients will listen to us to a certain point and then become frustrated, and we all suffer from the backlash.
NRCA's Telephone Town Hall in September had nearly 4,000 people on the call and more than 1,000 listened to the recording. Leaders of significant industry manufacturers answered questions regarding their experiences. Manufacturers are in a difficult situation that will take time to remedy.
By working together to overcome the supply chain issues and making our voices heard in Washington, D.C., we hopefully will help keep our industry in a good position to work and keep people safe.
Source: NRCA.NET
MEMBER BENEFITS & TOOLS
This month's highlighted member benefits and tools
ADVISORY NOTICE: Roofing Contractors Must Not Act as Public Adjusters – Check Your Contract Language
The CRA Board of Directors has issued an advisory with additional information and details about these public adjuster clauses we have seen being used in Colorado that basically state that the roofing contractor may negotiate or act as a public adjuster on behalf of the owner. This is against Colorado's Residential Roofing Law (SB38) and it is required that you must be a licensed public adjuster before you take on this role. Click here to view the advisory.
Concerning Ladder Liability. Help us in educating consumers and concerned citizens about the liability and risks involved with unattended ladders set for inspectors.
CRA Safety Group Workers' Comp Program. Receive a 4%-upfront discount, group or individual loss history dividend calculation and much, much more. Members of the program automatically belong to the CRA Safety Group whose focus is on continuing safety education and training and improving safety in the roofing community. In partnership with Moody Insurance Agency and Pinnacol Assurance. Call Kim Burkhardt. at 303-824-6600 to receive additional information regarding this program.
RoofersCoffeeShop Free Classified Ad. RoofersCoffeeShop is the premier networking site in the roofing industry, helping contractors find information, materials, services, tools, labor and training in one place. Share ideas and stories in our RCS Forum, and visit their classified ads section to sell and find items and get help. Use promo code CRA for your FREE classified ad.
Colorado Contractors Legislative Advocacy Coalition - CRA partners with several other construction associations to make our voices heard as joint members of the Colorado Contractors Coalition. Together we have successfully passed legislation including payment reform (public and private to 5%), bonding requirements, pro-rata liability and construction defect reform policies. Check out the CCC website for more information and to keep up with our CURRENT advocacy efforts.
---
Delivery of the E-Newsletter to Your Inbox
To guarantee delivery of the newsletter to your e-mail inbox each month, we ask that you add Debbie Hathorne to your address book using the following email: debbie@coloradoroofing.org. By adding this address to your contact list, we hope to avoid spam blockers/junk mail folders and ensure your receipt of the CRA newsletter in your inbox each month. Thank you.
---
© 2005-2021- Colorado Roofing Association