PRESIDENT'S MESSAGE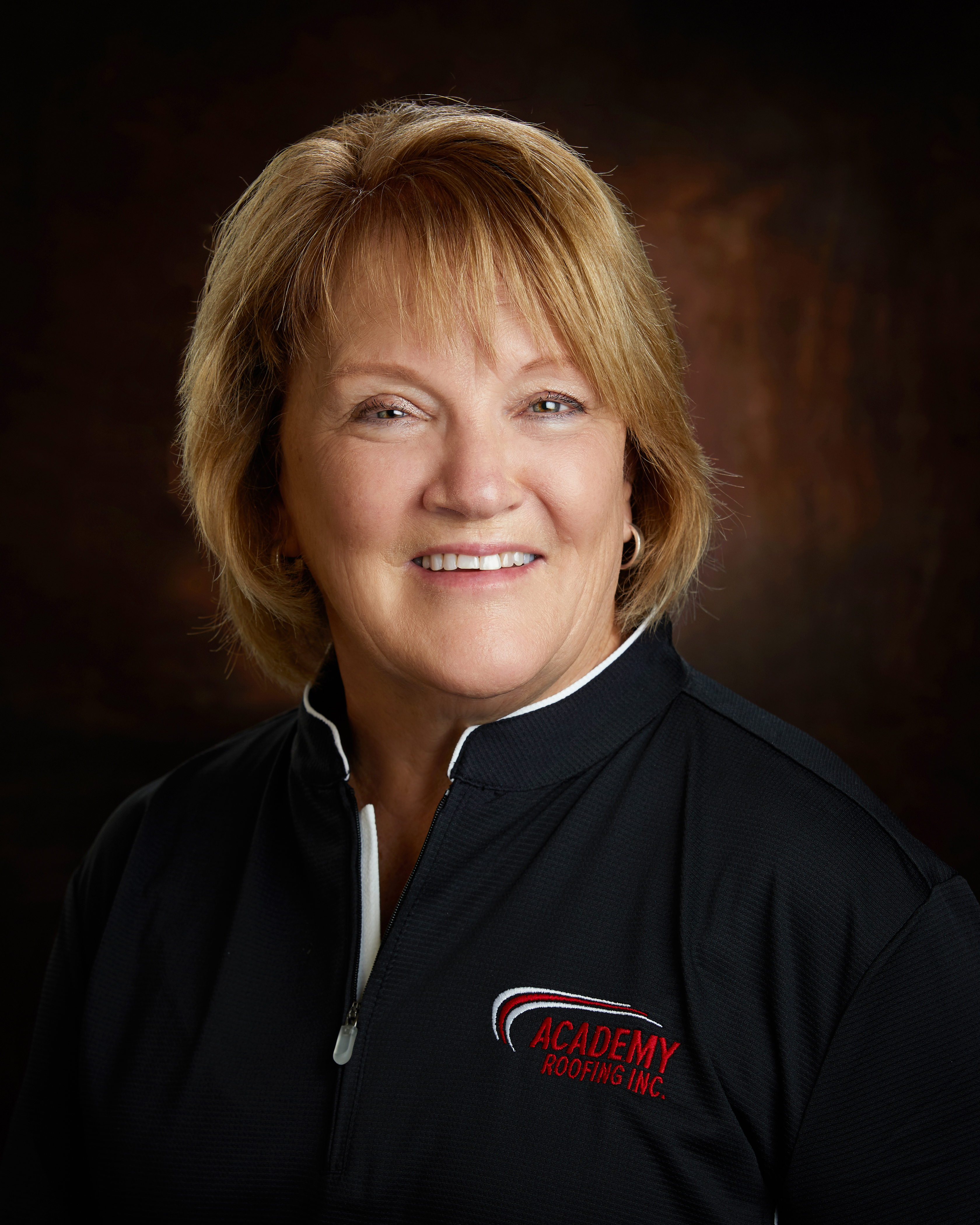 WOMEN. It's a new day in the roofing industry, and I, for one, couldn't be happier about that! Women are everywhere in roofing, which is a huge change from the days when I started in the industry. Women then were mostly involved in the industry in administrative roles. While there is certainly nothing wrong with being an administrator, it seemed like women were relegated to the background in roofing and we didn't get much respect.
Last month I had the privilege of participating in a panel discussion for a National Women in Roofing meeting. The room was filled with incredible women who are serving in various roles in the roofing industry. It's not unusual for roofing companies now to have female project managers, superintendents, salespeople and on and on and on. When I was on the Board of Directors for the National Roofing Contractors Association, I met quite a few female company owners as well. It was fascinating to talk with these women and learn of their experiences with owning their own companies. In most cases, it hadn't been an easy road to ownership.
At the National Women in Roofing meeting I was fortunate to meet Stephanie Pouse, who was named Beacon's Female Roofing Professional of the Year in a nationwide (and Canadian) contest. Her company is located right here in Colorado. What a firecracker this young lady is, with dreams for the future that made me want to hook onto her star! It gives me great hope for our roofing industry to see all of these bright ladies adding so much to what we all do each day. I am so proud of all the inroads we've made in roofing and I know we'll see more progress in the years ahead. The road hasn't always been easy, but the ladies have just kept showing up!
On another note, the CRA golf tournament is coming up in August. You should have received your invitation to play by now. This is a great networking event, and always lots of fun, so register early, as this tournament is usually a quick sellout! Hope to see you there!
Stay safe and healthy!
Suzie Boyd
Academy Roofing, Inc.
CRA President
---
THANK YOU to our 2021 Sponsors!
| | |
| --- | --- |
| 2021 Industry Leader Sponsors | |
| A to Z Roofing | Horn Brothers Roofing |
| ABC Supply Co. | Interstate Roofing |
| Academy Roofing, Inc. | Johns Manville |
| Advanced Roofing Technologies | Malarkey Roofing Products |
| American Roofing Supply | Metal Mart Colorado |
| Arapahoe Roofing & Sheet Metal | Moody Insurance Agency |
| B & M Roofing of Colorado | Owens Corning |
| Beacon Building Products | Pinnacol Assurance |
| Black Roofing, Inc. | SPEC Building Materials |
| Boral Roofing | Superoofs |
| CertainTeed | Supreme Roofing Done Right, LLC |
| Daly & Black P.C. | Tamko Building Products |
| Elite Roofing Supply - CO, LLC | Tecta America - Colorado |
| Flatiron Steel | Tectum Roofing |
| Front Range Roofing Systems | The Roofing Company |
| GAF Materials | Tiley Roofing, Inc. |
| GCP Applied Technologies | Valor Roof & Solar |
| Gulfeagle Supply | |
| | |
| 2021 Silver Sponsors | |
| Calebs Management Enterprises, Inc. | RTP Roofing Co. |
| Cleasby Manufacturing | Sheffield Metals |
| F-Wave | |
| | |
CRA GOLF TOURNAMENT | REGISTRATION OPEN
FRIDAY, AUGUST 20, 2021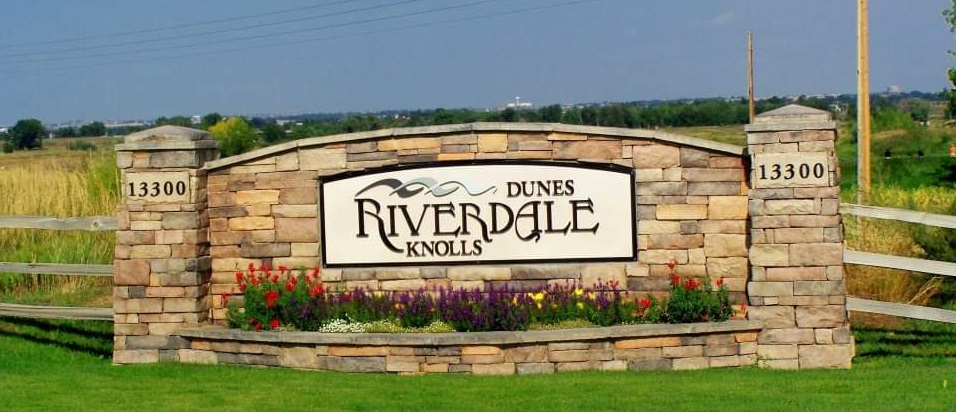 Join us for the 39th Annual CRA Golf Tournament to be held at Riverdale Knolls & Dunes Golf Courses at 13300 Riverdale Road, Brighton, CO 80602 on Friday, August 20.
The Golf Committee has been meeting to finalize the details and continues to work with the course to navigate our tournament planning as restrictions go away and we can return to a full tournament with contests, hole sponsors and a banquet lunch. Registration is open! The Dunes course is sold out, but we still have room on the Knolls course.
Early Bird prices end July 25th!
Sponsorship Opportunities
Companies interested in sponsoring this year's tournament or manning a hole are encouraged to contact us. Please email Debbie now for details.
CRA Member CIU's = 1 per person. 
---
Click here to view the full 2021 Event Calendar – calendar includes additional event dates, member luncheons, pinpoint seminars, Training Center courses, etc.
COMMUNITY SERVICE
CALL FOR VOLUNTEERS...We need your help!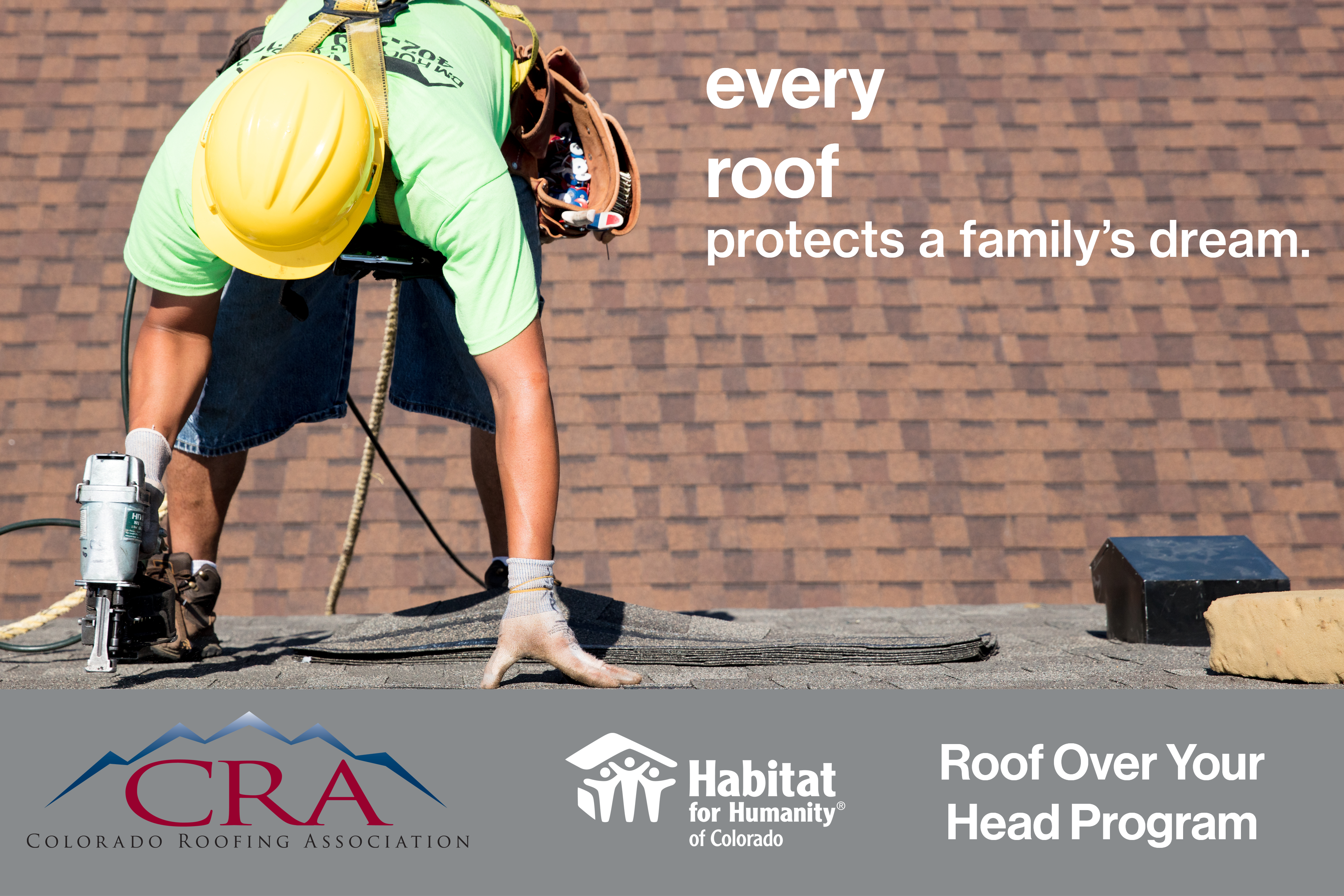 Is giving back to the community important to you and your company?
Since 2015, the Colorado Roofing Association (CRA) has partnered with Habitat for Humanity (HFH) to provide donated roofing material and labor. The Roof Over Your Head Program connects local roofers who are CRA members with an HFH affiliate in their community.
We need help in the following areas:

Berthoud
Dacono
Empire
Grand Junction
Longmont
Loveland
Poncha Springs
This is an excellent opportunity to give back to your community while earning your full year's Continuing Involvement Units at the same time. That's right! Completing one community service project fulfills the necessary 8 CIUs for 2021!
Please let us know if you can help in these areas this summer!
CRA PR/MARKETING COMMITTEE UPDATE | MARKET YOUR CRA MEMBERSHIP
The CRA PR Committee continues to tweak and monitor our Summer "Select a Trusted Colorado Roofer" campaign. Look for our advertising on these platforms: YouTube, KDVR, 9-News, Comcast/Effect TV, Weather.com, Instagram, Facebook and Google AdWords. Here are a few samples:

---
BE SURE TO PROMOTE YOUR MEMBERSHIP IN CRA!
Help us spread awareness about what the CRA and its members are doing to improve the roofing industry. Check out the CRA Member Marketing Tools page on our website.
PROUD MEMBER SOCIAL MEDIA POST - Click here for full sized graphic.
PROUD MEMBER BUMPER STICKERS - Click to order your bumper stickers!
ENHANCED MEMBER DIRECTORY LISTING - We still have a large percentage of members that have not enhanced their directory listing! - Just login and then add/update your company logo, a short company bio and links to your Facebook, LinkedIn, Twitter accounts -- all ways which will help customers find you easier.

For other tools and ways to market your CRA membership, click here.
CRA TRAINING CENTER
Summer Closure
The CRA Training Center is closed for a summer remodeling project. We will not be holding any training classes or facility rentals until October.
If you are interested in getting on a waitlist for one of the Fall classes, please email Diana Johnson and be sure to include the course you want to take.
---
CRA TRAINING CENTER | EXPANDING & REMODELING
We are excited to share with you that the CRA Training Center is expanding - doubling in size and undergoing a major remodel this summer.
The CRA training program has grown in scope and we have trained more than 950 students since inception in 2012. The CRA Training Center has more than met our expectations and demand has continually increased for our hands-on training. We realized we were outgrowing our current space and the necessity to expand in order to continue to meet the needs of our members and industry for roofing-specific training.
In January, we had the opportunity to lease the unit next to ours and last month in June we started an expansion project to double the size of the Training Center. The expansion will include adding several new training mock-ups, a larger classroom, a new conference room and expanded storage. Not only will the expansion benefit our students, but also the manufacturers, contractors and other groups that rent our facility for their training needs.
This expansion would not be possible without all of you! Our members who support us through our fundraising events. Sponsors who donate and support our education efforts. The Education/Training Committee who oversees the facility and continually works to keep our Training program and education seminars/webinars viable and current. And to our Instructor Pool. We are fortunate to have several talented individuals that are willing to share their knowledge and experience to train the future generations and workers of Colorado's roofing industry. Thank you so much!!
Here is a glimpse of the expansion in progress and we can't wait to share the final photos with you.

Photo Contest Teaser...

We are in the process of planning a photo contest where we have you submit photos that show "what a career in roofing is really all about." The photos will be judged and the best will be enlarged and hung at the Training Center. Look for more details to come soon.
# # #
The CRA Training Center is located at 1660 Jasper Street, Unit I & J in Aurora, CO and is designed specifically for roofers and roofing applications. The space can be used for all types of steep and low slope materials and roofing systems. We are 'application friendly' and there is no need for you to travel from a seminar room to the parking lot anymore.
CODE NOTICES & UPDATES

This month's Building Code updates/notices:
We have two updates for you this month:
Denver, City & County of - The City and County of Denver is adopting a new building and fire code, which will incorporate the 2021 series of International Codes, as well as advance the voluntary 2019 Denver Green Code. The city will consider amendments to the 2021 International Codes to ensure they work for Denver's specific climate and context. Read more.

Ft. Collins, City of & Larimer County - Larimer County and the City of Fort Collins are partnering to update their respective 2021 adopted building codes at the same time, to make it more convenient for contractors, homeowners and other interested parties to help shape local code rules. Read more.
Have you heard of any upcoming building code changes with any of the municipalities you work with? Please share them with us by emailing the BC&S Committee via Debbie at debbie@coloradoroofing.org.
---
GET YOUR FREE ROOFING CODE REPORTS
This is a valuable member benefit. Simply sign into your CRA member portal to receive instant access to free reports that hold the most valuable address specific building codes for roofers.

Ready to get started? Click below to pull your first report!
* If you don't know your CRA login, click here for instructions on how to activate/create your account.
** You can pull more than one report at a time, but you must return to the CRA Code page to enter each address.
WELCOME to 1 New Members(s)…
Meet our newest members who joined this past month.
2330 Broadway #106 | Denver, CO 80205 | 303.335.6097

Roofing Contractor - Residential
---
OSHA Conducting Weekend Inspections in 10 COLORADO Counties this Summer/Fall

As work at construction project sites increases in Colorado's Front Range, more workers may find themselves exposed to falls and trenching and excavation hazards. Over the last two years, at least six workers have suffered fatal falls, and nearly a dozen excavation collapses and trenching incidents have led to the deaths of three workers in Colorado.
OSHA has implemented a "Weekend Work" initiative in which federal workplace safety and health inspections will occur randomly on weekends in Arapahoe, Douglas, Jefferson, El Paso, Adams, Boulder, Broomfield, Denver, Larimer and Weld counties. OSHA's area offices in Denver and Englewood will continue these inspections into the fall of 2021.
Read about how to protect workers from fall hazards in construction.
---
CONGRATULATIONS STEPHANIE POUSE!
Female Roofing Professional of the Year | 2021
CRA would like to congratulate Stephanie Pouse, Partner of Brahma Roofing & Construction located in Windsor, CO on being named Beacon's first Female Roofing Professional of the Year.
Stephanie grew up on construction sites, shadowing her father and now business partner, Roy, since hard hats were bigger than her head. In doing so, she grew to appreciate the hard work and overall impact that she witnessed from in the field, in the trailer, and during site walks with crew members. Stephanie continued to explore the impact buildings can have on communities by participating in and leading trips abroad. From rehabilitating a local elementary school in Mexico, to redesigning and constructing an elementary school playground in Costa Rica to mitigate flooding, Stephanie's passion for building continued to grow. This eventually led to Stephanie co-founding Brahma Roofing and Construction, a business whose mission is to create a new level of service and trust within the construction industry.
As the winner of the competition, Prouse receives a $10,000 grand prize.
SAFETY SPOTLIGHT
SFI Compliance - Virtual Tool Box Talks
SFI Compliance continues to allow us to share virtual videos for digital safety meetings. The most recent on "Pneumatic Nailing Tools."
Pneumatic Nailing Tools - commonly referred to as nail guns, the name fits the dangerous potential of this tool. Used safely, they are labor and money savers. Used unsafely, they can be lethal weapons and injuries occur far too often. Most injuries are serious and all of them can be potentially fatal. In many instances, the tools were inadvertently, deliberately, or carelessly misused or were not properly maintained. Safe practices are critical for the safety of both the user and others in the area.
The following list will help in reducing accidents associated with Pneumatic Nailing Tools and should be practiced at all times.
Do not attempt to use a nailing tool unless you have first received instructions on safe use.
Read printed safety instructions provided with the tool. Remember the rules and stick to them.
Wear safety glasses at all times.
Do not point the tool towards yourself or others, no matter how far away they are.
When leaving the tool unattended, disconnect the air hose.
Do not use the tool in a congested or high traffic area. Control work zone area if necessary.
Do not use a defective tool. Tool maintenance is extremely important.
Maintain a safe, well-balanced position to prevent misalignment of the tool during use.
Do not work above other trades. Always be aware of the possible danger to your coworkers and take whatever precautions are necessary.
Don't use a nail that is not of a type suited to the tool and the purpose for which it is being used.
You can find this video in Spanish as well as additional digital tool box talks on ladder safety, heat stress, housekeeping and much more on their YouTube channel:
SFI Compliance YouTube Channel
If you want to receive a copy of all upcoming digital tool box talks, sign up for SFI Newsletters here.
---
Wash. fines roofing company $1.2M.
A Washington roofing company faces fines of $1.2 million from the Washington Department of Labor & Industries for allegedly repeatedly putting its workers at risk, the department said in a statement Thursday.
The department of labor investigated three job sites run by Snohomish, Washington-based Allways Roofing Inc. between December 2020 and March 2021 following multiple complaints that roofing workers had no fall protection. Inspectors issued the company 12 willful serious violations for workers performing roofing work on steeply pitched roofs with no fall protection, improper use of ladders, and workers using pneumatic nail guns without eye protection. According to the statement, all but one of the violations were repeat violations.
The department has cited Allways Roofing with more than a dozen safety violations since 2010, and the company has filed at least four injury claims involving falls from steep roofs resulting in serious injuries and hospitalizations.
NATIONAL NEWS FROM NRCA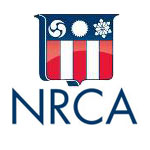 National Update: Worth sharing …
Are you signed up to attend IRE yet?
The International Roofing Expo is the premier event for roofing professionals and industry leaders to learn new strategies, discover innovative solutions and share best practices. IRE 2021 will be taking place on August10-12, 2021 at Mandalay Bay Convention Center in Las Vegas.
IRE attracts both residential and commercial contractors, remodelers, builders, distributors, architects, engineers, and manufacturers from across the globe. The IRE partners with the National Roofing Contractors Association (NRCA), Roofing Contractor Magazine, National Women in Roofing (NWIR), and other groups to create the premier industry conference.
There is still time to register to attend in person!

---
10@10 Advocacy Update for July
Infrastructure negotiations continue. President Biden recently announced he and a bipartisan group of senators had reached agreement regarding a framework for an infrastructure package. The framework offers $973 billion of spending over five years and $1.2 trillion over eight years.
Additional infrastructure legislation. House and Senate Democratic leaders, in coordination with the White House, are moving forward with initial steps for a second infrastructure bill beyond the bipartisan agreement reached between senators and President Biden that could be passed under budget reconciliation, only requiring 50 votes instead of 60 in the Senate.
H-2B Returning Worker Exception Act. A bipartisan group of lawmakers led by Reps. Henry Cuellar (D-Texas) and David Joyce (R-Ohio) have introduced H.R. 3897, the H-2B Returning Worker Exception Act. Contact your members of Congress in support of this legislation by emailing them today.
Paycheck Protection Program. NRCA has learned the Small Business Administration is planning to withdraw the Loan Necessity Questionnaire required of all borrowers with Paycheck Protection Program loans exceeding $2 million.
NRCA opposes any reduction or repeal of the 20% deduction for qualified business income. NRCA recently cosigned a letter with more than 100 other business organizations to voice strong opposition to any reductions or repeal of the 20% deduction for qualified business income under Section 199A of the tax code, including phasing out the deduction above certain income thresholds.
IRS issues FAQs regarding tax credits for paid leave. The IRS recently issued new FAQs regarding tax credits available to employers with fewer than 500 employees, as well as certain governmental employers with any number of employees, for qualified sick and family leave wages taken by employees starting April 1 under the American Rescue Plan Act.
Occupational Safety and Health Administration Emergency Temporary Standard does not apply to the construction industry. On June 10, the Occupational Safety and Health Administration issued an Emergency Temporary Standard designed to better protect employees from exposure to COVID-19 within the health care industry but decided not to include the construction industry after NRCA advocacy efforts.
National Labor Relations Board. Earlier this summer, President Biden nominated David Prouty, the general counsel of SEIU Local 32BJ, and labor attorney Gwynne Wilcox to serve as members of the National Labor Relations Board.
Don't miss this upcoming event benefitting ROOFPAC. NRCA is partnering with National Women in Roofing for ROOFPAC's "An Evening in Las Vegas" Aug. 9 from 4-7 p.m. After the reception, there will be a live auction of unique items, such as trips and art. For more information or to register for these ROOFPAC events, please contact NRCA's Washington, D.C., office at (800) 338-5765 or tdorn@nrca.net.
Expiration of federal debt limit. One issue that could significantly complicate legislative action this year is the need to extend the federal debt limit, which is set to expire July 31. Congress and former President Trump last took action to suspend the debt limit, which caps the debt at $28.3 trillion, for two years in July 2019.
Source: NRCA.NET
MEMBER BENEFITS & TOOLS
This month's highlighted member benefits and tools
ADVISORY NOTICE: Roofing Contractors Must Not Act as Public Adjusters – Check Your Contract Language
The CRA Board of Directors has issued an advisory with additional information and details about these public adjuster clauses we have seen being used in Colorado that basically state that the roofing contractor may negotiate or act as a public adjuster on behalf of the owner. This is against Colorado's Residential Roofing Law (SB38) and it is required that you must be a licensed public adjuster before you take on this role. Click here to view the advisory.
Concerning Ladder Liability. Help us in educating consumers and concerned citizens about the liability and risks involved with unattended ladders set for inspectors.
CRA Safety Group Workers' Comp Program. Receive a 4%-upfront discount, group or individual loss history dividend calculation and much, much more. Members of the program automatically belong to the CRA Safety Group whose focus is on continuing safety education and training and improving safety in the roofing community. In partnership with Moody Insurance Agency and Pinnacol Assurance. Call Kim Burkhardt. at 303-824-6600 to receive additional information regarding this program.
RoofersCoffeeShop Free Classified Ad. RoofersCoffeeShop is the premier networking site in the roofing industry, helping contractors find information, materials, services, tools, labor and training in one place. Share ideas and stories in our RCS Forum, and visit their classified ads section to sell and find items and get help. Use promo code CRA for your FREE classified ad.
Colorado Contractors Legislative Advocacy Coalition - CRA partners with several other construction associations to make our voices heard as joint members of the Colorado Contractors Coalition. Together we have successfully passed legislation including payment reform (public and private to 5%), bonding requirements, pro-rata liability and construction defect reform policies. Check out the CCC website for more information and to keep up with our CURRENT advocacy efforts.
---
Delivery of the E-Newsletter to Your Inbox
To guarantee delivery of the newsletter to your e-mail inbox each month, we ask that you add Debbie Hathorne to your address book using the following email: debbie@coloradoroofing.org. By adding this address to your contact list, we hope to avoid spam blockers/junk mail folders and ensure your receipt of the CRA newsletter in your inbox each month. Thank you.
---
© 2005-2021- Colorado Roofing Association