PRESIDENT'S MESSAGE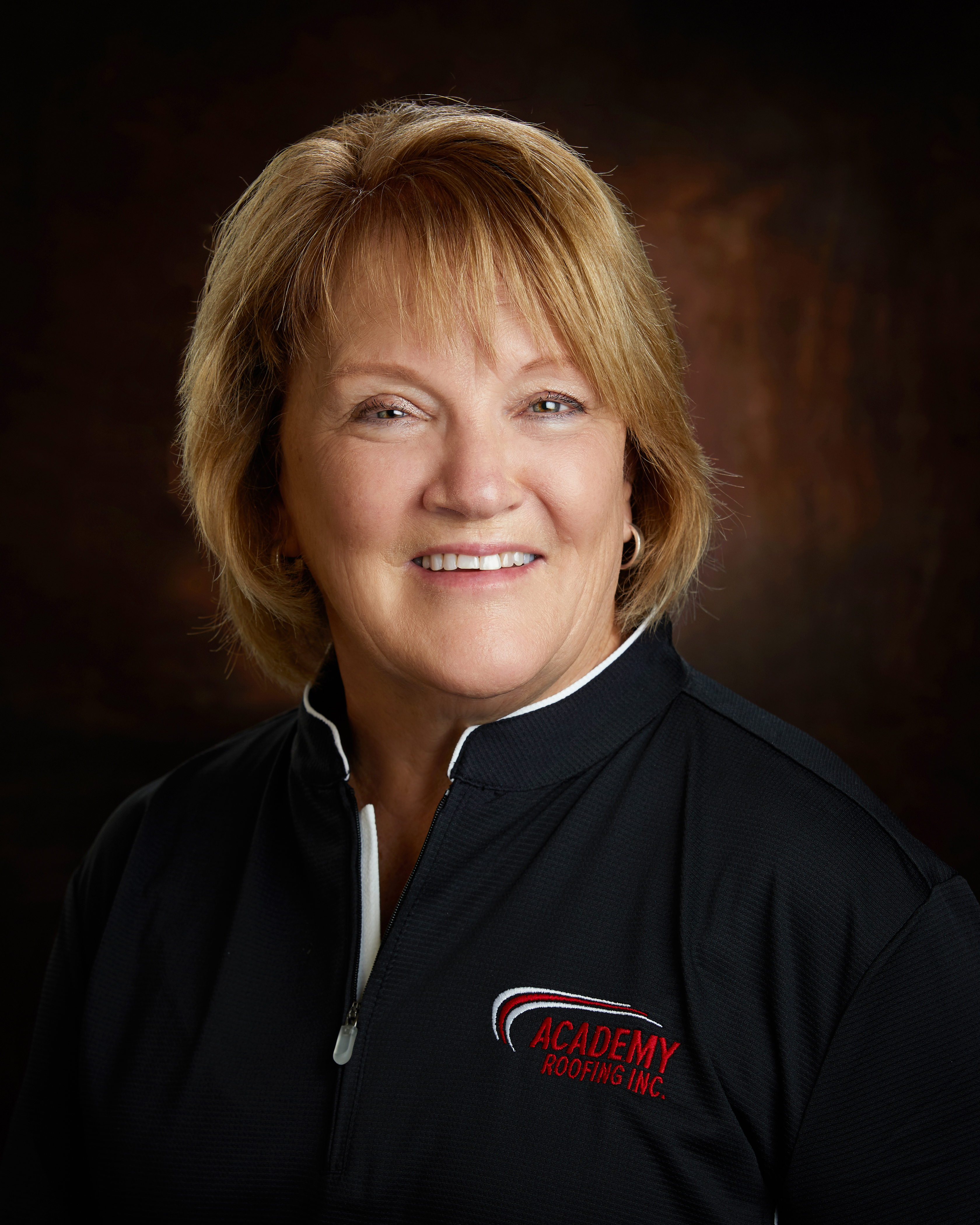 ARROWS. Sometimes owning a company feels like you're standing out in a big, empty field and arrows are being shot at you from every side. You're running and ducking and generally trying to figure out which arrow will really do the most damage. Of course this is overly dramatic, but as a company owner for many years, it seems like there have been so few times when we could focus solely on the work that needed to get done. There are always so many other challenges.
Such is the case right now. As if a worldwide pandemic were not enough to bring us all to our knees, now we are faced with unprecedented material shortages, coupled with unbelievable price increases that are coming faster than we can add them to our estimating systems.
Attorneys advise us to include language in our contracts that address material shortages and price increases. That's good advice and I hope all contractors have done that. Economists tell us to expect these issues into 2022 so we can put an appropriate business plan in place. Analysts point out all the reasons why the shortages and price increases are occurring so we know how we got to this point. Our spiritual directors tell us not to curse so much and our doctors give us a higher dose of blood pressure medication. It's all helpful, but in the end, our strength and our strategy has to come from inside each of us! And sometimes that strength for me has come from the wisdom of my great grandmother whose words my Mom always quoted to me and my siblings…."this too shall pass."
Pass it will! And then there will be something else! It is the nature of business. Our resilience and perseverance as human beings is something to be celebrated! I hope you can remember this as another price increase letter hits your inbox!
On a happier note, I was able to spend the day helping out at the Trade Show this past Friday. What a great day we had at Empower Field, with perfect weather, and nearly 100 booths where vendors could showcase their products and meet with their customers face-to-face for the first time in way over a year. I saw many old faces and met a lot of people who are new to the industry. It just felt so normal! Hot topics on everyone's mind included price increases and material shortages, the lack of hail over the past several years and what that means for the industry, and the very competitive bidding going on in the marketplace.
Thanks to the many, many volunteers and the hard work of Debbie Hathorne and Diana Johnson the Trade Show was a total success!
Happy National Roofing Week! Stay safe and healthy out there!
Suzie Boyd
Academy Roofing, Inc.
CRA President
---
THANK YOU to our 2021 Sponsors!
| | |
| --- | --- |
| 2021 Industry Leader Sponsors | |
| A to Z Roofing | Horn Brothers Roofing |
| ABC Supply Co. | Interstate Roofing |
| Academy Roofing, Inc. | Johns Manville |
| Advanced Roofing Technologies | Malarkey Roofing Products |
| American Roofing Supply | Metal Mart Colorado |
| Arapahoe Roofing & Sheet Metal | Moody Insurance Agency |
| B & M Roofing of Colorado | Owens Corning |
| Beacon Building Products | Pinnacol Assurance |
| Black Roofing, Inc. | SPEC Building Materials |
| Boral Roofing | Superoofs |
| CertainTeed | Supreme Roofing Done Right, LLC |
| Daly & Black P.C. | Tamko Building Products |
| Elite Roofing Supply - CO, LLC | Tecta America - Colorado |
| Flatiron Steel | Tectum Roofing |
| Front Range Roofing Systems | The Roofing Company |
| GAF Materials | Tiley Roofing, Inc. |
| GCP Applied Technologies | Valor Roof & Solar |
| Gulfeagle Supply | |
| | |
| 2021 Silver Sponsors | |
| Calebs Management Enterprises, Inc. | RTP Roofing Co. |
| Cleasby Manufacturing | Sheffield Metals |
| F-Wave | |
| | |
CRA GOLF TOURNAMENT | SAVE THE DATE!
FRIDAY, AUGUST 20, 2021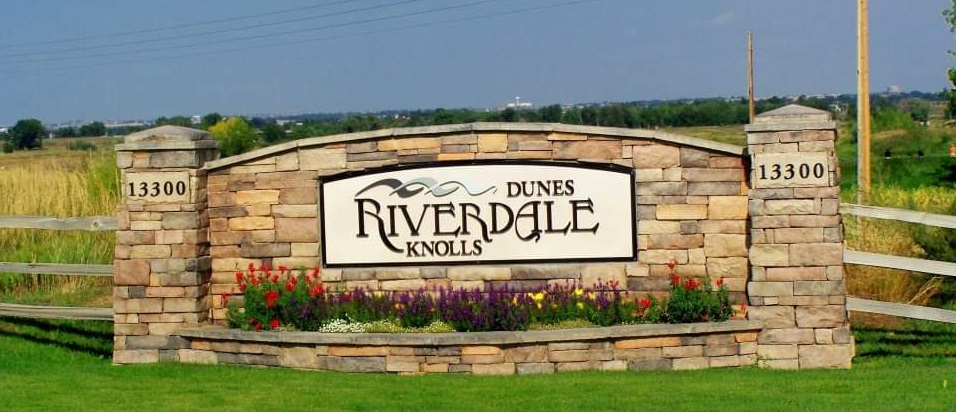 We are back to Brighton in 2021! This time with contests, lunch, hole sponsors and more!
Join us for the 39th Annual CRA Golf Tournament to be held at Riverdale Knolls & Dunes Golf Courses at 13300 Riverdale Road, Brighton, CO 80602 on Friday, August 20.
The Golf Committee has been meeting to finalize the details and continues to work with the course to navigate our tournament planning as restrictions go away and we can return to a full tournament with contests, hole sponsors and a banquet lunch. Registration is tentatively scheduled to open on July 1st (or sooner if we can). Look for a message in your inbox soon.
Companies interested in sponsoring this year's tournament or manning a hole are encouraged to contact us. Please email Debbie now for details.
CRA Member CIU's = 1 per person. 
---
CRA Trade Show - 2021 Photo Gallery >>>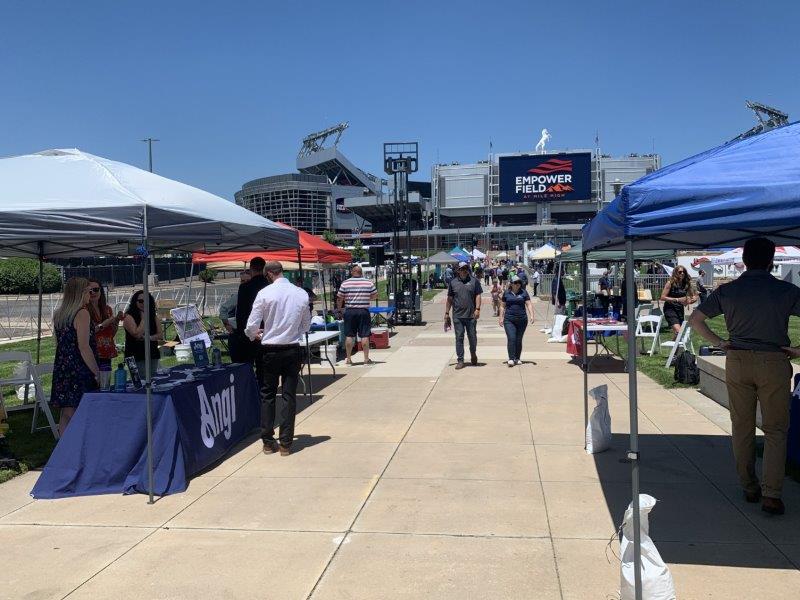 Click on photo to view full gallery.
What a great day at Empower Field! You could feel the positive energy flowing!
Thanks again to all of our SPONSORS and for those of you that attended for making this an outstanding event.
---
Click here to view the full 2021 Event Calendar – calendar includes additional event dates, member luncheons, pinpoint seminars, Training Center courses, etc.
COMMUNITY SERVICE
CALL FOR VOLUNTEERS...We need your help!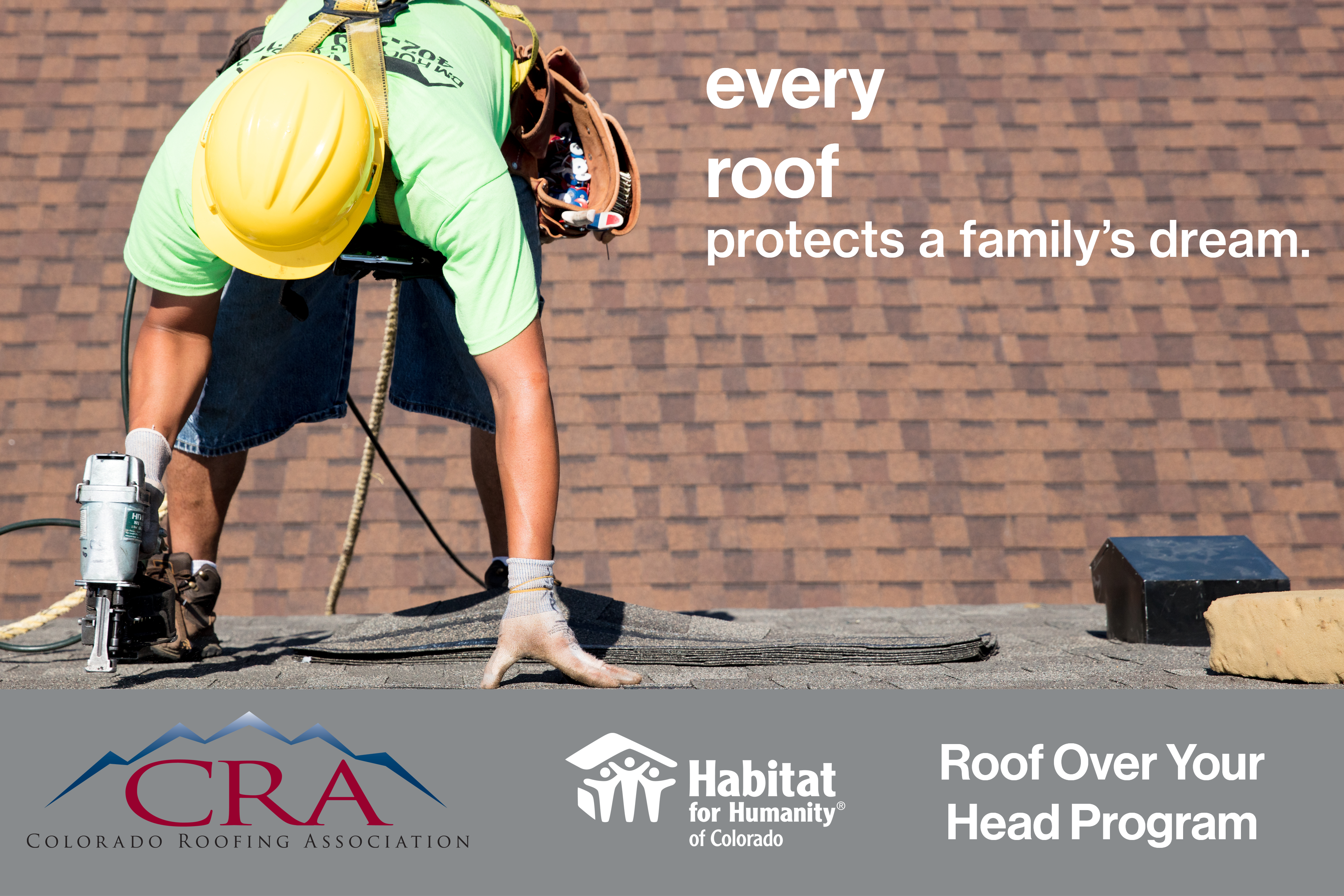 Giving back to the community is a top priority of the Colorado Roofing Association and just as important to the many members of our association.
Since 2015, the Colorado Roofing Association (CRA) has partnered with Habitat for Humanity (HFH) to provide donated roofing material and labor. The Roof Over Your Head Program connects local roofers who are CRA members with an HFH affiliate in their community.
This is an excellent opportunity to give back to your community while earning your full year's Continuing Involvement Units at the same time. That's right! Completing 1 community service project fulfills the necessary 8 CIUs for 2021!
We are looking for roofing contractors to donate their time and labor this Summer!
COLORADO LEGISLATIVE WATCH

Get Involved! | Be a Part of the VOICE at the Capitol
Colorado
HB21-1167 | 5% Retainage has been signed by the Governor. Effective September 10 - 5% retainage on all public & PRIVATE projects.
HB 21-1167 - Private Construction Contract Payments - sets a 5% maximum on retention for private construction contracts (to match the previously approved 5% maximum retention on public) was approved by the Senate on a 25-10 vote signed by Governor Polis on May 17. Your private retainage has just gone from 10% to 5%. Officially, the act takes effect on/around September 10, 2021 (sooner if the legislature adjourns early). Thanks to all of you who supported the bill by sharing your retainage stories and business challenges to affect change. Congratulations to everyone on this success and thank you to bill sponsors Representative Duran, Representative Will, Senator Gonzales and Senator Scott.
For those of you negotiating contracts for Sept or later, be sure to click the link above and print HB21-1167 for use in your contract negotiations this Summer!
HB21-1207 - Overpayment of Workers' Compensation Benefits. This bill limits the definition of overpayments in workers' compensation benefits to include only benefits paid as the result of fraud or duplicate benefits resulting from offsets that reduce disability or death benefits. Bill has passed the state legislature of Colorado was signed by Governor Polis' on May 17, 2021.
SB21-197 | Workers' Compensation Physician - The bill provides injured workers control over the selection of the primary treating physician in workers' compensation cases, allowing them to choose from any level I or level II accredited physician through the division of workers' compensation. Bill is lost, postponed indefinitely in the House.
SB21-260 | Sustainability Of The Transportation System (also known as A Way Forward). This bill creates new sources of funding specifically to maintain and modernize Colorado's infrastructure. Areas of investment include electric vehicle support, state highways, air pollution mitigation, bridge and tunnel projects, multimodal and public transportation. These projects would be funded through a variety of fees and general fund transfers. Much needed support that is needed for Colorado's infastructure. Bill has passed the state legislature of Colorado with amendments, and it is now awaiting either Governor Polis' signature or veto.
The legislature wrapped up this week on June 8th. As we head into the summer, we'll keep you posted on any late bills that may impact you. Feel free to contact me with questions or suggestions for things to watch on November's ballot.
Jeff Johnston
The Roofing Company
CRA President
MARKET YOUR CRA MEMBERSHIP
PROMOTE YOUR MEMBERSHIP IN CRA!
The CRA PR Committee has already launched our Summer 2021 "Select a Trusted Colorado Roofer" campaign. Our ads will urge Colorado home and building owners to take the appropriate steps in getting informed about replacing/repairing a roof and in selecting a trusted roofing contractor; especially in the event of hail or storm damage. Here are highlights and other resources the committee has been working on:
MEMBER MARKETING – CRA has a Member Marketing Tools page on our website. We're grateful to have you as a member of our association and we'd love to help increase not only our digital footprint, but yours too! Help us spread awareness about what the CRA and its members are doing to improve the roofing industry. This month we want to highlight CRA bumper stickers and our sales kit promotional flyer: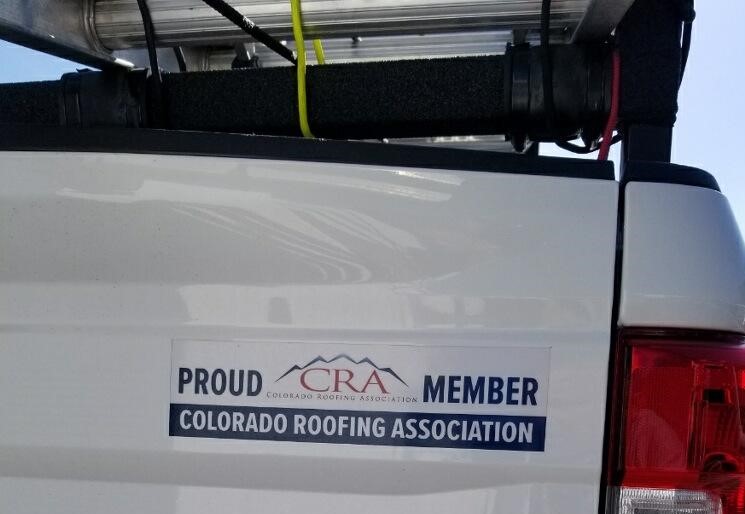 PROUD MEMBER BUMPER STICKERS - If you didn't see them at the Trade Show or use the order form with your 2021 Membership Decal/Certificate mailing, now's the chance to get "Proud Member" bumper stickers for your fleet. We want you to promote your affiliation with the Colorado Roofing Association on your vehicles, truck bumpers/windows or on your trailers). Members receive 5 Free Stickers upon request. Size = 11.5" wide x 3" tall, available in clear or white background. Additional stickers are increments of 10 for $5.
Click to order your bumper stickers!
PROMOTIONAL FLYER FOR YOUR SALES KIT - Promote your affiliation with the Colorado Roofing Association. Just click on the link below to download the flyer. Print as many as you need and start using in your sales packets and presentations right away!
---
Have you enhanced/reviewed your Member Directory Listing!

One of our main goals when marketing/advertising the CRA is to encourage consumers who visit the site to use a CRA Member for their roofing project. It's working and the member directory is one of the most visited pages on CRA's website. Help customers find you easier by enhancing your listing. CRA member companies automatically have a basic listing in the member directory. We encourage you to enhance your listing to extend your marketing message with the following personalization capabilities – brand awareness (add your logo), social media presence (add links to Facebook, LinkedIn, Twitter) and add a short member bio.
---
OTHER MARKETING RESOURCES:
CODE NOTICES & UPDATES

This month's Building Code updates/notices:
Many City and County building departments are starting to reopen fully to the public. Be sure to check with each jurisdiction before you go get your next permit to see how they are handling the reopening of their counters.
We also have one update for you this month:
GILPIN, County of - Effective May 1, 2021, Gilpin County requires all contractors to obtain registration. Read more.
Have you heard of any upcoming building code changes with any of the municipalities you work with? Please share them with us by emailing the BC&S Committee via Debbie at debbie@coloradoroofing.org.
---
GET YOUR FREE ROOFING CODE REPORTS
This is a valuable member benefit. Simply sign into your CRA member portal to receive instant access to free reports that hold the most valuable address specific building codes for roofers.

Ready to get started? Click below to pull your first report!
* If you don't know your CRA login, click here for instructions on how to activate/create your account.
** You can pull more than one report at a time, but you must return to the CRA Code page to enter each address.
WELCOME to 4 New Members(s)…
Meet our newest members who joined this past month.
202 North Marimack Drive, Kearney, MO 64060 | Ph: 816-284-0629

Equipment Supplier

Brothers Day Industries

4903 West 35th Avenue, Denver, CO 80212 | Ph: 720-260-5953

Manufacturer's Rep

12760 Stroh Ranch Way Ste 100A, Parker, CO 80134 | Ph: 720-333-1613

Contractor - Residential

8501 Turnpike Drive #211, Westminster, CO 80031 | Ph: 303-955-2507

Contractor - Res/Comm
---
Happy National Roofing Week - June 6-12, 2021
National Roofing Week, June 6-12, 2021, increases awareness about the significance of roofs to every home and business and shares the good deeds of the industry.
NRCA has been encouraging the whole roofing industry to participate in National Roofing Week by engaging in their communities and informing the public about the essential role roofs and professional roofing contractors play in every community. We hope you were able to celebrate the industry this week. Read more.
---
Join NWIR Denver Chapter for June 22 Panel Discussion
The National Women in Roofing Denver and Northern Colorado chapters are inviting you to a panel discussion on Managing The Unexpected & Proactive Planning to Finish 2021 Strong featuring an industry-leading panel with speakers from manufacturing, distribution, and contracting. In addition to a powerhouse panel, NWIR will spotlight Beacon's Female Roofing Professional Of The Year Nominee Stephanie Pouse.
Join other women in the industry on June 22nd at 4pm. NWIR will be hosting this meeting both in-person and online so everyone can attend! For those that can attend in person, the meeting will be held at Stonescape Steel Roofing, Inc. located at 3006 Mulberry St., Ft. Collins CO 80524. Save the date and click for more information. You can also reach out to Alexus Lopez at Elite Roofing Supply.
SAFETY SPOTLIGHT
WATER. REST. SHADE.
Keeping Workers Safe in the Heat
Source: OSHA
It's a repeat each Summer... but we can't share this message enough! Please take care of your workers on hot days!
OSHA's Heat Illness Prevention campaign, launched in 2011, educates employers and workers on the dangers of working in the heat. Through training sessions, outreach events, informational sessions, publications, social media messaging and media appearances, millions of workers and employers have learned how to protect workers from heat. Our safety message comes down to three key words: Water. Rest. Shade.
Dangers of Working in the Heat
Every year, dozens of workers die and thousands more become ill while working in extreme heat or humid conditions. There are a range of heat illnesses and they can affect anyone, regardless of age or physical condition.
Employer Responsibility to Protect Workers
Under OSHA law, employers are responsible for providing workplaces free of known safety hazards. This includes protecting workers from extreme heat. An employer with workers exposed to high temperatures should establish a complete heat illness prevention program.
Provide workers with water, rest and shade.
Allow new or returning workers to gradually increase workloads and take more frequent breaks as they acclimatize, or build a tolerance for working in the heat.
Plan for emergencies and train workers on prevention.
Monitor workers for signs of illness.
Resources
OSHA's Occupational Exposure to Heat page explains what employers can do to keep workers safe and what workers need to know - including factors for heat illness, adapting to working in indoor and outdoor heat, protecting workers, recognizing symptoms, and first aid training. The page also includes resources for specific industries and OSHA workplace standards. Also look for heat illness educational and training materials on our Publications page.
NATIONAL NEWS FROM NRCA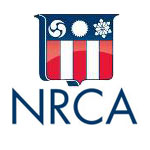 National Update: Worth sharing …
10@10 Advocacy Update
President Biden releases American Families Plan. On April 28, President Biden released the American Families Plan, a $1.8 trillion spending proposal intended as an "investment in our kids, our families, and our economic future."
NRCA submission to Senate HELP on workforce. The Senate Health, Education, Labor and Pensions Committee recently announced the start of bipartisan discussions "to support, update and expand workforce training programs, support and expand the National Apprenticeship Act, and encourage workforce innovation."
H-2B seasonal guest worker program. On April 20, the Department of Homeland Security announced it will provide an additional 22,000 visas for the H-2B Temporary Non-Agricultural Worker program for the second half of fiscal year 2021 (April 1-Sept. 30).
Occupational Safety and Health Administration regulations. The Occupational Safety and Health Administration is expected to issue an Emergency Temporary Standard to protect workers from exposure to COVID-19 in the workplace.
Tax credits provide paid leave for employees receiving COVID-19 vaccinations. The IRS and the Treasury Department announced further details of tax credits available under the American Rescue Plan to help small businesses, which include providing paid leave for employees receiving COVID-19 vaccinations.
Final rule withdrawing independent contractor rule. On May 5, the Department of Labor announced a final rule withdrawing the Independent Contractor Status Under the Fair Labor Standards Act final rule, which was issued by the previous administration in January.
OSHA guidance regarding employee vaccinations. On April 20, the Occupational Safety and Health Administration released new FAQs for employers who recommend or require their employees to receive COVID-19 vaccinations.
White House creates union task force. On April 26, President Biden signed an Executive Order establishing the White House Task Force on Worker Organizing and Empowerment, which "will be dedicated to mobilizing the federal government's policies, programs, and practices to empower workers to organize and successfully bargain with their employers."
Executive Order increases the minimum wage for federal contractors. On April 27, President Biden signed an Executive Order raising the minimum wage for federal contractors to $15 per hour by March 2022.
House of Representatives passes the Paycheck Fairness Act. On April 15, the House of Representatives passed H.R. 7, the Paycheck Fairness Act, legislation designed to prohibit wage discrimination in the workplace based on sex.
Source: NRCA.NET
MEMBER BENEFITS & TOOLS
This month's highlighted member benefits and tools
ADVISORY NOTICE: Roofing Contractors Must Not Act as Public Adjusters – Check Your Contract Language
The CRA Board of Directors has issued an advisory with additional information and details about these public adjuster clauses we have seen being used in Colorado that basically state that the roofing contractor may negotiate or act as a public adjuster on behalf of the owner. This is against Colorado's Residential Roofing Law (SB38) and it is required that you must be a licensed public adjuster before you take on this role. Click here to view the advisory.
Concerning Ladder Liability. Help us in educating consumers and concerned citizens about the liability and risks involved with unattended ladders set for inspectors.
CRA Safety Group Workers' Comp Program. Receive a 4%-upfront discount, group or individual loss history dividend calculation and much, much more. Members of the program automatically belong to the CRA Safety Group whose focus is on continuing safety education and training and improving safety in the roofing community. In partnership with Moody Insurance Agency and Pinnacol Assurance. Call Kim Burkhardt. at 303-824-6600 to receive additional information regarding this program.
RoofersCoffeeShop Free Classified Ad. RoofersCoffeeShop is the premier networking site in the roofing industry, helping contractors find information, materials, services, tools, labor and training in one place. Share ideas and stories in our RCS Forum, and visit their classified ads section to sell and find items and get help. Use promo code CRA for your FREE classified ad.
Colorado Contractors Legislative Advocacy Coalition - CRA partners with several other construction associations to make our voices heard as joint members of the Colorado Contractors Coalition. Together we have successfully passed legislation including payment reform (public and private to 5%), bonding requirements, pro-rata liability and construction defect reform policies. Check out the CCC website for more information and to keep up with our CURRENT advocacy efforts.
---
Delivery of the E-Newsletter to Your Inbox
To guarantee delivery of the newsletter to your e-mail inbox each month, we ask that you add Debbie Hathorne to your address book using the following email: debbie@coloradoroofing.org. By adding this address to your contact list, we hope to avoid spam blockers/junk mail folders and ensure your receipt of the CRA newsletter in your inbox each month. Thank you.
---
© 2005-2021- Colorado Roofing Association