February 2019 Newsletter
Date posted
February 15, 2019
PRESIDENT'S MESSAGE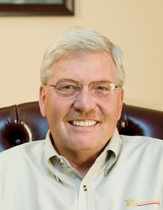 Greetings to everyone,
Well it's February already and we're having a good old-fashioned winter up in the mountains. I call it old fashioned because when I moved to Winter Park in 1972, this was the kind of winter we had year after year. Now this winter it's called 'something special' and what we call it is "EL NINO". Regardless of what it's called, we have plenty of water which we desperately needed and of course a good ski season is always a boom to our state's economy.
So on to roofing! I have had a few calls regarding ice dams and icicle build up on the Front Range. I believe the issues are minimal but am always eager to help roofing contractors understand this problem. I have been dealing with this issue for 43 years. There were some years where the call volume was 15 to 20 calls a day -- all roof leaks and reported as emergencies. Thankfully, the issue is nothing like it used to be because we have educated everyone on doing maintenance through the winter, introduced solutions using heat tape, and educated them on fact that this is NOT a roof problem, but a building performance issue. About 95% of ice problems are caused by heat loss due to poor insulation or lack of insulation in the walls and ceilings. The heat escapes through the roof, melts the snow which runs down the cold sections of the roof and builds up to cause a dam of ice which then stops the water from coming off the roof. You then have standing water on your pitched roof, something that pitched roofs weren't designed for! Due to hydrostatic pressure, this water then gets through your membranes and shingles causing leaks. I could write a book on this topic but will conclude that the best advice I can give you is to tell your customers to re-insulate to a R-49 and I assure you the ice dams and icicles will begin to go away.
I would like to remind everyone about the NRCA Roofing Day in Washington D.C. on April 3rd & 4th. I will include the link to information in my Legislative update below. This is a gathering of roofing professionals from across the country. The contingents from each state will be visiting with their respective state representatives and senators to discuss 2-3 of the most serious issues facing our industry. Let's have a great showing from Colorado!
We had a great Trade Show in January. Over 1200 people from all over the roofing industry were in attendance. It was great to catch-up and check-out some new products and services being offer. I also worked the CRA table and had several great discussions. We thank everyone for their participation, especially our sponsors, manufacturers and vendors.
Don't forget about the CRA Awards Dinner this week on February 21st. I am eager to see this year's project and we hope to see many of you there!
Last, I want to send our prayers and thoughts to Rob McReynolds and his family. Rob is fighting cancer. He is not only a friend but Rob is a great leader and a giant in our industry. Here is a link to a place for friends and family to stay up to date and to lend support and inspiration to Rob. Get well soon!
Jeff Johnston
The Roofing Company
CRA President
---
A BIG THANK YOU to our 2019 Sponsors!
| | |
| --- | --- |
| 2019 Industry Leader Sponsors | |
| A to Z Roofing | Front Range Roofing Systems |
| ABC Supply Co. | GAF Materials |
| Academy Roofing, Inc. | GCP Applied Technologies |
| Advanced Roofing Technologies | Gulfeagle Supply |
| American Roofing Supply | Horn Brothers Roofing, Inc. |
| APOC | Interstate Roofing |
| Arapahoe Roofing & Sheet Metal | Johns Manville |
| Architectural Sheet Metal & Panels | K & P Roofing LLC |
| B & M Roofing of Colorado | Malarkey Roofing Products |
| Beacon Roofing Supply | Moody Insurance Agency |
| Black Roofing, Inc. | Owens Corning |
| Boral Roofing | Pinnacol Assurance |
| Boulder Roofing, Inc. | Premium Panels |
| CertainTeed | SPEC Building Materials |
| Daly & Black P.C. | Supreme Roofing Done Right, LLC |
| Elite Roofing | Tamko Building Products |
| Elite Roofing Supply - CO, LLC | Tecta America - Colorado |
| Flatiron Steel | The Roofing Company |
| Flynn BEC LP | |
| 2019 Silver Sponsors | |
| Alpine Roofing Co., Inc. | Schafer and Company |
| Cleasby Manufacturing | Sheffield Metals |
| F-Wave | Superoofs |
| RTP Roofing Co. | |
---
ANNOUNCEMENT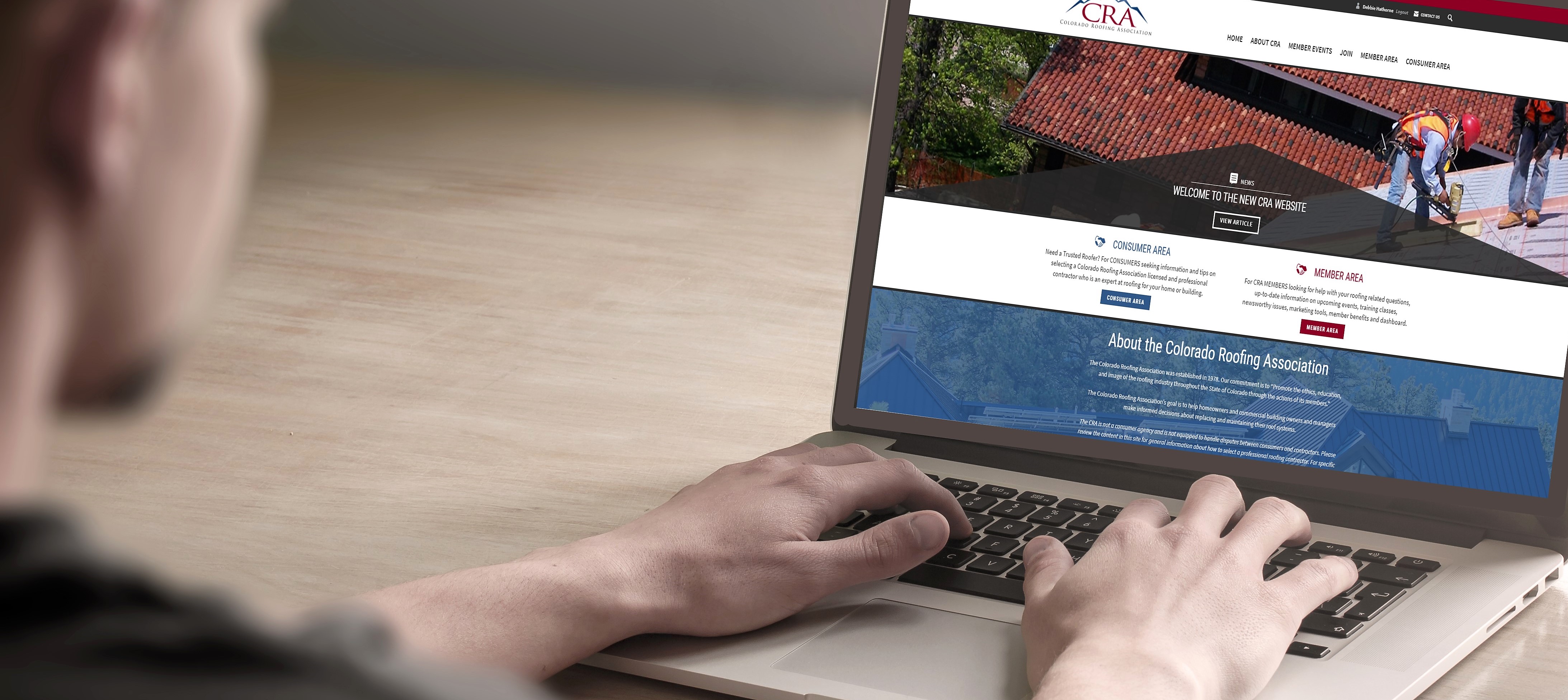 REMINDER!
Have you created your new log-in on the CRA Website?
We have a brand new look and updated technology in an effort to better serve all of you.
As members, we hope that you don't feel that the CRA is just an advertising logo. It is an organization based on the belief that it is our responsibility to 'promote the ethics, education and image of the roofing industry in the State of Colorado through meetings and actions of the members.'
The CRA Board is committed to developing and maintaining our website as a place consumers' value as a trusted source for education and information for one of the biggest decision making processes a homeowner makes - investing in a new roof! We have worked to redevelop the CRA website by establishing a new and refreshed online presence with three purposes:
Continue to provide Consumer Education about selecting roofing contractors for roofing projects and to motivate home owners and building managers to choose CRA Contractor Members for their roofing needs;
Continue to provide membership information to CRA Members about the activities and operations of the association and;
Provide members with more control of their membership records by offering a cloud-based software, that empowers our members with a self-service online interface to interact with the association online from your desks and 'on the go' from any device.
In order to get the most out of your member experience, you will need to create a new login.
With your login, you will be able to:
Register for events and classes
Update your profile information
Track event attendance
View/Pay company invoices (for company admin users)
...and more!
In order to create your new login, please click here for instructions.
>> BE SURE TO ALSO ENHANCE YOUR MEMBER DIRECTORY LISTING! The member directory is one of the most visited pages on CRA's website. Help customers find you easier by enhancing your listing. CRA member companies automatically have a basic listing in the member directory. We encourage you to enhance your listing to extend your marketing message with the following personalization capabilities – brand awareness (add your logo), social media presence (add links to Facebook, LinkedIn, Twitter) and add a short member bio.
---
EVENT ANNOUNCEMENTS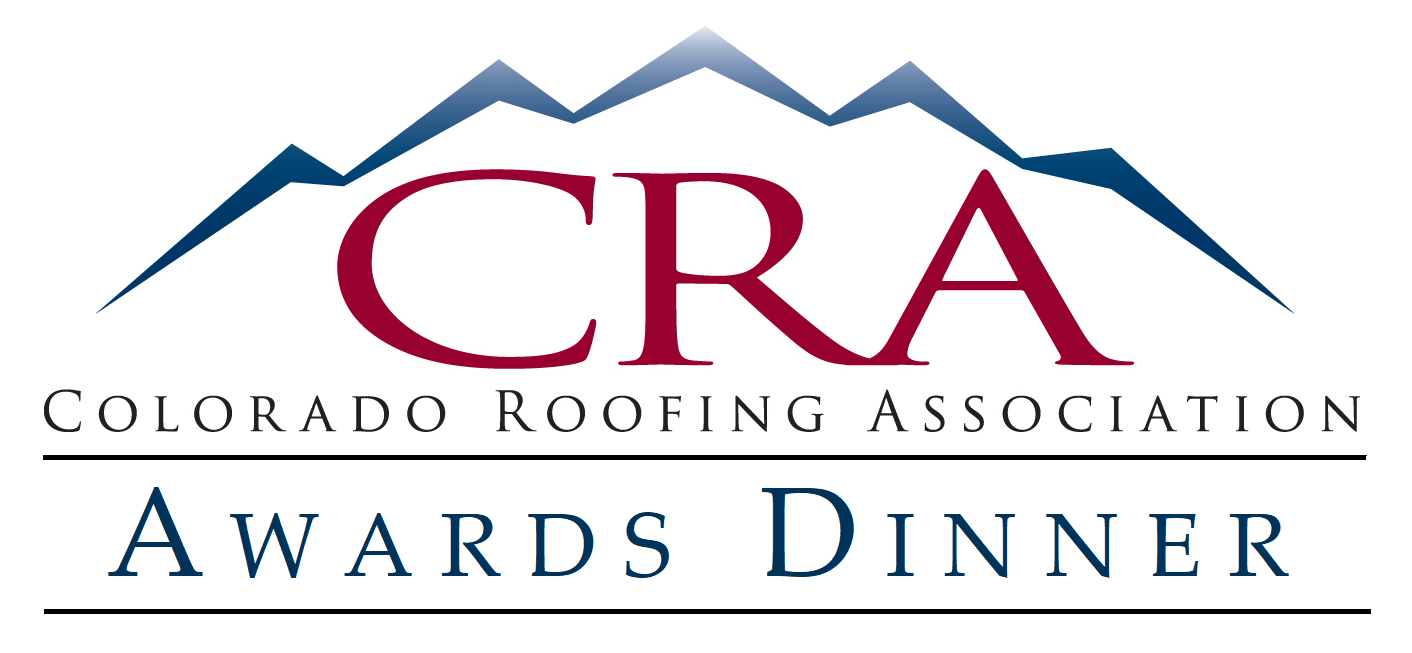 We are excited to invite you to our 18th Annual Celebration of the CRA Awards Dinner – an inspiring evening where we all can take the time to congratulate each other and ourselves on the difficult, complex, dangerous and exciting work we do every day!
18th Annual
Thursday, February 21, 2019
5:30 pm Cocktails | 7:00 pm Dinner | 8:00 pm Awards Presentation

Omni Interlocken Spa & Resort
500 Interlocken Blvd.
Broomfield, CO.
(CRA Member CIU's = 1 per person)
---
Membership Lunch | Thursday, March 14, 2019
Topic: The "Bucket List Life" - Create More Experiences, Share More Stories, and Live More Fulfilled!
One of only five members on the Denver Broncos Thunderstorm Skydive Team, Kenyon Salo is seen each week flying into Broncos Stadium at 60+mph, ending with a soft tip-toe landing on the ten yard line. With over 6000 skydives under his belt and travels that have taken him all around the world, he's determined to live life to the fullest and help others do the same.
Through his passions for adventure, storytelling, and connecting with people, he found a simple process to guide others on a path to what most of us crave – living a more fulfilled life. In this session, you'll receive actionable steps that will help you, both personally and professionally, to achieve anything you desire.
We hope you're as excited as we are and look forward to seeing you at the event soon!
Thursday, March 14, 2019

The Denver Mart – Forum #1

451 E. 58th Ave (I-25 & 58th Ave)

11:30 - 1:15 pm

Cost: CRA member companies get TWO FREE lunches at this meeting. There is a $20.00 fee for additional employees (3 or more) from member companies. Non-member companies can attend for $40.
Gold Lunch Sponsors:

(We still have one Gold Sponsor spot available, call CRA today!)
Register to attend, by clicking on the "Register Now" link below.
(CRA Member CIU's = 2 per person)
---
Texas Hold 'em Tournament | March 28, 2019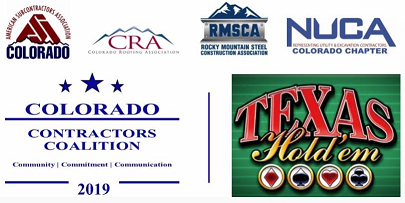 Joint event with ASA, CRA, NUCA and RMSCA. Poker is a perfect legislative fundraiser. Winning is the objective, strategy is key, and there are rules to follow. Your participation will help us raise money for our legislative efforts in 2019 – funding a lobbyist, legislator and industry communication and participation in industry coalitions and organizations. Join us and try your hand at poker and politics.
Thursday, March 28, 2019

Tradecraft Industries

6145 Broadway, Denver 80126

4:30 - 9:00 pm

Entry Fee: $99.00 Includes food, snacks and 3 drink tickets.

(CRA Member CIU's = 1 per person)
---
---
CRA Trade Show - 2019 Photo Gallery >>>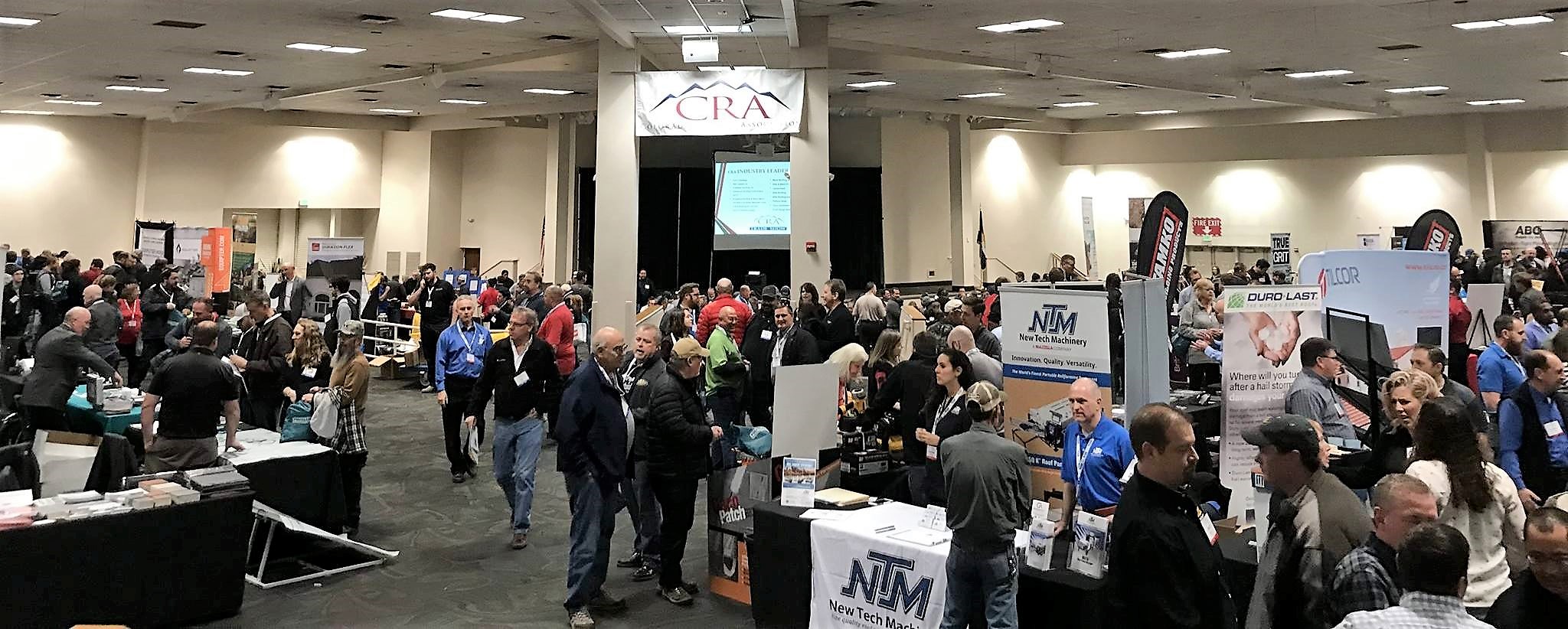 Mark your calendars for next year!
Jan 23, 2020 | CRA Trade Show | Denver Mart
---
Click here to view the full 2019 Event Calendar – calendar includes additional event dates, member luncheons, pinpoint seminars, Training Center courses, etc.
COLORADO LEGISLATIVE WATCH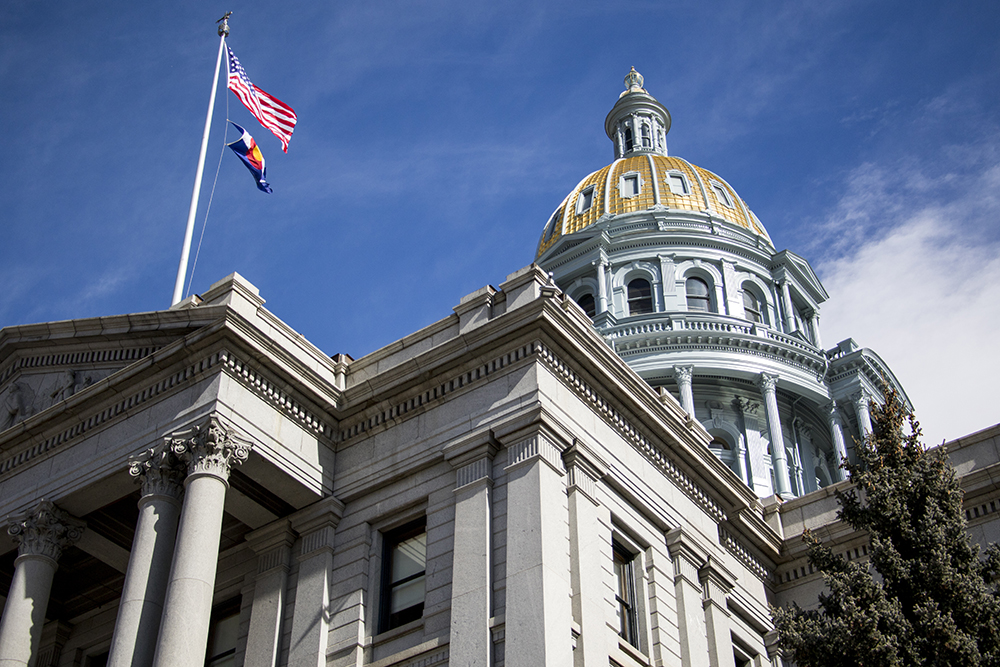 We are monitoring several legislative issues at the state and local level along with public policy processes and municipal & county policy issues.
Colorado:
SB19-138 | Bond Requirements For Public Projects Using Private Financing - Concerning bonding requirements for contractors that are a party to certain public-private initiatives.
HB-1008 | Include Career and Technical Education in Building Excellent Schools Today Program - Concerning the provision of grants for career and technical education capital construction through the "Building Excellent Schools Today Act".
SB19-006 | Electronic Sales And Use Tax Simplification System - Concerning an electronic sales and use tax simplification system, and, in connection therewith, requiring the office of information technology to conduct a sourcing method for the development of the system and requiring the department of revenue to establish the implementation of the system for the acceptance of returns and processing of payments for the sales and use tax levied by the state and any local taxing jurisdictions.
SB19-097 | Area Technical College Grant Program - Concerning a grant program for area technical colleges.
National:
ROOFING DAY IN D.C. 2019 | CAPITOL HILL FLY-IN | MARCH3-4, 2019 – The CRA is working with NRCA's efforts to promote and make Roofing Day in D.C. 2019 a big success. The purpose of the event is to bring the roofing industry together to meet with members of Congress and their staffs and deliver the industry's message with "one voice." Once again, we encourage roofing contractors planning on attending to also bring one or more standout crew members to help share the industry's story. Congress needs to hear from all segments of the industry! NRCA is offering a special registration rate of only $25 for roof system installers. Learn more about Roofing Day in D.C. 2019 and register to attend!
I don't want to forget to mention our Spring legislative fundraiser we are holding with our partners in the Colorado Contractors Legislative Advocacy Coalition (CRA, ASA, NUCA & RMSCA). Please consider joining us on March 28th for a Texas Hold'em Tournament. See the event details in the Event section above.
Last, if you are aware of any specific legislation coming up in 2019 that will affect our industry, please contact me so that we can follow and share with the membership. With your help, we can continue to work together for positive changes in the construction industry.
Jeff Johnston
The Roofing Company
CRA President
---
CODE NOTICES & UPDATES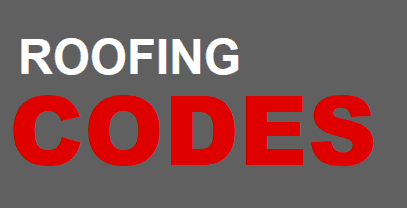 The following city and/or counties have made updates this past month. Please log-in to the Code Guidelines to see their updates.
ADAMS COUNTY - Adams County has adopted the 2018 International Codes. Effective January 12, 2019. Read More.
BOULDER COUNTY - beginning Monday, February 4, 2019, Boulder County will return to their normal inspection schedule of performing roofing inspections each day, Monday through Friday, rather than just on Tuesdays and Thursdays. Please note that although inspections will return to normal, their office will continue to be closed on Tuesdays for processing of permits. Click here for roofing requirements in Boulder County.
CITY & COUNTY OF DENVER - CRA held an informative pinpoint seminar on Feb 5th to educate the roofing community on Denver's new Green Building Ordinance. Thanks to all who attended. For those not able to make it, you can click below to review the PointPoint slide details and handout.
JEFFERSON COUNTY - Jefferson County has adopted the 2018 International Codes. Effective January 1, 2019. Read More.
LARIMER COUNTY - Larimer County has adopted the 2018 International Residential Code, International Building Code and related codes as amended by Larimer County effective February 1, 2019. All permits applied for on or after that date must have plans designed to the 2018 codes. Read More.
CITY OF LONGMONT - The City of Longmont has adopted the 2018 International Codes. Effective January 21, 2019. Click here for a copy of the ordinance adopting the 2018 code.
WELD COUNTY - Weld County has adopted the 2018 International Codes. The new codes become effective January 1, 2019; however, the Building Department will continue to accept construction plans/documents designed under the 2012 International Codes until February 28, 2019. Effective March 1, 2019, all documents submitted for Building Permits AND work for permits issued after March 1st, must comply with the 2018 International Codes as adopted. Read more.
---
Have you heard of any upcoming building code changes with any of the municipalities you work with? Please share them with us by emailing the BC&S Committee via Debbie at debbie@coloradoroofing.org.
The CRA Building Code & Standards Committee is tasked to represent our members in code, inspection and enforcement issues related to the roofing industry and to facilitate improved communication between the roofing industry and Colorado Building Departments and Code Officials. Through the Code Guidelines on the CRA Website and in this monthly column, committee members share Building Department news and updates.
SAFETY SPOTLIGHT

Fatigue In Construction
Worker fatigue is often an overlooked hazard on the construction site. Fatigue, whether physical or mental, impairs a construction worker's ability to safely and effectively perform their job duties. It increases the risk of accidents and injuries which can lead to unnecessary workers' compensation costs and can greatly reduce productivity on a project.
Employers are tasked with keeping their employees safe. Worker fatigue is a serious issue that shouldn't be ignored as it can be costly and lead to serious accidents and injuries on the construction site. Read more from ConstructConnect Blog Post.
---
OSHA & Drones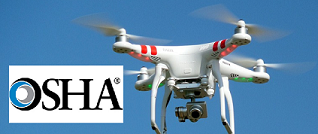 Early last year, the Occupational Safety and Health Administration (OSHA) announced the start of an all new approach to its safety inspections—through drones. Since its introduction, at least nine inspections were conducted with camera-enabled drones. Of these nine inspections, the majority were used due to hazardous circumstances on-site such as a recent collapse, fire or explosion. Read More.
Source: Cotney Construction Law Update - February 2019.
---
Florida Roofing Contractor Cited for Exposing Workers to Dangerous Falls - OSHA cited Ad-Ler Roofing, Inc., for exposing workers to dangerous falls at a residential worksite, just one month after similar violations were found at another worksite. The contractor faces penalties of $91,466. OSHA initiated the inspection as part of its Regional Emphasis Program for Falls in Construction after inspectors observed the company's workers performing roofing activities without fall protection.
---
CRA TRAINING CENTER
Online Enrollment now open for the following training courses. Space is limited in all classes, so be sure to sign up now!
Feb 28 & Mar 1 | METAL ROOFING
This 2-day course will to expose students to working with different types of metal, issues to consider and learning proper techniques. Class is intended for students who have background in roofing and/or for installers who have not yet worked with sheet metal.
---
Mar 7-8 | TPO/EPDM
This 2-day course is intended for installers who are newer to the industry who are seeking in depth knowledge of TPO and EPDM systems as well as learning proper installation methods for membranes and flashings.
---
ITEMS OF NOTE

Navigating the New Colorado Sales and Use Tax Law - Does your business understand the new sales and use tax law that the state of Colorado rolled out on December 1, 2018? This comprehensive guide will ensure that you understand and are up-to-date with the latest from the statehouse. Read More.
---
Illinois construction unions sue members of opioid industry - The Chicago Regional Council of Carpenters and the International Union of Operating Engineers Local 150 have teamed up as the first unions in Illinois to sue the manufacturers, distributors and prescribers of opioid painkillers, according to abc7chicago.com.
The Centers for Disease Control report construction workers have the highest rate of opioid-related overdoses compared with all other U.S. occupations. The Chicago Regional Council of Carpenters lost two of its members during the past couple of months, and Perinar says the problems are also costing their union health fund millions of dollars as carpenters increasingly struggle with opioid addictions.
The unions reportedly filed the lawsuit to hold drug manufacturers, distributors and doctors accountable.
"The suit accuses the drug companies of fraud, unjust enrichment and conspiracy for the way they falsified research and misled people into believing their opioids were not addictive," says Ari Scharg, attorney with Edelson PC, Chicago.
Union attorneys say they are not looking for a settlement and would rather have the case go to trial to force companies to release information about their drugs.
---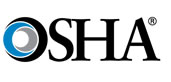 OSHA's National Safety Stand-Down will be May 6-10 - The Occupational Safety and Health Administration's sixth annual National Safety Stand-Down will be May 6-10 to raise awareness among employers and workers about the hazards of falls in the construction industry.
Click here to find out how you can get involved!
---
OSHA extends crane-related documentation deadline to April 15 - The Occupational Safety and Health Administration says it will delay full enforcement of documentation requirements for crane operator evaluations until April 15 to give the construction industry more time to comply. Until then, OSHA will help companies that make "good faith efforts" with compliance in lieu of enforcement. Read More.
---
NATIONAL NEWS FROM NRCA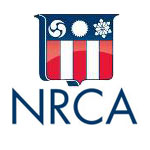 National Update: Worth sharing … from NRCA.
NRCA 10 @ 10 List for February
MEMBER BENEFITS & TOOLS
This month's highlighted member benefits and tools
ADVISORY NOTICE: Roofing Contractors Must Not Act as Public Adjusters – Check Your Contract Language
The CRA Board of Directors has issued an advisory with additional information and details about these public adjuster clauses we have seen being used in Colorado that basically state that the roofing contractor may negotiate or act as a public adjuster on behalf of the owner. This is against Colorado's Residential Roofing Law (SB38) and it is required that you must be a licensed public adjuster before you take on this role. Click here to view the advisory.
Concerning Ladder Liability. Help us in educating consumers and concerned citizens about the liability and risks involved with unattended ladders set for inspectors.
CRA Safety Group Workers' Comp Program. Receive a 4%-upfront discount, group or individual loss history dividend calculation and much, much more. Members of the program automatically belong to the CRA Safety Group whose focus is on continuing safety education and training and improving safety in the roofing community. In partnership with Moody Insurance Agency and Pinnacol Assurance. Call Kim Burkhardt. at 303-824-6600 to receive additional information regarding this program.
---
Delivery of the E-Newsletter to Your Inbox
To guarantee delivery of the newsletter to your e-mail inbox each month, we ask that you add Debbie Hathorne to your address book using the following email: debbie@coloradoroofing.org. By adding this address to your contact list, we hope to avoid spam blockers/junk mail folders and ensure your receipt of the CRA newsletter in your inbox each month. Thank you.
---
© 2005-2019 - Colorado Roofing Association