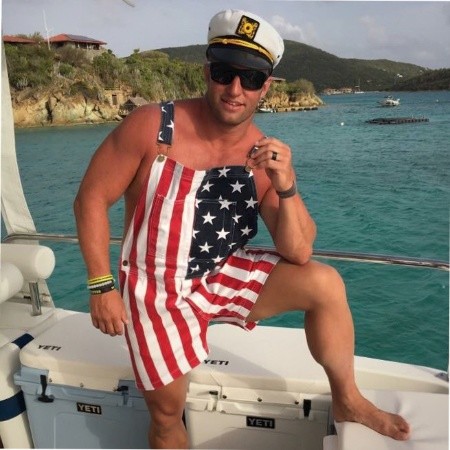 Greetings,
My apologies for the delay in this month's newsletter; we have been very busy helping customers out with leak issues and hail damage these last few weeks, as I am sure all of you have been as well. Reports are saying this has been one of the four wettest months on record for our state and doesn't seem to be slowing down. It seems like the days are gone where we had the quick afternoon downpours here in Colorado and then could get back to work; now it definitely is disrupting business.
There are talks that there are already close to 50,000 homes damaged so far with these hail storms we have gotten, and the number grows with each severe storm. So, there is plenty of work. With the widespread hail damage from so many storms comes a reminder about Colorado's residential roofing law (still referred to by many as SB38) and our responsibility as CRA members to uphold this and make sure our consumers are getting the best contractors they can. We've had an increase in calls come into the CRA office/board already this year about some contractors advertising they are members of the CRA but then not being listed on the website, contractors offering to pay deductibles, and/or not working within the residential roofing law parameters. So please make sure you read up on the requirements and revisit the CRA Code of Ethics we, as members, have signed so that we can elevate our industry and offer our local consumers the best in the industry.
When consumers come to our website to educate themselves and get information, resources, and help, our promise to them is that we have already done some of their homework for them and they can trust any one of our members to be an ethically run Colorado roofing business. We all want a better image for the roofing industry, and with your continued membership and commitment to the higher standards set by our association, we hope to continue to improve that image, one step at a time.
I also wanted to mention another important item for you to look into as business owners. The National Labor Relations Board (NLRB) just made a change to the ruling about Employee Classification rules which allows workers to organize and join unions and will force employers to classify more workers as employees rather than sub-contractors. The new rule is almost reverting back to the 2014 ruling and requirements. Trent Cotney from Adams and Reese LLP and the general counsel for the NRCA wrote a good piece on this topic for Roofers Coffee shop a few days ago (click here to read the blog post). Please take some time to look into this for yourselves and your businesses.
Last, I wanted to thank everyone who joined us virtually on June 8th. It was very informative about this year's legislative session and the bills passed that might impact our businesses.
In honor of the upcoming July 4th Independence Day celebration, I hope you enjoy my fun photo this month. Have a great and safe holiday, and continue to have a great.. and hopefully... more productive summer.
Be safe out there!!
Thanks.
Guy Mumford
Kudu Roofing
CRA President
---
A BIG THANK YOU to our 2023 Sponsors!
| | |
| --- | --- |
| 2023 Industry Leader Sponsors | |
| A to Z Roofing | Gulfeagle Supply |
| ABC Supply Co. | Horn Brothers Roofing |
| Academy Roofing, Inc. | Interstate Roofing |
| Advanced Roofing Technologies | Johns Manville |
| American Roofing Supply | Malarkey Roofing Products |
| Arapahoe Roofing & Sheet Metal | Moody Insurance Agency |
| B & M Roofing of Colorado | Owens Corning |
| Beacon Building Products | Pinnacol Assurance |
| Black Roofing & Waterproofing | SPEC Building Materials |
| CertainTeed | Superoofs |
| Claims Pro Public Adjusters, LLC | Supreme Roofing Done Right, LLC |
| Elite Roofing Supply - CO, LLC | Tamko Building Products |
| Everest Systems, LLC | Tecta America - Colorado |
| Flatiron Steel | The Roofing Company |
| Front Range Roofing Systems | Tiley Roofing, Inc. |
| GAF Materials | Valor Roof & Solar |
| GCP Applied Technologies | Westlake Royal Roofing Solutions |
| | |
| 2023 Silver Sponsors | |
| BriteStreet Solar | Polyglass U.S.A. |
| BuildingWorks LLC | RTP Roofing Co. |
| Calebs Management Enterprises, Inc. | Schafer & Company |
| Cleasby Manufacturing | Sheffield Metals |
| F-Wave | |
| | |
UPCOMING EVENTS, SEMINARS & WEBINARS
Join us for these upcoming events.
CALENDAR
<<<>>>
YEP SHOOT THE RIVER | July 12
Lions Park | Golden, CO
Tubing Clear Creek River*
Networking in the Park
Wine, Beer & LB Taco Truck
Corn Hole Tournament ($20 Donation required)
Fundraising for Trade School Building Material
Join us for a fun summer day of tubing down Clear Creek river in Golden, Co. Then, we'll head to a Lion's Park for some networking, beer, wine and tacos and a mini corn hole tournament to round out the a fun Friday afternoon.
We'll also be fundraising to raise funds for YEP committee education efforts and getting young generations into the construction trade.
Cost:

$50 Tubing & Networking (2-6pm)

$30 Networking Only (3-6pm)

Want to Participate in the Corn Hole tournament? A $20 donation required. Pay with registration or when you get to the park. (4:14 - 5:45 pm)

YP Age Range 21 - 35, but we encourage others emerging professionals new to the roofing industry (less than 2 years) to attend as well
Includes: Tubing (if selected), food and drinks (wine, beer, non-alcoholic) and corn hole tournament (if selected).

* You will be required to sign a waiver if tubing.
CRA Member CIU's = 1 per person. 
CRA GOLF TOURNAMENT | Don't Miss Early Bird Pricing
FRIDAY, AUGUST 18, 2023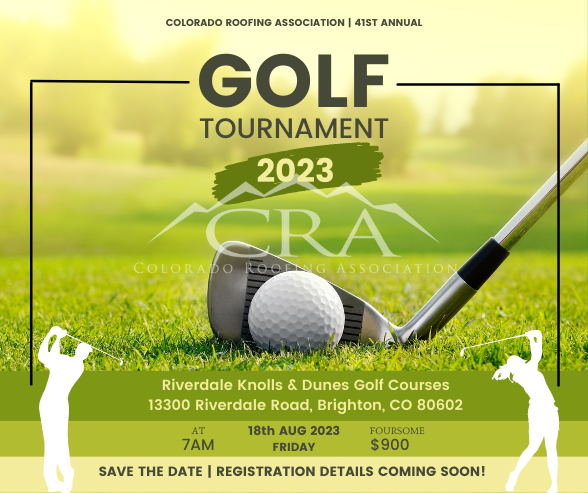 Join us for the CRA Golf Tournament to be held at Riverdale Knolls & Dunes Golf Courses at 13300 Riverdale Road, Brighton, CO 80602 on Friday, August 18. We will be celebrating our 41st annual tournament.
We're already halfway full - Dunes Course is sold out as of 6/22/23.
Early Bird prices end July 15th! Be sure to get your spot on the Knolls right away.
Sponsorship Opportunities
Companies interested in sponsoring this year's tournament or manning a hole are encouraged to contact us. Please email Debbie now for details.
CRA Member CIU's = 1 per person. 
<<<>>>
Click here to view the full 2023 Event Calendar – calendar includes additional event dates, member luncheons, pinpoint seminars, Training Center courses, etc.
MARKET YOUR CRA MEMBERSHIP
PROMOTE YOUR MEMBERSHIP IN CRA!
The beginning of summer is a good time to remind you what the CRA Marketing Committee is up to. We are in consumer education mode and our "Select a Trusted Colorado Roofer" campaign has ramped up with all the hail we are getting these past few months. Our goal is to maximize the use of social networking tools to reach CRA members and the general public. Our social media ads urge Colorado home and building owners to take the appropriate steps in getting informed about replacing/repairing a roof and in selecting a trusted roofing contractor; especially in the event of hail or storm damage.
Look for us on Facebook, Instagram and LinkedIn. We also encourage you to share our ads when you see them - the more homeowners that get informed about replacing/repairing a roof - the better. Sharing links also helps improve your search engine optimization (SEO). When you share your posts and ours, the audience amplifies the content by sharing it further. In this way, we both increase visibility, improve traffic, and generate backlinks. These are all social signals that notify Google that your site content is credible and improves SEO rankings.
We also want to remind you that CRA has a Member Marketing Tools page on our website. Two items to highlight include: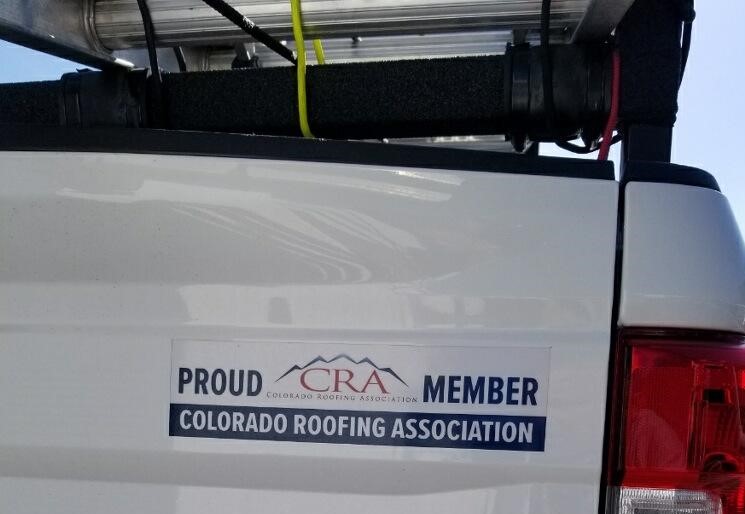 PROUD MEMBER SOCIAL MEDIA POST - download the proud member post to share on your social media feeds and tag the Colorado Roofing Association.
PROUD MEMBER BUMPER STICKERS - If you didn't see them at the Trade Show or use the order form with your 2021 Membership Decal/Certificate mailing, now's the chance to get "Proud Member" bumper stickers for your fleet. We want you to promote your affiliation with the Colorado Roofing Association on your vehicles, truck bumpers/windows or on your trailers). Members receive 5 Free Stickers upon request. Size = 11.5" wide x 3" tall, available in clear or white background. Additional stickers are increments of 10 for $5.
Click to order your bumper stickers!
PROMOTIONAL FLYER FOR YOUR SALES KIT - Promote your affiliation with the Colorado Roofing Association. Just click on the link below to download the flyer. Print as many as you need and start using in your sales packets and presentations right away!
We encourage website visitors to use CRA Contractors!
Have you enhanced/reviewed your Member Directory Listing?

One of our main goals when marketing/advertising the CRA is to encourage consumers who visit the site to use a CRA Member for their roofing project. It's working and the member directory is one of the most visited pages on CRA's website. Help customers find you easier by enhancing your listing. CRA member companies automatically have a basic listing in the member directory. We encourage you to enhance your listing to extend your marketing message with the following personalization capabilities – brand awareness (add your logo), social media presence (add links to Facebook, LinkedIn, Twitter) and add a short member bio.
OTHER MARKETING RESOURCES AVAILABLE TO MEMBERS:


MARKETING NEWS & HELPFUL TIPS
The CRA Marketing Committee is Here for You!
We want to help you increase your digital footprint and are bringing you tips each month to help you get there!
Watch this month's From the Rooftop marketing video tip all about optimizing your local SEO presence.
CRA TRAINING CENTER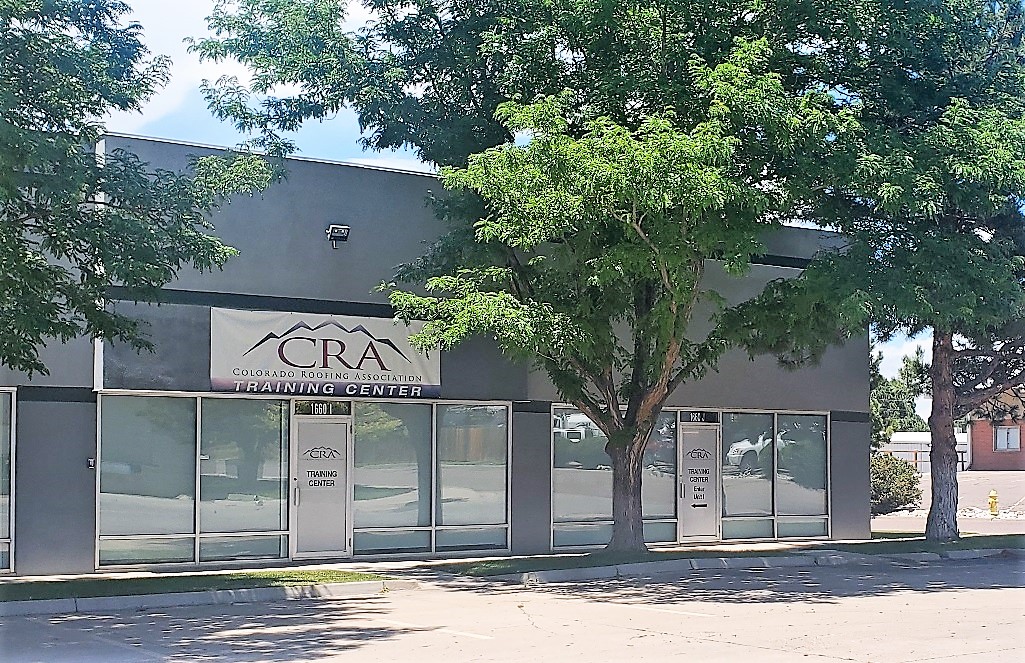 The CRA Training Center is located at 1660 Jasper Street, Unit I & J in Aurora, CO and is designed specifically for roofers and roofing applications. The space can be used for all types of steep and low slope materials and roofing systems. We are "application friendly".
The center is being used for CRA Training Programs and is available to rent for members and non-members contractors, manufacturers and others who need space to conduct their own training.
Please consider us for your next training spot!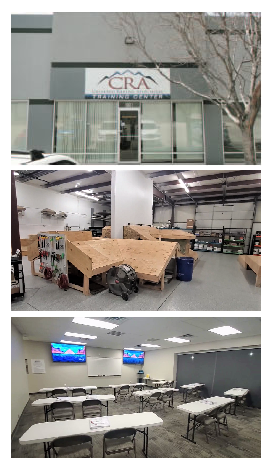 Facility Rental
NEED A SPOT FOR TRAINING ?
We just want to remind all of you that CRA's Training Center is available for your next employee/installer training, certification class or product demonstration. Whether you need to teach a new installation technique, train a new crew or showcase a new product, CRA's training space offers you a 'roofer friendly' indoor environment with class space for up to 30 individuals.
The CRA Training Center is located in Aurora, CO and is designed specifically for roofers and roofing applications. The space can be used for all types of steep and low slope materials and roofing systems. We are 'application friendly' and there is no need for you to travel from a seminar room to the parking lot. You will be required to sign a rental agreement.
Contact Diana Johnson for more information/details.
ITEMS OF NOTE

Contractor Forced to Pay More Than $360K in Damages and Back Wages
The Wage and Hour Division of the U.S. Department of Labor considers work "prep," where an hourly employee may be in training before work begins, "work"; if not compensated appropriately, a company may find itself afoul of labor law. Read more.
---
7 ways roofing firms can avoid that door knock for leads
Knocking on doors is a typical way for roofing companies to court customers, but the practice is time-consuming and can bring rejection. Benjamin Kepner, CEO of Global Social Media Marketing, which creates automated roofing sales funnel systems, outlines seven ways roofing companies can generate leads without pounding the pavement. Read more.
Full Story: Forbes (tiered subscription model) (6/6)
COLORADO LEGISLATIVE WATCH

Legislative Update
I hope you were able to attend the legislative update we held last month on June 8th. The webinar was very informative and many found it helpful because several of the bills discussed were not on their radar. If you were not able to attend the lunch webinar, here is a link to the PowerPoint slides and the bills that were covered. Thank you to our lobbyist, Amber Valdez, for being a valued partner and keeping us informed.
This month is a good chance to highlight the Colorado Contractors Coalition that we belong to, since once again this summer, you will find us manning holes at several industry golf tournaments including the RMSCA tournament in June, CRA in August and ASA-Colorado in September. CCC wants to bring awareness to how we are advocating for you and talk about legislation that was passed and what your PAIN POINTS are. Be sure to stop and chat with us. Participate in our fun contests for your chance to win attendance prizes (other golf foursomes, sporting event tickets and more).
Check out how our partnership works on your behalf:
How we collaborate on your behalf...
The Colorado Contractors Coalition (CCC) goal is to build trust through collaboration. CCC is the place where contractors, specialty contractors, associate professionals come together to work on industry issues and concerns. Founded in 2016, the CCC influences state and local policy makers to support the improvement and betterment of the contractor business community. The CCC is currently composed of the legislative committees for the American Subcontractor's Association of Colorado (ASAC), Colorado Roofing Association, (CRA) and Rocky Mountain Steel Contractors Association (RMSCA) who meet once a month (and more often as needed).
Major activities include the following.
Propose and obtain sponsors for bills.

Retain lobbyists to push legislation to support contractors' initiatives.

Review reports and meet with lobbyists on proposed legislation and candidates.

Review proposed legislation.

Determine if CCC needs or should take a position.

Develop an action plan to support or oppose legislation.

Coordinate with ASAC, CRA, and RMSCA members to help members support or oppose legislation through the
power of grassroots efforts to effect change.

Monitor elections and candidates.

Work proactively on positive changes in safety & environmental regulations, contract terms, and other issues.

Participate in a larger industry coalition, focused on payment reform and construction industry issues.

Provide financial contribution to state legislative candidates supported by CCC.
Check out the full summary here.
In closing, if you are aware of or concerned about upcoming legislation or Fall elections or just want to learn more about our advocacy efforts, please reach out to me.
Jaimie Williams
Next Wave Roofing
Gov't Relations Committee Chair
CODE NOTICES & UPDATES

This month's Building Code updates/notices & resources you can use!
Broomfield, City & County of - In addition to moving to the 2021 Codes, Broomfield also increased their re-inspection and cancellation fees. As of April 15, 2023, the re-inspection penalty & same day inspection cancellation fees assessed by the Building Division will increase to $150.00. Read More.
Centennial, City of
- As of June 21, 2023 the City of Centennial has updated it's International Code Council (ICC) code years to 2021 IRC/IBC.
Permits under review prior to June 21, 2023 will continue to be reviewed and issued under the 2015 codes
.
Read more.
Denver, City & County - it was recently reported by a member for Denver that any decks under ¼ inch per foot will require leak detection system on new roof. For existing roofs, if ponding issues appear, a slope study is required.
Frederick, Town of - it was recently reported by a member that Frederick uses a 3rd party inspection service for the required mid-roof inspection. In this case, no one showed for the mid-roof and when contacting Frederick building department, was told they had no way to get a hold of 3rd party. Please be aware, as many roofs will have to be left open longer than should be necessary.
As of June 15, 2023, Englewood has adopted the 2021 International code series with amendments.
Read more.
REMINDER. Pikes Peak Regional Building Department (PPRBD - Colorado Springs Area) - PPRBD will be adopting the 2023 Pikes Peak Regional Building Code (PPRBC) that will reference the 2021 ICC codes. PPRBC has set the enforcement date of June 30, 2023. Read more.
Have you heard of any upcoming building code changes with any of the municipalities you work with? Please share them with us by emailing the BC&S Committee via Debbie at debbie@coloradoroofing.org.
SAFETY SPOTLIGHT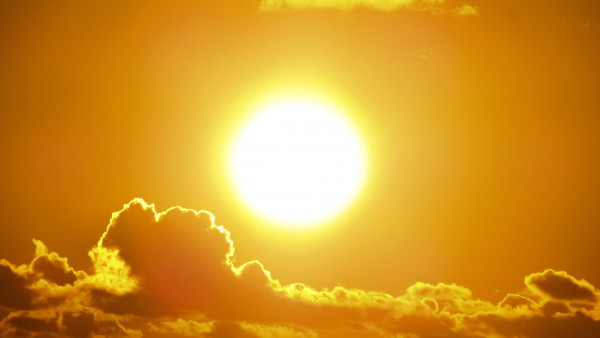 What is the new OSHA standard for heat stress?
OSHA has found that:

Almost half of heat-related deaths occur on a worker's very first day on the job (Arbury 2014).

Over 70 percent of heat-related deaths occur during a worker's first week (Tustin 2018).
New and existing workers may not be used to the heat load that can occur and are at increased risk of heat-related illness because of physiological (i.e., related to body function and exertion) and/or behavioral factors.
Heat related tragedies can be avoided if employers take actions to protect new (and existing) workers.
In the new standard OSHA refers to the term "workers who are new to working in warm environments." This includes the following:
New, temporary, or existing employees who start new work activities:
in warm or hot environments
while wearing additional clothing (e.g., chemical protective clothing)
with increased physical activity
Workers returning to work environments with potential exposure to heat hazards after an absence of one week or more for example returning from any kind of extended leave.
Workers who continue working through seasonal changes when temperatures first begin to increase in the spring or early summer.
Workers who work on days when the weather is significantly warmer than on previous days (i.e., heat wave).
Build Heat Tolerance: Acclimatization
To protect new workers from heat-related illness, employers should do the following:
Schedule new workers to work shorter amounts of time working in the heat, separated by breaks, in heat stress conditions (see below).
Give new workers more frequent rest breaks.
Train new workers about heat stress, symptoms of heat-related illness, and the importance of rest and water.
Monitor new workers closely for any symptoms of heat-related illness.
Use a buddy system and don't allow new workers to work alone.
If new workers talk about or show any symptoms, allow them to stop working. Initiate first aid. Never leave someone alone who is experiencing symptoms!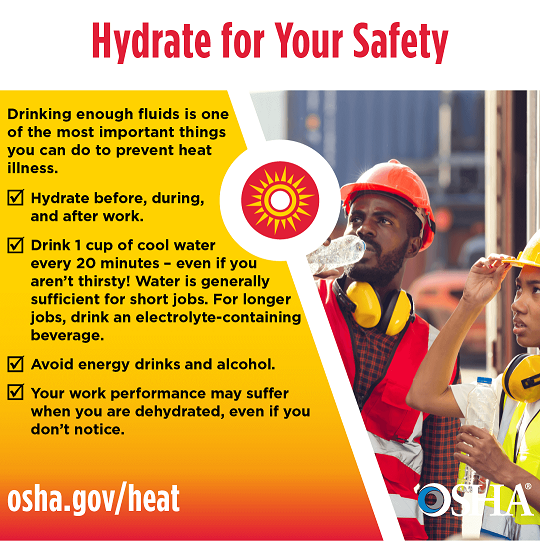 Heat will always be a hazard for roofers, especially in the summer months, and should be addressed as importantly as fall protection.
Read More on new heat stress standard and get additional resources at OSHA.gov.
NATIONAL NEWS FROM NRCA
NRCA Update: Worth sharing …
Here are some noteworthy updates from the national association.
NRCA Update - CTE, American Families & Job Act, Construction trades enrollment grew 19.3%
D.C.- Update on national legislation:
NRCA leads letter encouraging support for career and technical education funding- Congress currently is writing individual appropriations bills before the government runs out of money at the end of the fiscal year in September. On June 8, NRCA and roofing industry allies sent a letter to congressional leadership encouraging support for robust funding for Perkins Career and Technical Education State Grants. In recent years, congressional appropriations for CTE have not kept pace with growing demand despite the importance of these programs regarding sustaining economic growth. In fact, the President's Budget proposal of a $43 million increase in Perkins State Grants currently is estimated to be $320 million lower than the fiscal year 2004 funding level when adjusted for inflation, according to Advance CTE. As such, we urge Congress to give higher priority to investments in this crucial area in the fiscal year 2024 budget. CTE provides access to opportunities for students who want to develop skills, increase their knowledge and contribute to their communities by pursuing a rewarding career.
House Ways and Means Committee passes the American Families and Jobs Act - On June 13, the House Ways and Means Committee considered a flurry of tax bills aimed at lessening the burden on U.S. families and businesses. The American Families and Jobs Act comprises three bills: the Tax Cuts for Working Families Act (H.R. 3936), the Small Business Jobs Act (H.R. 3937) and the Build It in America Act (H.R. 3938). The biggest ticket item for businesses was H.R. 3938, which reinstates the deduction for research and development expenses; extends bonus depreciation; overrides the foreign tax credit regulations in some instances; and fixes section 163 (j) earnings before interest, taxes, depreciation and amortization calculation. This bill also clawed back some tax incentives for green energy production and electric vehicles. H.R. 3936 renames the standard tax deduction as the guaranteed deduction. It allows an additional bonus amount of $2,000 ($4,000 for married couples filing jointly) in taxable years beginning in 2024 and 2025 but reduces the bonus amount for taxpayers whose modified adjusted gross income exceeds $200,000 ($400,000 for joint filers). H.R. 3937 would increase the 1099 reporting threshold from $600 to $5,000 and encourages investment in new equipment and production capacity by increasing immediate expensing for small businesses to $2.5 million, thus increasing the amount of nonresidential roof repairs and replacements that can be expensed under the tax code. House Republicans are hopeful this bill will pass before the August recess while the Senate likely will need to make some changes if the bill is to become law.
Department of Homeland Security reinstates Temporary Protected Status for four countries - On June 13, the Department of Homeland Security announced the rescission of the Trump administration's terminations of Temporary Protected Status for qualifying individuals from El Salvador, Honduras, Nepal and Nicaragua and also extended TPS for such individuals by 18 months. Under federal law, a country may be designated for TPS because of natural or environmental disasters, armed conflict and other extraordinary conditions. NRCA supports the extension of TPS for countries where conditions warrant, recognizing that failure to do so will exacerbate workforce shortages and cause severe disruption for hardworking individuals and families who have been contributing to the roofing industry for many years. Notices for El Salvador, Honduras, Nepal and Nicaragua have been published in the Federal Register and contain the eligibility criteria and procedures necessary for current beneficiaries to reregister for TPS and renew their Employment Authorization Documents.
---
Trade schools are attracting attention
Most sectors of higher education have fewer students registering for classes, but many trade school programs are experiencing the opposite. In construction trades, enrollment grew 19.3%; meanwhile, overall enrollment declined 7.8% at public two-year colleges and 3.4% at public four-year institutions, according to AP News.
According to a Wall Street Journal poll, 56% of Americans believe a four-year degree isn't worth the investment. And the Associated Press interviewed students who said skills gained from enrolling in trades provided a clearer job path.
The COVID-19 pandemic contributed to this trend. Many of the "essential workers" were in the trades, and they continued to work, hire and have a need or purpose.
Tennessee College of Applied Technologies has a network of 24 colleges that offers training for 70 occupations. Laura Monks, the president of one of the TCAT branches told AP News: "One of the reasons TCAT appeals to students is the school's co-op program, which gives students who are nearing graduation the chance to work in their desired field a few days a week while also getting credits toward their diploma."
NRCA is connecting with groups like SkillsUSA to find the next generation of roofing professionals. The first student roofing contest through SkillsUSA took place April 2022 in Virginia. Students installed a thermoplastic system on the same mockup used in NRCA ProCertification.® NRCA will host a pavilion at the SkillsUSA annual National Leadership & Skills Conference at the Georgia World Conference Center in Atlanta June 20-23, where students will compete in commercial (thermoplastic) and residential (asphalt shingle) roofing contests.
CTE Schools throughout the U.S. are currently educating 12.3 million students. Find schools in your area and specific contacts at those schools using NRCA's CTE school search. You also can contact NRCA Director of Workforce Development John Esbenshade for more information.
MEMBER BENEFITS & TOOLS
Helpful Member Benefits & Tools
ADVISORY NOTICE: Roofing Contractors Must Not Act as Public Adjusters – Check Your Contract Language
The CRA Board of Directors has issued an advisory with additional information and details about these public adjuster clauses we have seen being used in Colorado that basically state that the roofing contractor may negotiate or act as a public adjuster on behalf of the owner. This is against Colorado's Residential Roofing Law (SB38) and it is required that you must be a licensed public adjuster before you take on this role. Click here to view the advisory.
Concerning Ladder Liability. Help us in educating consumers and concerned citizens about the liability and risks involved with unattended ladders set for inspectors.
CRA Safety Group Workers' Comp Program. Receive a 4%-upfront discount, group or individual loss history dividend calculation and much, much more. Members of the program automatically belong to the CRA Safety Group whose focus is on continuing safety education and training and improving safety in the roofing community. In partnership with Moody Insurance Agency and Pinnacol Assurance. Call Kim Burkhardt. at 303-824-6600 to receive additional information regarding this program.
RoofersCoffeeShop Free Classified Ad. RoofersCoffeeShop is the premier networking site in the roofing industry, helping contractors find information, materials, services, tools, labor and training in one place. Share ideas and stories in our RCS Forum, and visit their classified ads section to sell and find items and get help. Use promo code CRA for your FREE classified ad.
Colorado Contractors Legislative Advocacy Coalition - CRA partners with several other construction associations to make our voices heard as joint members of the Colorado Contractors Coalition. Together we have successfully passed legislation including payment reform (public and private to 5%), bonding requirements, pro-rata liability and construction defect reform policies. Check out the CCC website for more information and to keep up with our CURRENT advocacy efforts.
Delivery of the E-Newsletter to Your Inbox
To guarantee delivery of the newsletter to your e-mail inbox each month, we ask that you add Debbie Hathorne to your address book using the following email: debbie@coloradoroofing.org. By adding this address to your contact list, we hope to avoid spam blockers/junk mail folders and ensure your receipt of the CRA newsletter in your inbox each month. Thank you.
---
© 2005-2023- Colorado Roofing Association