PRESIDENT'S MESSAGE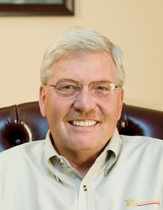 Greetings to all,
Last Thursday I was coming back from the CRA pinpoint seminar and Elite Roofing Supply open house and it was snowing by the time I hit Berthoud Pass. It was white out conditions with about 7" of slush on the road. I thought to myself its May 9th and I really don't want to be here. So, I started day dreaming back to the time when we skied 7 days a week until the end of April than packed up and headed south to Mexico or South Padre for the month of May. We came back around the 1st week of June when all the snow melted and there was always lots of work to be had. I thought those were the days of fun. I started to slide off the road in the slush and woke up. Oh, yea I have a roofing business, two houses and two dancing daughters going off to college soon. But it was nice dreaming.
On to roofing business. We have had two good pinpoint seminars this last month. The first was a presentation from Reid Ribble the CEO of the National Roofing Contractors Association (NRCA). Reid gave us a rundown of everything new going on with the NRCA. This included their new roofing certification and qualified trainer programs, the success in Washington for Roof Day in D.C., updates on OSHA, and a good discussion on his background as a former Congressman from Wisconsin. I have a lot of respect for Reid. I truly believe he is trying to head our industry into a new era where Washington D.C. hears us as one voice and that our people become trained, certified installers to the highest level and roofers are unified across the country.
The second was a presentation by Ryan Groth at our May Membership lunch. Ryan is a professional sales trainer who provides a complete sales tool that tracks your sales with different metrics, helps qualify leads and helps to ensure your sales people land the best sales possible. We have used Ryan in the past and will be using him again in the future. He has a great program and can help any roofing company that struggles with their sales department.
Last, the CRA Golf Tourney is on August 16th. Don't forget to sign up early when registration opens.
Jeff Johnston
The Roofing Company
CRA President
---
A BIG THANK YOU to our 2019 Sponsors!
| | |
| --- | --- |
| 2019 Industry Leader Sponsors | |
| A to Z Roofing | Front Range Roofing Systems |
| ABC Supply Co. | GAF Materials |
| Academy Roofing, Inc. | GCP Applied Technologies |
| Advanced Roofing Technologies | Gulfeagle Supply |
| American Roofing Supply | Horn Brothers Roofing, Inc. |
| APOC | Interstate Roofing |
| Arapahoe Roofing & Sheet Metal | Johns Manville |
| Architectural Sheet Metal & Panels | K & P Roofing LLC |
| B & M Roofing of Colorado | Malarkey Roofing Products |
| Beacon Roofing Supply | Moody Insurance Agency |
| Black Roofing, Inc. | Owens Corning |
| Boral Roofing | Pinnacol Assurance |
| Boulder Roofing, Inc. | Premium Panels |
| CertainTeed | SPEC Building Materials |
| Daly & Black P.C. | Supreme Roofing Done Right, LLC |
| Elite Roofing | Tamko Building Products |
| Elite Roofing Supply - CO, LLC | Tecta America - Colorado |
| Flatiron Steel | The Roofing Company |
| Flynn BEC LP | |
| 2019 Silver Sponsors | |
| Alpine Roofing Co., Inc. | Schafer and Company |
| Cleasby Manufacturing | Sheffield Metals |
| F-Wave | Superoofs |
| RTP Roofing Co. | |
---
MARKET YOUR CRA MEMBERSHIP
PROMOTE YOUR MEMBERSHIP IN CRA!
The CRA PR Committee is excited to kick off our Summer "Select a Trusted Colorado Roofer" campaign. One of CRA's main goals is to Educate individuals and building owners on roofing in Colorado. CRA will be running digital ads from May to October on Weather.com, Facebook and Instagram – these ads have already started. Soon, our adds will start running on Pinterest and YouTube. We are running a weekly print ad in the Sunday edition of the Denver Post starting May 12. The ads will urge Colorado home and building owners to take the appropriate steps in selecting a trusted roofing contractor; especially in the event of hail or storm damage. Here are highlights and other resources the committee has been working on:
MEMBER MARKETING – CRA has a Member Marketing Tools page on our website. We're grateful to have you as a member of our association and we'd love to help increase not only our digital footprint, but yours too! Help us spread awareness about what the CRA and its members are doing to improve the roofing industry. We want you to submit a guest blog, press release, recent project or photos to be included in the CRA blog and social media marketing and advertising. Check out the marketing tools page for more details.
PROUD MEMBER BUMPER STICKERS | New for 2019! - If you didn't see them at the Trade Show or use the order form with your 2019 Membership Decal/Certificate mailing, now's the chance to get "Proud Member" bumper stickers for your fleet. We want you to promote your affiliation with the Colorado Roofing Association on your vehicles, truck bumpers/windows or on your trailers). Members receive 5 Free Stickers upon request. Size = 11.5" wide x 3" tall, available in clear or white background. Additional stickers are $1/per sticker.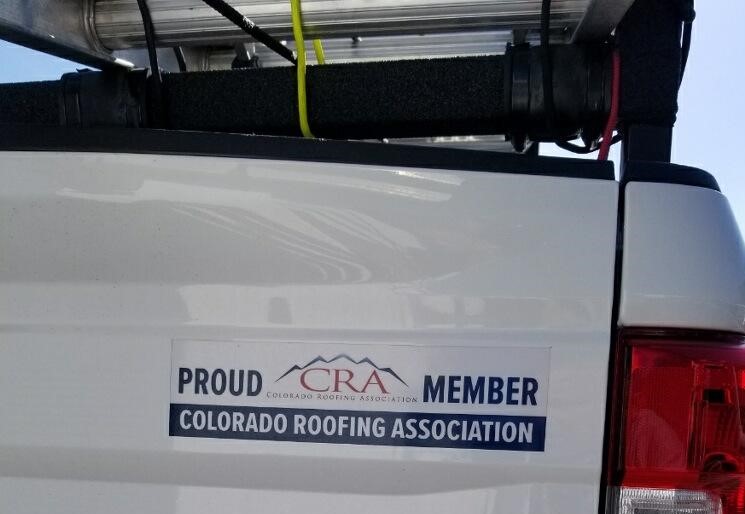 PROUD MEMBER POST | Starting June 1st | Win $100 Gift Card – We are conducting a monthly promotion to encourage all our members to share & tag our posts. Cross promotion helps both our digital footprints. Promote your membership by sharing the following "Proud Member" post on your social media platforms and tag the Colorado Roofing Association (Facebook @ColoradoRoofingAssociation & Instagram @ColoradoRoofing) using #ProudCRAMember and you will be entered into a drawing for a $100 gift card. Please make sure your posts are public and searchable. We will select one winner each month.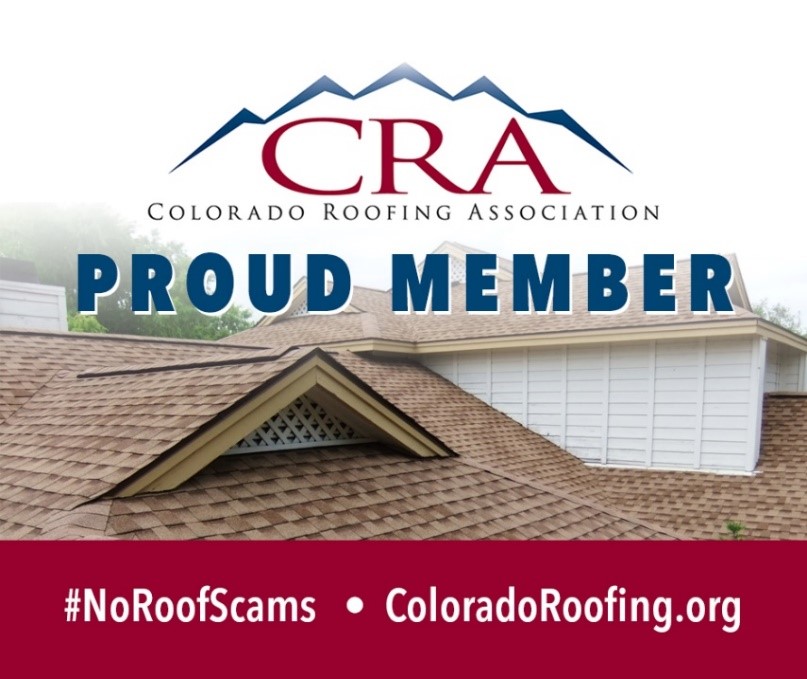 OTHER MARKETING RESOURCES:
---
REMINDER: Enhance your Member Directory Listing!

One of our main goals when marketing/advertising the CRA is to encourage consumers who visit the site to use a CRA Member for their roofing project. It's working and the member directory is one of the most visited pages on CRA's website. Help customers find you easier by enhancing your listing. CRA member companies automatically have a basic listing in the member directory. We encourage you to enhance your listing to extend your marketing message with the following personalization capabilities – brand awareness (add your logo), social media presence (add links to Facebook, LinkedIn, Twitter) and add a short member bio.
If you have not already done so and in order to get the most out of your member experience on CRA's newly updated website, you will need to create a new login.

With your login, you will be able to:

Register for events and classes
Update your profile information
Enhance listing with your logo and or social media accounts
Track event attendance
View/Pay company invoices (for company admin users)
...and more!

In order to create your new login, please click here for instructions.
EVENT ANNOUNCEMENTS
CRA GOLF TOURNAMENT | SAVE THE DATE!
EVENT | FRIDAY, AUGUST 16, 2019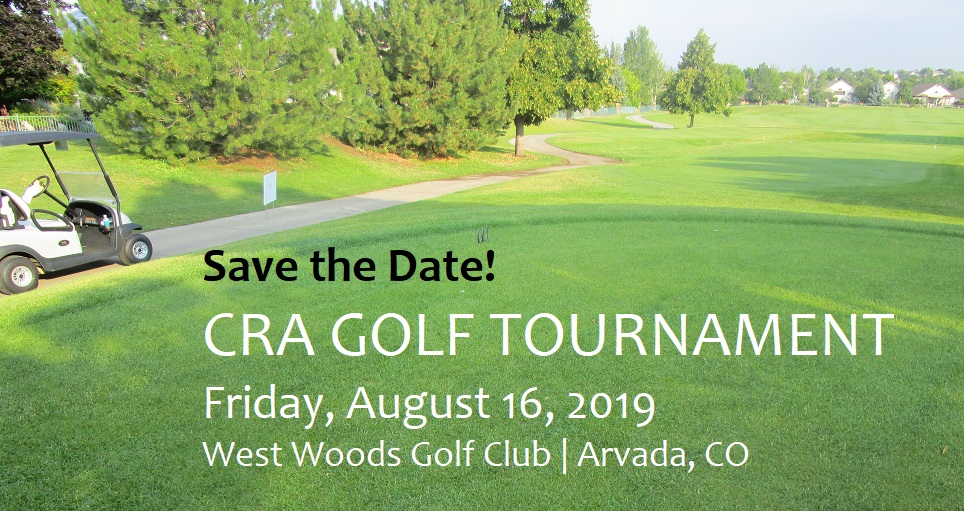 Join us for the 37th Annual CRA Golf Tournament to be held at West Woods Golf Club at 6655 Quaker Street in Arvada, CO. The Golf Committee will be meeting in the next few weeks to finalize the details and get the registration information out to all of you. West Woods expanded their clubhouse and replaced their irrigation lines last summer – we are excited to see the final changes. Keep an eye on your inbox for tournament details and registration form – we should have the information out by the first part of June!
(CRA Member CIU's = 1 per person)
---
Click here to view the full 2019 Event Calendar – calendar includes additional event dates, member luncheons, pinpoint seminars, Training Center courses, etc.
---
COLORADO LEGISLATIVE WATCH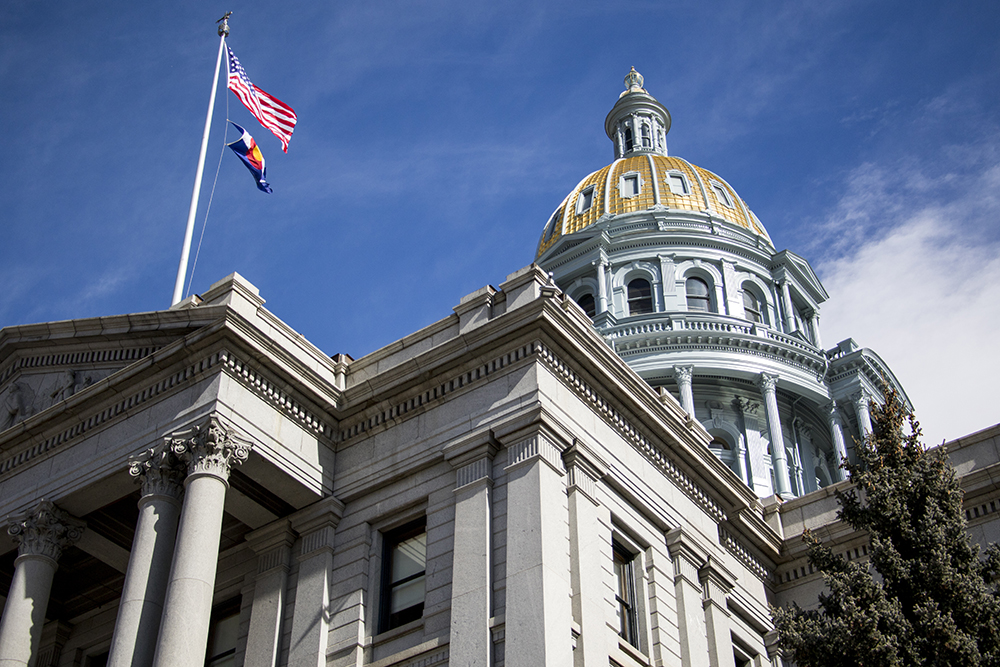 The First Regular Session of the Seventy-second General Assembly adjourned on May 3, 2019 and the Second Regular Session will convene on January 8, 2020.
Here are the final updates on the bills we were monitoring and sharing information on:
Colorado Updates:
HB19-1267 | Penalties For Failure To Pay Wages - Concerning criminal offenses for failure to pay wages, and, in connection therewith, implementing recommendations from the Colorado human trafficking council. Bill has passed the state legislature of Colorado, and it is now awaiting either Governor Polis' signature or veto.
SB19-188 | FAMLI Family Medical Leave Insurance Program - Concerning the creation of a family and medical leave insurance program, and, in connection therewith, creating an implementation plan for a family and medical leave insurance program and making an appropriation. Bill in its original format died, but was then amended by the sponsors to be an implementation plan that includes a feasibility and actuarial study. The re-engrossed version passed the state legislature of Colorado, and it is now awaiting either Governor Polis' signature or veto.
National:
H.R.1740 - Workforce for an Expanding Economy Act – This is the legislation I mentioned above. The Act will amend the Immigration and Nationality Act to provide for an H-2C nonimmigrant classification, and for other purposes. Currently in the House and on 05/03/2019 Referred to the Subcommittee on Immigration and Citizenship.
Roofing Day in D.C. 2020 – Save the Date and mark your calendar to attend next year on April 21-22, 2020.
Feel free to reach out to me if you have questions or hear of other legislation in the pipeline for next year!
Jeff Johnston
The Roofing Company
CRA President
---
CODE NOTICES & UPDATES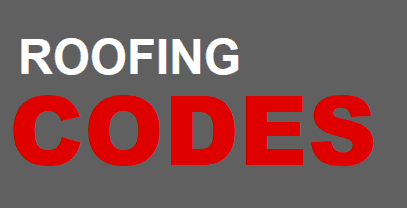 The following city and/or counties have made updates this past month. Please log-in to the Code Guidelines to see their updates.
COLORADO SPRINGS (Pikes Peak) | FAILED INSPECTIONS - Due to a recent increase in rejected roof inspections PPRBD felt it would be prudent to resend out a link to their currently adopted codes and supplementary re-roofing guidelines.
The items on the handout are helpful to follow as these are typically some of the items, they are seeing overlooked. Remember the code requires all roof covering layers to be removed down to the deck per 2015 IRC R908.3 to include all old felt. As a reminder, this is not a new code change.
Link to currently adopted codes: https://www.pprbd.org/Download/Code#allCodeJump
Link to 2015 I-Codes Reroofing Guidelines: https://www.pprbd.org/Downloads/ResidentialHandout/Reroof%20Guidelines.pdf
If you have any questions on this or on any other reroof requirement please contact tomn@pprbd.org for questions.
---
Have you heard of any upcoming building code changes with any of the municipalities you work with? Please share them with us by emailing the BC&S Committee via Debbie at debbie@coloradoroofing.org.
The CRA Building Code & Standards Committee is tasked to represent our members in code, inspection and enforcement issues related to the roofing industry and to facilitate improved communication between the roofing industry and Colorado Building Departments and Code Officials. Through the Code Guidelines on the CRA Website and in this monthly column, committee members share Building Department news and updates.
---
CRA TRAINING CENTER
FACILITY RENTAL AVAILABLE
We just want to remind all of you that CRA's Training Center is available for your next employee/installer training, certification class or product demonstration. Whether you need to teach a new installation technique, train a new crew or showcase a new product, CRA's training space offers you a 'roofer friendly' indoor environment with class space for up to 30 individuals.
The CRA Training Center is located at 1660 Jasper Street, Unit I in Aurora, CO and is designed specifically for roofers and roofing applications. The space can be used for all types of steep and low slope materials and roofing systems. We are 'application friendly' and there is no need for you to travel from a seminar room to the parking lot. You will be required to sign a rental agreement. Contact Debbie Hathorne for more information/details.
· Photo Tour of Training Center
---
ITEMS OF NOTE
WELCOME 4 New Members(s)…
Bold Brothers Roofing Co, 1978 S. Garrison St., #107, Lakewood, CO 80227, Ph: 720-999-5797 (Roofing Contractor – Res/Comm)
---
A friend and mother needs our help!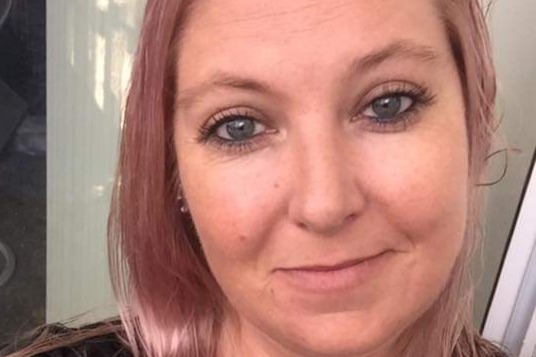 Crystal Jensen is currently hospitalized and faces a long recovery from Guillain Barre Syndrome. Her particular illness will take quite a while to recover from. She will be in physical rehabilitation for an unspecified amount of time and she needs our help covering medical and living expenses.
Being a long-time contributor to the roofing industry -- 16 years with Insulfoam and now currently at SPEC Building Materials -- let's come together and show Crystal why we love this industry... we take care of one another.
Anything helps and is greatly appreciated! If you are unable to financially help, please keep Crystal and her family in your daily prayers.
A GoFundMe account has been set-up to help. Click below to read full story and lend your support:
https://www.gofundme.com/a-friend-and-mother-needs-our-help
---
Longtime CRA Member Jeni Marie Wheatley Passes Away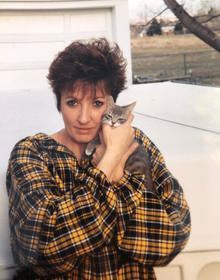 Jeni Wheatley, 61, Jeni was born on July 22, 1957 in Gibson City, IL. She was the middle of the Wheatley's three daughters and was named after her paternal grandmother and great grandmother, something she was so proud of.
Deciding she wanted to live in the big city, she moved to Denver and began working for a roofing supply company. When Dawn and Randy (sister and brother-in-law) decided to open their own roofing supply business, Jeni followed as their accounting/office help. Many of you will remember Jeni's kind face from Statewide Wholesale. During the 20+ years of working together, Dawn and Jeni not only were family but developed a friendship that only two sisters with warped senses of humor could have.
Jeni was a kind, tender hearted, fun loving individual. She never knew a stranger and had an uncanny ability to remember the names of everyone, including their children and pets.
Jeni had many loves: the Denver Broncos, cooking, camping, being outdoors, outfitting, sprint car racing, animals, friends, family and especially her grandson, Jakson.
Survivors include her mother Dorothy; sisters Dawn (Randy) Rehbein and Amy (Jack) Close; step son Cole (Jasmine) Sharpe; grandson Jakson; nieces and nephews Jamie (Nate) Lowther, Chad (Mary) Close, Collin Kelly, Carson Kelly, Aedan Lowther, Ryanne Lowther and Skylar Close.
Celebration of Life:
Wednesday, May 22, 2019
6 p.m. to 9 p.m.
This informal get together in remembrance of Jeni will be held at Wallbanger's, 720 E Hwy 50, Salida.
Donations:

Flowers are welcome and memorial contributions may be made to the American Legion Post No. 178, 1655 Simms St., Lakewood, CO 80215 or the Ark Valley Humane Society, P. O. Box 1335, Buena Vista, CO 81211-1335.
---
Western Roofing Expo 2019 | June 9-11 • Paris Las Vegas Hotel

YOU NEED TO BE THERE!– Premier regional roofing and waterproofing event in the WESTERN United States, the Western Roofing Expo 2019 brings you the full range of show features to help you benefit beyond expectations — cost-saving resources, vital knowledge, powerful connections and much more. CLICK HERE FOR MORE INFO & TO REGISTER!
---
SAFETY SPOTLIGHT

KNOW YOUR RIGHTS: NAVIGATING AN OSHA INSPECTION (PART 1)
By: Danielle Maya, Cotney Construction Law
If OSHA shows up at your jobsite for an inspection, you need to know your rights. Almost every American can recite their Miranda rights, but often roofing contractors do not remember their rights in the face of an OSHA inspection, which can lead to hefty fines. It is important to recognize that OSHA inspectors are not inspecting out of curiosity; they are the safety police and are likely there to issue a citation. This is a two-part series that addresses your OSHA rights, what happens during the inspection, and how to handle the inevitable witness statement.
OSHA investigates job sites for a number of reasons. They will show up if an employee has issued a complaint against you, if there has been a recent injury or fatality, or if there is an imminent threat that OSHA has identified. Roofers are some of the easiest construction workers to cite due to the fact that roofing is highly visible and the inspector does not need to use much effort to determine the likelihood of a dangerous situation that needs inspecting.
OSHA has the legal right to inspect your jobsite. OSHA has what is called "administrative probable cause" to inspect and investigate your jobsite. Their standard for probable cause is more easily obtained than that of many other agencies. When an active construction job is taking place, there is an inherent risk of danger and injury which gives OSHA the administrative probable cause that they need. However, you may demand that OSHA obtains a warrant and restrict access to the job site. This may inflame the situation because a warrant can grant OSHA the right to engage in additional activity on your site that they would not be able to do during a regular inspection. Typically, the OSHA inspection is limited to men, materials, and equipment that are in "plain sight." This means that no sampling of materials is allowed, or manipulation of things that are not in reasonable line of sight. If a warrant is issued then that is when OSHA can perform scientific tests on air quality, presence of combustible material, or other alleged dangers.
When an inspection is taking place, your management personnel must be alert, aware, and advocate for your company. The superintendent has certain rights that they must be aware of. The superintendent has the right to accompany the OSHA inspectors wherever they go on the jobsite. The superintendent must ask certain questions to ascertain the purpose and reason for the inspectors' visit. What is the scope of the investigation? What are they here to see? Once this information is known, then the superintendent can limit the inspectors to what they can see. If the inspectors are attempting to go outside of their scope or see things that are not in plain sight then the superintendent should warn the inspectors of this.
You should also be aware of what happens during an inspection. During the inspection, the OSHA compliance officer will do a walkthrough of the project and he will likely primarily be focused on fall protection equipment and fall protection practices of the crew. Always make sure that every harness, rope, and lanyard that is on the jobsite is properly maintained. If the equipment is old, frayed, or previously impacted it should be discarded and replaced. Roofers are often cited for damaged equipment even when it stays in the truck and should have been discarded.
Disclaimer: The information contained in this article is for general educational information only. This information does not constitute legal advice, is not intended to constitute legal advice, nor should it be relied upon as legal advice for your specific factual pattern or situation. Regulations and laws may vary depending on your location. Consult with a licensed attorney in your area if you wish to obtain legal advice and/or counsel for a particular legal issue.
Danielle Maya is a Partner at Cotney Construction Law's Denver, Colorado office. For more information, contact the author at (303)653-9155, dmaya@cotneycl.com or visit www.cotneycl.com.
---
NATIONAL NEWS FROM NRCA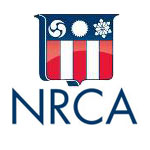 National Update: Worth sharing … from NRCA.
NRCA 10 @ 10 List for May
MEMBER BENEFITS & TOOLS
This month's highlighted member benefits and tools
ADVISORY NOTICE: Roofing Contractors Must Not Act as Public Adjusters – Check Your Contract Language
The CRA Board of Directors has issued an advisory with additional information and details about these public adjuster clauses we have seen being used in Colorado that basically state that the roofing contractor may negotiate or act as a public adjuster on behalf of the owner. This is against Colorado's Residential Roofing Law (SB38) and it is required that you must be a licensed public adjuster before you take on this role. Click here to view the advisory.
Concerning Ladder Liability. Help us in educating consumers and concerned citizens about the liability and risks involved with unattended ladders set for inspectors.
CRA Safety Group Workers' Comp Program. Receive a 4%-upfront discount, group or individual loss history dividend calculation and much, much more. Members of the program automatically belong to the CRA Safety Group whose focus is on continuing safety education and training and improving safety in the roofing community. In partnership with Moody Insurance Agency and Pinnacol Assurance. Call Kim Burkhardt. at 303-824-6600 to receive additional information regarding this program.
---
Delivery of the E-Newsletter to Your Inbox
To guarantee delivery of the newsletter to your e-mail inbox each month, we ask that you add Debbie Hathorne to your address book using the following email: debbie@coloradoroofing.org. By adding this address to your contact list, we hope to avoid spam blockers/junk mail folders and ensure your receipt of the CRA newsletter in your inbox each month. Thank you.
---
© 2005-2019 - Colorado Roofing Association