October 2020 Newsletter
Date posted
October 19, 2020
PRESIDENT'S MESSAGE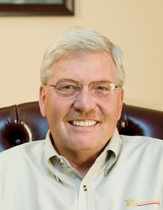 Greetings to all -
As I write this letter to you today, our county, Grand County is saturated with forest fires. We have a new fire located in the Troublesome, which is headed towards the Granby area. The other big one is the Cameron Fire which is north of us and The Williams Fork Fire which is west of Fraser. We have had three other fires pop up in different parts of the county that were confined quickly. The biggest fear up here is that these three enormous fires will not really be confined or put out, until we have at least two good sized snow storms. The long-range forecast for moisture does not look good. So, we could be in for a rough period for some time to come. All of us up here are praying for snow! Stay tuned.
I would like to thank everyone for showing up to our 7th annual clay shoot fundraiser on Oct 9th. This year's outing was a total success with a sold-out crowd and raising $34,000 which will be used for both our advertising efforts to educate homeowners on getting a new roof and to help fund the Rob McReynolds "Raise the Roof" community service projects fund. Although the event had a different feel because of Covid–19 restrictions, the clay shoot committee along with Debbie and Diana pulled off a great event. I am especially proud of team TRC, which did not come in last place again. Thank you to everyone that participated and to all our event sponsors.
Be sure to read my Government Relations Committee update below. I have a few updates on key propositions that will have an impact on your businesses and as always, I encourage you to contact me with any legislative concerns. I don't think you can't hear this enough... Get Out and Vote. Ballots are here and the election is fast approaching.
I want say congratulations to Clay and Amy Hawkins on their retirement at the end of this month from Boulder Roofing, Inc. They have done so much for the association and we can't thank them enough. Like me, Amy is the only other CRA President to serve an extra year for an extended 3-year term. She has a "farewell" message I am sharing with you below. Good luck to both of you and happy fishing!
My last request to everyone... stay safe, stay healthy and pray for a little snow in the mountains.
Jeff Johnston
The Roofing Company
CRA President
Hi All-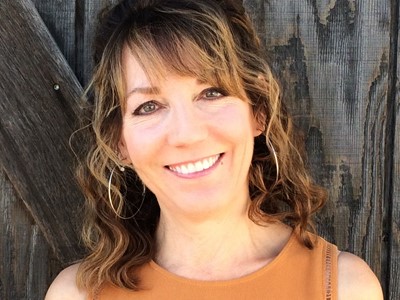 I asked for one more opportunity to share a message with all of you through a newsletter and the powers that be indulged me. (Thank you Jeff & Debbie). Many of you may know already that Clay & I have taken the wonderful opportunity to retire, and the end of this month will be the end of our time at Boulder Roofing.
I know that it's pretty presumptuous of me to think that this is news that's worthy of a shared President's Message spot. Short story - it's been over 32 years that I've enjoyed this industry and I just wanted to say thank you for being a part of my time in it and for always allowing me to be me - we've been through a lot!
Longer story for those who can handle a little more from me…
Clay, Gary & I have been thinking about and working on this retirement gig for almost 2 years now. Covid didn't hurt us - it just happened to coincide with the craziness of selling our business. After Gary's retirement last year, Clay and I felt the pull of free time & fishing a little bit stronger. Boulder Roofing is still going strong, there are just two new people at the helm. For the past couple months we have been transitioning with the new owners and October 29th is our last day. Wow. Knowing that I'm down to single digits in working days has brought me relatively face-to-face with the reality of the end, although I can't truly imagine myself at 4:00pm next Thursday.
Although I've had to share this transition news with plenty of people so far for business reasons, I hadn't really chosen to make my sentimental goodbyes as yet - perhaps I'm dealing with an avoidance issue. And sadly, with all the current restrictions in place, a retirement party is out of the question. For me, that type of mixed-emotions event would have been ideal because I could at least be having fun while still saying goodbye. Now we will just ride quietly off into the sunset. I'm not complaining - there are a lot more important life moments that people have missed this year than a retirement party. It's just my selfish side that will desperately miss getting to say goodbye in person to so many people who mean so much.
I finally took some time yesterday to write one of those sentimental goodbyes to my favorite CRA attorney in Georgia, thanking him for everything and trying to lightly say 'So long!' It was tough and the tears finally came. As it happened, that was the same moment that another person I need to say goodbye to walked in our front door, asked how I was doing and I just start sobbing, choking out the words that I was writing to an attorney and was just sad. That left poor Mike thinking the worst - who cries when they're writing to an attorney unless you're getting sued or you just saw their latest invoice?! Not the case this time…
So this is my sentimental goodbye to all of you. I was a youngster who walked into this industry over three decades ago with a bit of construction knowledge but nothing that would begin to qualify for roofing experience. I was so proud when I learned what EPDM stood for (ethylene propylene diene monomer) at a CRA trivia bowl, I was welcomed at the golf tournaments even though my golf game didn't really count as a golf game, and you all allowed me to jump in anywhere & everywhere I wanted to be involved. I cannot truly express to you all how much my time shared on committees, on the Board, at social events, community service events, and in both professional & personal settings has meant to me. The bulk of my life will have been spent in this industry and I couldn't be more grateful or proud of that fact. How awesome is it that I spent my career working with people who could be considered just my competitors but who became much more importantly my peers, mentors and friends.
Thank you all for making this industry what it is - I will miss it and all of you! Who knows what our future holds? We have no grand plans at the moment, just a little less daily stress about other people's schedules and a little more free time to do things on the weekdays.
Please take care, be in touch if ever you want, and hang tough! 2020 is almost over and there's nowhere to go but up! In the meantime, can you handle just one more tidbit from Margaritaville? I said it before but I'll say it again -
And if you ever wonder why you ride this carousel
You did it for the stories you could tell.
And oh, the stories we could tell,
And if this all blows up and goes to hell
I can still see us sittin' on the bed in some motel
Listenin' to the stories we could tell.
Well - aside from that motel part, ain't it the truth? The stories we could tell… Be well & be happy my friends!
Fondly, Amy
I also want to wish Amy & Clay a happy retirement. I know we will stay in touch...but you will be missed. I don't have enough space in the newsletter to list all the ways you've contributed to the CRA. The volunteer time and commitment you've given has helped to expand, improve and shape what we are today. You are part of our success!!! Thank you and my sappy 'retirement only' good-bye will come later in-person!! It's been a privilege and honor working with you.

Congratulations on your retirement! So incredibly happy for you!

Debbie Hathorne
---
A BIG THANK YOU to our 2020 Sponsors!
| | |
| --- | --- |
| 2020 Industry Leader Sponsors | |
| A to Z Roofing | Flatiron Steel |
| ABC Supply Co. | Front Range Roofing Systems |
| Academy Roofing, Inc. | GAF Materials |
| Advanced Roofing Technologies | GCP Applied Technologies |
| Alpine Roofing LTD | Gulfeagle Supply |
| American Roofing Supply | Horn Brothers Roofing, Inc. |
| APOC | Interstate Roofing |
| Arapahoe Roofing & Sheet Metal | Johns Manville |
| Architectural Sheet Metal & Panels | K & P Roofing LLC |
| B & M Roofing of Colorado | Malarkey Roofing Products |
| Beacon Building Products | Moody Insurance Agency |
| Black Roofing, Inc. | Owens Corning |
| Boral Roofing | Pinnacol Assurance |
| Boulder Roofing, Inc. | SPEC Building Materials |
| CertainTeed | Superoofs |
| Daly & Black P.C. | Supreme Roofing Done Right, LLC |
| Drexel Metals | Tamko Building Products |
| Elite Roofing | Tecta America - Colorado |
| Elite Roofing Supply - CO, LLC | The Roofing Company |
| 2020 Silver Sponsors | |
| Cleasby Manufacturing | RTP Roofing Co. |
| Cotney Construction Law | Schafer and Company |
| F-Wave | Sheffield Metals |
EVENT ANNOUNCEMENTS - Earn your 2020 CIUs!
Safety Webinar: Effective Safety Training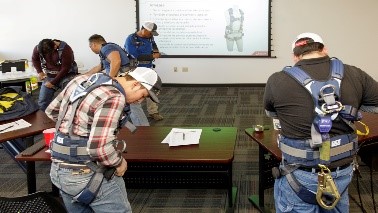 Find out how to effectively get your safety message to employees/subs and make it stick!!
Grab a lunch and then join the Colorado Roofing Association in partnership with Pinnacol Assurance and Moody Insurance Agency for a webinar on effective safety training.
Making safety training effective and relevant can not only save time and money, it can also increase employee retention.
This webinar will cover the benefits of effective training, effective methods and styles of training, training topics, Pinnacol resources and resources available from other reputable organizations. We'll also touch on how, and why, some types of training are more effective than others.
Thursday, Oct 22, 2020

Zoom Webinar

Cost = Free

11:30 a.m. to 1:00 p.m.
Please Pre-Register now. This pre-registration then gives you the link you will need to use to call-in on Thursday and also the ability to add it
CRA Member CIU's = 2 per person. 
---
Thursday, November 12, 2020 | Top Golf Centennial
Please join us on Nov 12 at the "Drive for the Stars Golf Tournament" – a joint fundraising event by the Colorado Contractors Coalition (ASAC, AWCI, CRA, NUCA and RMSCA).
Member participation in the 2018 event secured a victory for CCC in 2019 with the passage of SB138-Bond Requirements For Public Projects using Private Financing. Help us continue this success as we work to protect and advocate for roofers and other subcontractors in 2021.
The online auction we announced last month will now become a part of this event. Unfortunately, we were not able to secure enough items for an online auction. We are still fortunate to have some great donated items that will now be auctioned off at a LIVE AUCTION held during our Top Golf event. Items including Pole Creek Golf excursion from The Roofing Company, Denver Bronco signed jersey from Interstate Roofing, kids scooter donated by Academy Roofing, x-box donated by ASAC and more!
Thursday, Nov 12, 2020
TopGolf - Centennial
10601 East Easter Avenue
4:00 - 8:00 p.m.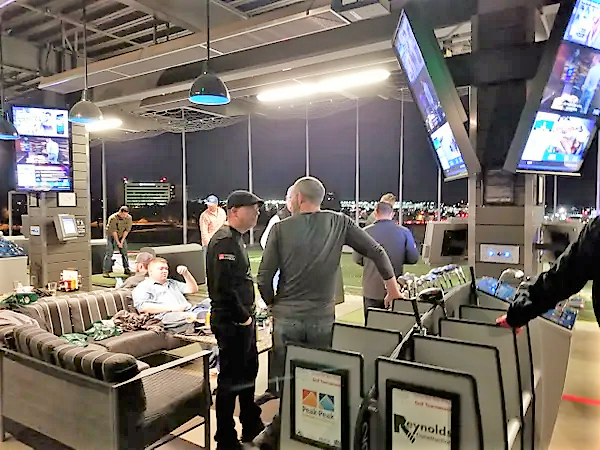 Plan on bringing your co-workers, industry associates or even friends and family to TopGolf for a state-of the art golfing experience for a good cause.
Your participation will help us raise funds that extend our reach and raise our voice in Colorado public policy through lobbying, legislator education, legislative campaign participation and candidate endorsements.
We hope to see you there.
CRA Member CIU's = 1 per person.
---
CRA Sporting Clay Tournament | Event RECAP | Friday, October 9, 2020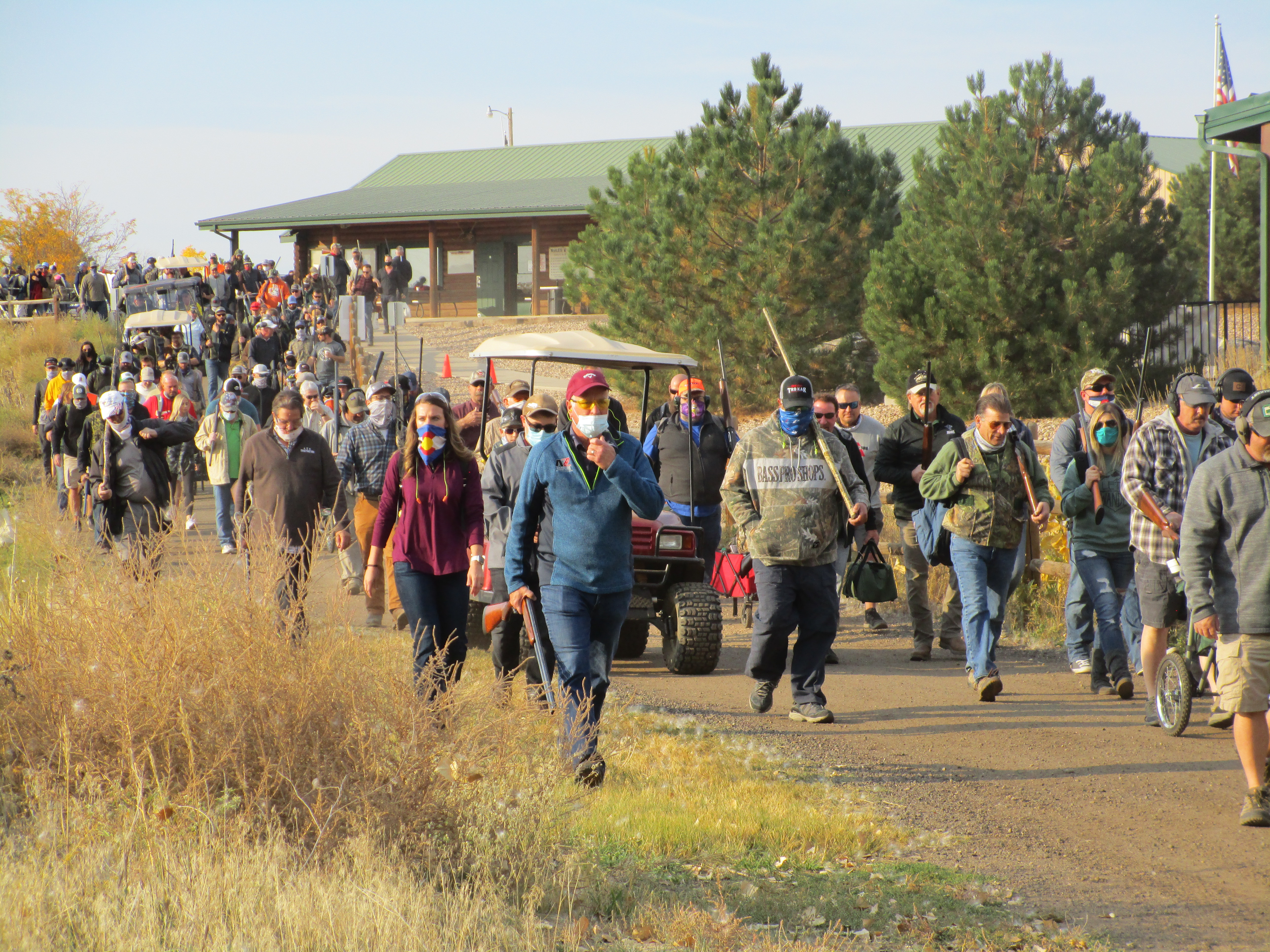 CRA's 7th Annual Tournament was a big success! Another beautiful warm Colorado Fall day for fundraising and fun. We had over 175 shooters who took time out of their busy Fall season to enjoy some time off of work for a day of camaraderie and to test their shooting skills and abilities. We want to especially thank and acknowledge our participating members for being considerate and mindful of others throughout the course and for staying SAFE!! Members were treated to a delicious BBQ lunch followed by prize give-a-ways, the announcement of the tournament 1st, 2nd and 3rd place teams and our top two individual men and women shooters.
Squad Winners:

1st Place | Interstate Roofing Squad 12A | 381 | Randy Aldredge, Jim Webster, Terry Findley, Mark Findley & Les Robinson.

2nd Place | Front Range Seamless Gutters Squad 5C | 266 | Jeff Blackwell, Jeremy Eskew, James Irvin, Brandon Oashiem and Dalton Smith.

3rd Place | Rocky Mountain Reps Squad 10C | 263 | Keith Hildebrandt, Brett Piane, Robert Piane, Chuck Pruitt and Nathan Schulz

Individual Winners:

Top Men Shooter | 1st Place | Bruce Hoger, Interstate Roofing

Top Men Shooter | 2nd Place | Randy Aldredge, Interstate Roofing

Top Women Shooter | 1st Place | Shari Ferguson, Tecta America-Colorado

Top Women Shooter | 2nd Place | Jenni Kelli, Anchor Engineering
Because we were able to expand the field size, the tournament made over $34,000 and directly benefits our association by allowing us to do a better job of educating Colorado consumers on making informed decisions about replacing their roof and selecting the right professional roofing contractor and aids our Rob McReynolds Raise the Roof Charity fund in CRA's community service efforts. Our fundraising efforts would not be possible without the support of our participating members and station, breakfast and lunch sponsors. A BIG THANKS to our Sporting Clay Committee members for organizing such a great event – Mark Bellitt, Arapahoe Roofing; Jenni Kelly, Anchor Engineering, Mike Kelly, American Heritage; Michael Baker, TAMKO Building Products, Dennis Sowatzke, Coated Metals Group and Jeremy Wangerow, Advanced Roofing Technologies. Congratulations and thank you to everyone for joining us in the cold and making it a fun, successful day!
---
Click here to view the full 2020 Event Calendar – calendar includes additional event dates, member luncheons, pinpoint seminars, Training Center courses, etc.
CRA TRAINING CENTER
Training Classes | Registration Open
November 17 | Roof Coatings

This 1-day course is intended for installers of all levels who are seeking in depth knowledge of roof COATING systems as well as learning the types and differences between coatings, damp proofing and waterproofing along with application methods. Small class size with Covid-19 restrictions and safety protocols in place; Tuesday, 8 max students.
CRA Member CIU's = 8 per person upon successful completion of course.
---
November 19-20 | METAL
This 2-day course will to expose students to working with different types of metal, issues
to consider and learning proper techniques. Class is intended for students who have background in roofing and/or for installers who have not yet worked with sheet metal. Small class size with Covid-19 restrictions and safety protocols in place; Thursday & Friday, 8 max students.
---
Click here to view the full 2020 Training/Event Calendar – calendar includes Metal 2- Day, EPDM/TPO 2-Cay, Coatings 1-Day and other Intro to Roofing dates.
COLORADO LEGISLATIVE WATCH

November Election
The legislative leadership the Colorado Contractors Coalition participated in 3 days of candidate interviews. Each candidate was asked a series of questions that gauged their understanding and support of the construction industry and the subcontractor business. The candidate responses were reviewed and discussed and a determination of support was made. Endorsed candidates received a letter of endorsement, financial contribution and a badge to use on their website and in campaign communications. Click here for a list of the 20 endorsed candidates and information on each candidate.
In addition to candidates you will be voting for, there are 11 issues on the November ballot that I listed for you in the September newsletter. This month, I want to focus on 2 that we oppose and will impact your businesses.
Proposition 117 (Taxes) - Requires voter approval of new enterprises that are exempt from TABOR if their revenue is greater than $50 million within its first five years. > > > CCC & CRA encourage you to Vote NO. Prop 117 would drastically limit the ability of state lawmakers to create public programs. It will impact education, recreation, public safety and healthcare!

Proposition 118 (Healthcare) - Establishes a program for paid medical and family leave. > > > CRA & CCE encourage you to vote NO. Prop 118 will most certainly mean higher taxes and more bureaucracy. This new tax represents a 20% increase on income tax that will be devasting to both individuals and small businesses.
Private Sector Retainage Bill
I am sorry to repeat myself, but we could use your private retainage numbers. We continue to work with the Colorado Construction Coalition on retainage reform and the bill we are planning to introduce in 2021. Committee members have been working hard to meet with their local representatives and educate them on the benefits of having 5% retainage in the private sector. We need you to do the same and have provided information on meeting/talking with your legislators and talking points. We could also use more data like what your private retainage is each year, how long you sit on retainage from the time you leave the project and get paid. If you could send Debbie this information, it would go a long way to help our fight.
Event/Fundraising
Last, don't forget to sign-up for our Nov 12 Top Golf fundraising event. During Covid-19, Top Golf offers an outdoor event where we are protected from the November elements, but will allow us the opportunity to get out for some FUN while raising money to help us continue our legislative efforts and advocacy. Join me and other CRA & coalition members at the Centennial Top Golf...register today!
Last, I wanted to share a link to an article in Professional Roofing from Duane Musser, vice president of NRCA, on "How the 2020 Election May Affect Roofing Contractors."
Thanks, and please reach out if you are aware of other legislation not discussed above that needs to be shared with the membership.
Jeff Johnston
The Roofing Company
Gov't Relations Committee Chair
CODE NOTICES & UPDATES
GET YOUR FREE ROOFING CODE REPORTS
This is a valuable member benefit. Our partnership with One Click Code offers CRA members accurate address specific information better suited to the needs of you and your teams. One Click Codes has been integrated into our Building Code page on the CRA website. Simply sign into your CRA member portal to receive instant access to free reports that hold the most valuable address specific building codes for roofers.

Ready to get started? Click below to pull your first report!
If you don't know your CRA login, click here for instructions on how to activate/create your account. ** You can pull more than one report at a time, but you must return to the CRA Code page to enter each address.
---
The following city and/or counties have made updates/announcements this past month.
This month's Building Code updates/notices:
Adams County | Commercial Recover - In reference to commercial buildings, we have recently learned that the Adams county amendments will allow a recover and total of two layers. However, you will need to submit the structural and manufacturer information for permitting.
---
Have you heard of any upcoming building code changes with any of the municipalities you work with? Please share them with us by emailing the BC&S Committee via Debbie at debbie@coloradoroofing.org.
WELCOME 3 New Members(s)…
TotalScope, 9393 W. Colfax Ave, Lakewood CO 80215, Ph: (720) 307-2795 (Trade Service - Technology); RUNR, 1464 S. Monroe St., Denver CO 80210 Ph: (303)263-7719 (Courier/Distributor) and Vanguard Solar Services LLC 4105 Tejon St. Unit D, Denver, CO 80211, Ph: (720) 909-8899 (Trade Service - Solar Reset)
---

CRA Board of Directors – Call for Nominations
CRA's Nominating Committee is looking for qualified candidates to serve on CRA's Board of Directors for terms beginning January 1, 2021. If you are interested in serving on the Board and would like to contribute to the successful direction of the CRA, please consider seeking election or nominating someone to the Board. Board elections will be held at the virtual November 17 Membership Lunch.
Interested parties should email Debbie Hathorne at the CRA Office, call 303-484-0549 or by filling out and returning the nomination form.
2021 Board of Directors Nomination Form
---
Three Problems With Using PEOs In Construction
When an employer hires a professional employer organization or PEO, the PEO acts as a "co-employer," and the PEO handles a variety of administrative tasks for employers. This includes payroll services, regulatory paperwork, human resources, workers' compensation insurance, and employee benefit packages – occasionally at a lower cost than if the employer kept those tasks in-house. However, contractors should be aware of three risks in relying on PEOs for workers' compensation coverage and steps for new hires you should follow -- failure to do so exposes the contractor, not the PEO, to liability.
Full Story: Cotney Construction Law Newsletter (9/15)
---
What independent-contractor changes mean for roofing
A proposed rule from the Labor Department regarding the classification of independent contractors could have wide-ranging ramifications for the construction industry, writes Trent Cotney of Cotney Construction Law. He explains how the five factors in the rule determine who is an independent contractor and who is an employee.
Full Story: Roofing Contractor (free registration) (10/1)
FRIENDLY REMINDER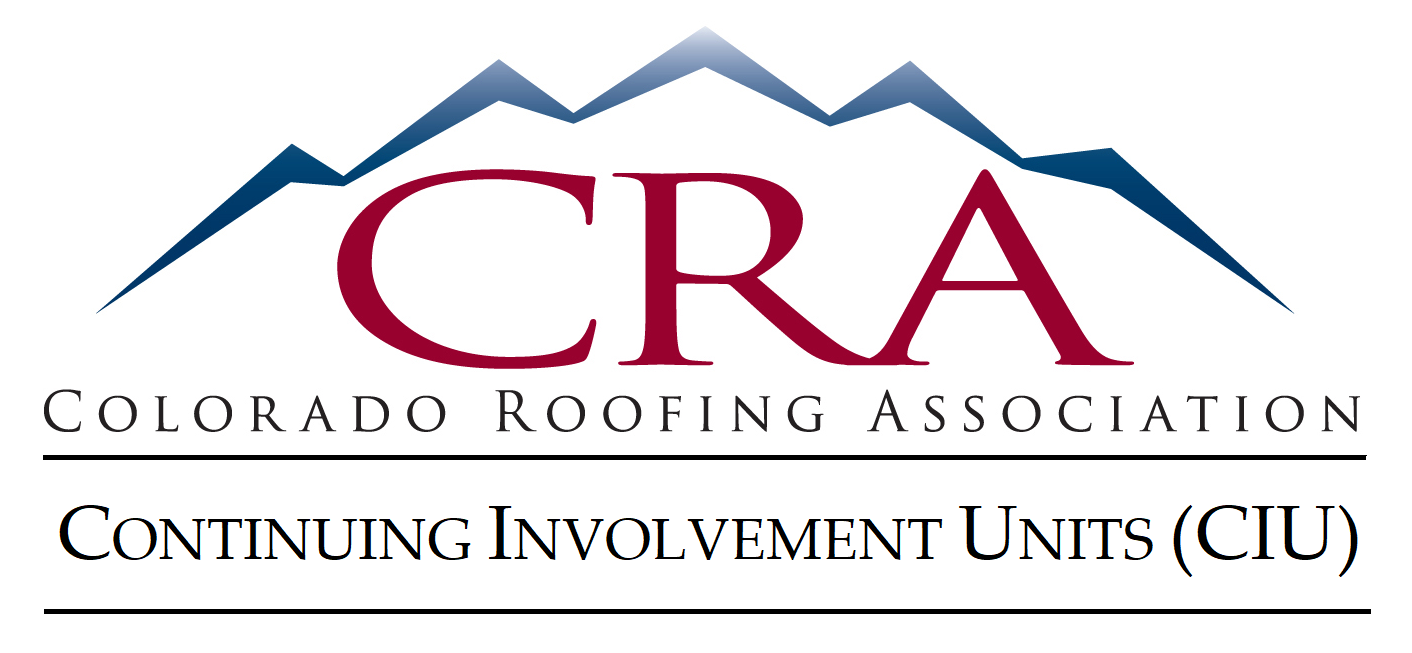 Reminder | Mandatory CIU Requirement
The CRA Board of Directors would like to share a friendly reminder with all our contractor members on the mandatory
CIU requirement you must meet by Dec 31, 2020 for membership renewal in 2021.
What are CIUs? The CRA Board continually looks for ways to strengthen the value and benefits of being a part of the CRA. Education is one of our core values and the Board feels education is highly important to advancing and improving our profession. That is why we implemented the Continuing Involvement Requirement for Members (CIUs) at the beginning of 2017. We would like to see our entire membership get more involved and to participate in the many association activities provided throughout each year.
We have made it very simple to earn the 8 required CIU credits. The requirement is per company not per person. Please click the links below to search your company to check your current CIUs for 2020 (located in your company profile on the membership directory) and for our informational CIU flyer on how to earn your CIUs.
Last, below is a link to our Event Calendar. We have several opportunities the rest of this Fall to help you reach the required CIUs by Dec 31, 2020. (Calendar Note: On some events, please be sure to save the date on your calendar if registration is not open yet and look for chances to sign-up in the monthly newsletters or a future event specific email announcement).
SAFETY SPOTLIGHT
Shielded Safety: Breaking Down COVID-19 Face Protection for Roofing Contractors
Face masks aren't the only way to stop the spread of COVID-19. Here are some viable alternatives that can keep workers safe.
Full Story: Roofing Contractor Magazine (10/16)
---
SFI Compliance - Virtual Tool Box Talks
SFI Compliance continues to provide virtual videos for digital safety meetings. The most recent on "Pneumatic Nailing Tools"
Pneumatic Nailing Tools - commonly referred to as nail guns, the name fits the dangerous potential of this tool. Used safely, they are labor and money savers. Used unsafely, they can be lethal weapons and injuries occur far too often. Most injuries are serious and all of them can be potentially fatal. In many instances, the tools were inadvertently, deliberately, or carelessly misused or were not properly maintained. Safe practices are critical for the safety of both the user and others in the area.
The following list will help in reducing accidents associated with Pneumatic Nailing Tools and should be practiced at all times.
Do not attempt to use a nailing tool unless you have first received instructions on safe use.
Read printed safety instructions provided with the tool. Remember the rules and stick to them.
Wear safety glasses at all times.
Do not point the tool towards yourself or others, no matter how far away they are.
When leaving the tool unattended, disconnect the air hose.
Do not use the tool in a congested or high traffic area. Control work zone area if necessary.
Do not use a defective tool. Tool maintenance is extremely important.
Maintain a safe, well-balanced position to prevent misalignment of the tool during use.
Do not work above other trades. Always be aware of the possible danger to your coworkers and take whatever precautions are necessary.
Don't use a nail that is not of a type suited to the tool and the purpose for which it is being used.
You can find this video in Spanish as well as additional digital tool box talks on ladder safety, heat stress, housekeeping and much more on their YouTube channel:
SFI Compliance YouTube Channel
If you want to receive a copy of all upcoming digital tool box talks, sign up for SFI Newsletters here.
NATIONAL NEWS FROM NRCA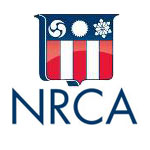 National Update: Worth sharing …
October 2020 10@10
Source: NRCA.NET
MEMBER BENEFITS & TOOLS
This month's highlighted member benefits and tools
ADVISORY NOTICE: Roofing Contractors Must Not Act as Public Adjusters – Check Your Contract Language
The CRA Board of Directors has issued an advisory with additional information and details about these public adjuster clauses we have seen being used in Colorado that basically state that the roofing contractor may negotiate or act as a public adjuster on behalf of the owner. This is against Colorado's Residential Roofing Law (SB38) and it is required that you must be a licensed public adjuster before you take on this role. Click here to view the advisory.
Concerning Ladder Liability. Help us in educating consumers and concerned citizens about the liability and risks involved with unattended ladders set for inspectors.
CRA Safety Group Workers' Comp Program. Receive a 4%-upfront discount, group or individual loss history dividend calculation and much, much more. Members of the program automatically belong to the CRA Safety Group whose focus is on continuing safety education and training and improving safety in the roofing community. In partnership with Moody Insurance Agency and Pinnacol Assurance. Call Kim Burkhardt. at 303-824-6600 to receive additional information regarding this program.
RoofersCoffeeShop Free Classified Ad. RoofersCoffeeShop is the premier networking site in the roofing industry, helping contractors find information, materials, services, tools, labor and training in one place. Share ideas and stories in our RCS Forum, and visit their classified ads section to sell and find items and get help. Use promo code CRA for your FREE classified ad.
---
Delivery of the E-Newsletter to Your Inbox
To guarantee delivery of the newsletter to your e-mail inbox each month, we ask that you add Debbie Hathorne to your address book using the following email: debbie@coloradoroofing.org. By adding this address to your contact list, we hope to avoid spam blockers/junk mail folders and ensure your receipt of the CRA newsletter in your inbox each month. Thank you.
---
© 2005-2020- Colorado Roofing Association