October-November 2022 Newsletter
Date posted
October 30, 2022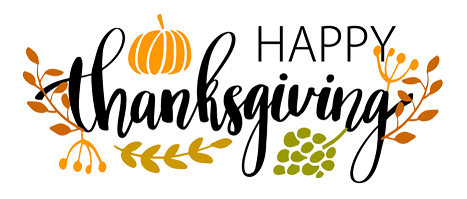 We are thankful for all of our members and industry partners. Wishing you a safe and Happy Thanksgiving!
PRESIDENT'S MESSAGE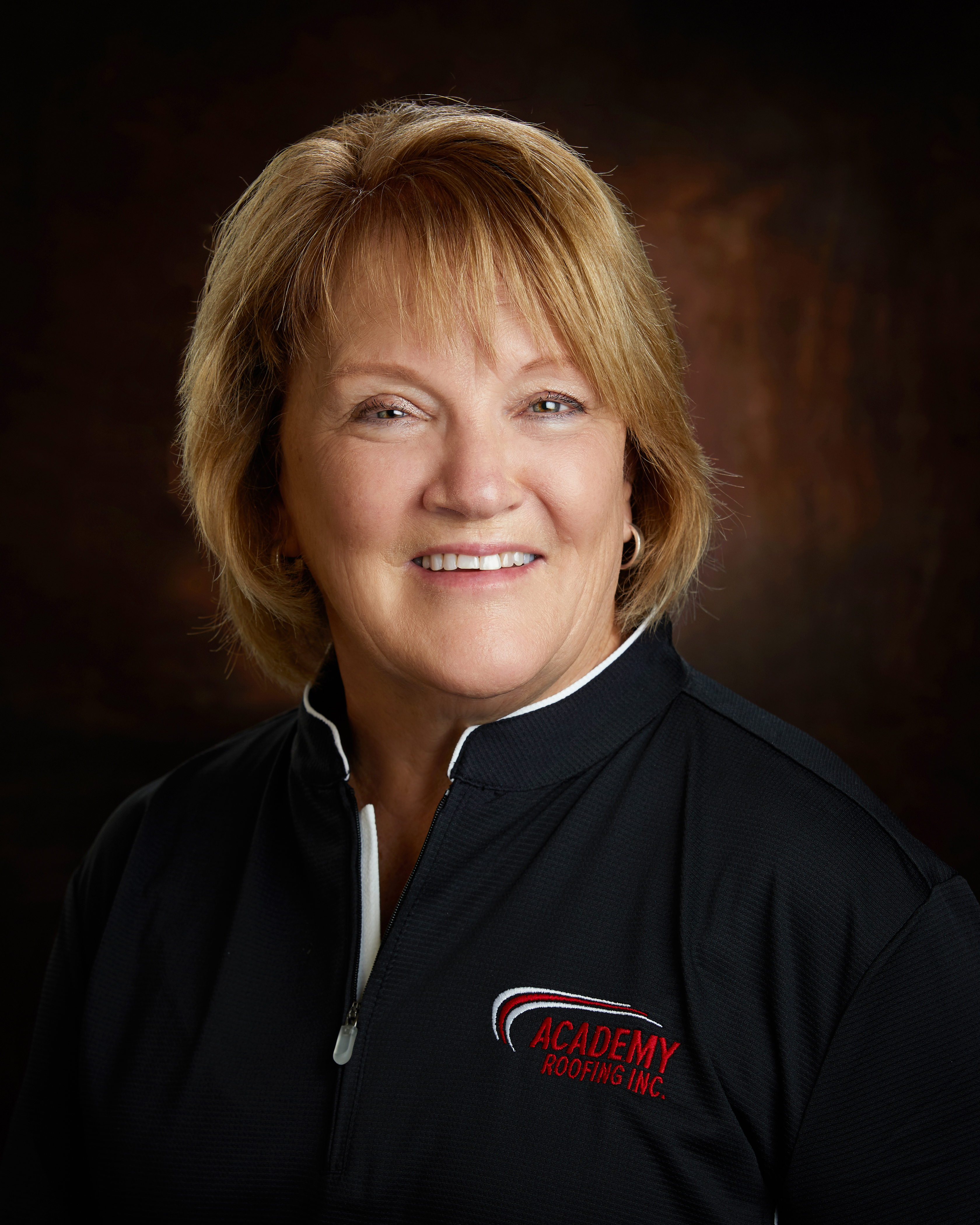 STATE LICENSING. Several CRA members have approached me and other members of the Board wondering if we would renew our efforts at the legislature to pass state licensing for roofing contractors. I understand why roofing contractors would welcome this legislation. Professional roofing contractors in Colorado all compete on a regular basis with contractors who are less than skilled at running a business, let alone installing a good roof. Roofing is a business that is an easy entry and that invites a lot of problems.
Our association took a go at state licensing for roofing contractors in the 2010 legislative session. I spoke with Curt Boyd (Academy Roofing owner) and Amy Hawkins, (former owner of Boulder Roofing), about this experience because they were both heavily involved in the process. Ultimately, the bill failed, not because the legislature wasn't interested, but because contractors in our own industry fought its passage. It came down to a provision in the bill that the subcontractors many roofing companies were using would need to be licensed as well, if the value of their work was over a certain dollar amount. This was the point of contention.
There are many facets to bringing a bill before the legislature and seeing it move forward. It's a complicated and time-consuming process, as it should be. Some, but certainly not all, of what would need to be done to start the procedure for next year's (2024) legislative session would include:
Research state licensing in other states to understand what each state requires for roofing licenses. Determine what has worked and what hasn't worked in these states by contacting individuals who would have that information. Last time I checked, over 20 states require some type of state license or registration for roofing contractors. Many of these licenses don't require much more than paying a fee and proof of insurance.

Determine the cost to the CRA to back this legislation. This could be substantial. Much of the cost is to hire a lobbyist(s) who would work primarily on our behalf for passage of the legislation. Lobbyists know everyone at the Capitol. We don't!

Determine what financial impact this legislation would have for the State of Colorado. Would additional personnel need to be hired by the state to manage the licensing of roofing contractors? Would anyone be inspecting projects throughout the state to assure licensed contractors were working on them? There would be other costs, but these are the two obvious cost increases for the state. The legislature takes this into account as bills move forward. Revenue that licensing would generate vs. the cost of administering and monitoring the license was very important to legislators, as you can imagine.

Locate a sponsor for the bill in one of the legislative houses and hopefully locate other sponsors to sign on to the bill as time goes by

Be willing to testify in committee hearings about the harm that you personally have experienced because of the lack of state licensing for roofers. Locate others (roofing contractors, homeowners, building owners) who have experienced both physical and financial harm from unlicensed contractors. Ultimately, in the previous attempt at passing state licensing, the bill was watered down to require only state registration for roofing contractors, because there was no testimony from anyone who had suffered physical harm from unlicensed roofing contractors.

Find someone among the CRA member group who would be willing to give their time to shepherd this project. Time commitment could be extensive.
As you can see, there's a lot involved in obtaining state licensing for roofing contractors. And I've only covered a small percentage of what would need to be done. It's a big commitment of time and money. The group that volunteered to work on getting this legislation passed saw it reach a second reading of the bill. They were close. But in the end, and after a lot of work, the bill died. Ultimately, the group agreed several years later to strengthen entry requirements for the CRA rather than attempt state licensing again.
State licensing? I'm not sure. There would need to be a lot of regulation (i.e., teeth) in any bill that was passed to rid our industry of the bad actors. I fear we would end up, like many states out there, with licenses that were handed out for a fee and insurance paperwork. That would mean a lot of work for very little gain.
Stay safe out there!
Suzie Boyd
Academy Roofing, Inc.
CRA President
---
THANK YOU to our 2022 Sponsors!
| | |
| --- | --- |
| 2022 Industry Leader Sponsors | |
| A to Z Roofing | Interstate Roofing |
| ABC Supply Co. | Johns Manville |
| Academy Roofing, Inc. | Malarkey Roofing Products |
| Advanced Roofing Technologies | Metal Mart Colorado |
| American Roofing Supply | Moody Insurance Agency |
| Arapahoe Roofing & Sheet Metal | Owens Corning |
| B & M Roofing of Colorado | Pinnacol Assurance |
| Beacon Building Products | SPEC Building Materials |
| Black Roofing & Waterproofing | Superoofs |
| CertainTeed | Supreme Roofing Done Right, LLC |
| Claims Pro Public Adjusters, LLC | Tamko Building Products |
| Elite Roofing Supply - CO, LLC | Tecta America - Colorado |
| Flatiron Steel | Tectum Roofing |
| Front Range Roofing Systems | The Roofing Company |
| GAF Materials | Tiley Roofing, Inc. |
| GCP Applied Technologies | Valor Roof & Solar |
| Gulfeagle Supply | Westlake Royal Roofing Solutions |
| Horn Brothers Roofing | |
| | |
| 2022 Silver Sponsors | |
| Calebs Management Enterprises, Inc. | RTP Roofing Co. |
| Cleasby Manufacturing | Schafer & Company |
| F-Wave | Sheffield Metals |
| | |
FRIENDLY REMINDER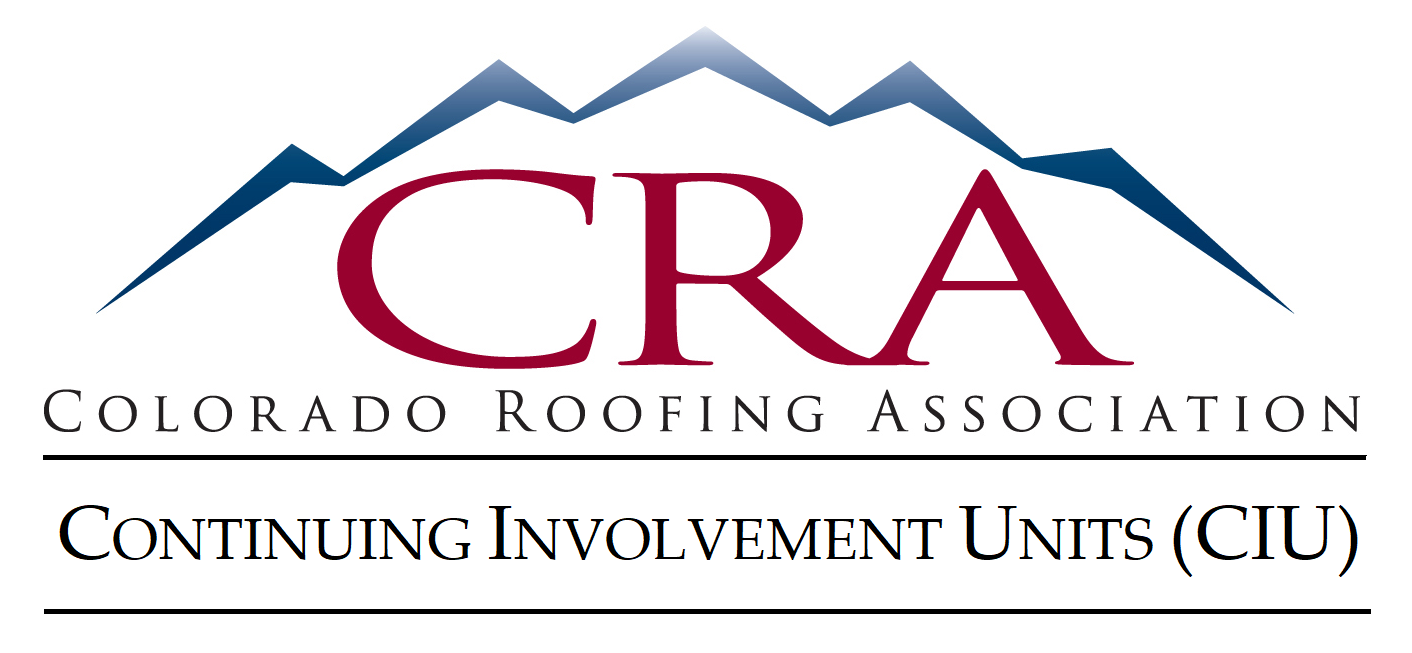 Reminder | Mandatory CIU Requirement
The CRA Board of Directors would like to share a friendly reminder with all our contractor members on the mandatory
CIU requirement you must meet by Dec 31, 2022 for membership renewal in 2023.
What are CIUs? The CRA Board continually looks for ways to strengthen the value and benefits of being a part of the CRA. Education is one of our core values and the Board feels education is highly important to advancing and improving our profession. That is why we implemented the Continuing Involvement Requirement for Members (CIUs) at the beginning of 2017. We would like to see our entire membership get more involved and to participate in the many association activities provided throughout each year.
We have made it very simple to earn the 8 required CIU credits. The requirement is per company not per person. Please click the links below to search your company to check your current CIUs for 2021 (located in your company profile on the membership directory) and for our informational CIU flyer on how to earn your CIUs.
Contractor members can check your current CIU total for your company by going to the Member Directory Search, type in your company, view your profile and the total is located on the right column.
Check out the upcoming events section below or this link for list of opportunities through the end of the year.
UPCOMING SEMINARS & WEBINARS
Membership Lunch | Wednesday, November 30
2023 Economic Outlook
Presented by Richard Wobbekind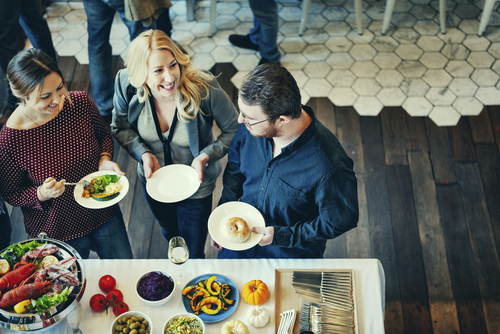 We are back in person!!
For the November lunch topic, we wanted to equip you with valuable knowledge about the current and upcoming economic environment.
If you are curious about the upcoming changes to Colorado's economy, then don't miss out on this chance to gain valuable insight into Colorado's economic future as well as forecasted industry-specific indicators and impacts.
We are fortunate to bring back one of our most popular speakers – Richard L Wobbekind. He can easily be called one of the region's top economic forecasters and is well known for being able to look into the past to create an economic forecast for the upcoming year.
So, if you are wondering about whether we are headed into another recession, employment, debt, inflation, interest rates and the pandemic's lasting economic impacts and more, be sure to set the time aside to attend and find out the impact on business revenue.
You WILL NOT want to miss this low-cost opportunity to gain valuable knowledge for you and your business to make sound economic decisions for the coming year and beyond.
Wednesday, November 30, 2022

National Western Complex - Centennial Room

4655 Humboldt Street

Denver, CO

11:30 - 1:00 pm
CRA Member CIU's = 2 per person. 
---
Pinpoint Seminar | Wednesday, December 14
Roofing Technical Update by Mark Graham

Attention Residential & Commercial Contractors!
You don't want to miss this opportunity to stay on top of the ever-changing technical side of the roofing industry. Mark is one of our most popular presenters and can easily be called one of the industry's most knowledgeable and respected experts in roofing and waterproofing. It is vital to maintain a current understanding of building codes and realize how significantly they impact the roofing, waterproofing, and sheet metal sectors of our industry.
Key areas that will be covered in this technical workshop include:
New building codes affecting roofing system installation
And more...
MARK IS A DYNAMIC PRESENTER AND WELL WORTH YOUR TIME.
Wednesday, Dec 14, 2022

Woolley's Classic Suites

16450 East 40th Circle | Aurora, CO 80011-0814

1:00 - 4:00 pm

Cost: $30/per member and $60/non-member per session.
CRA Member CIU's = 4 per person. 
---

OSHA 10-Hour Training | Dec 15-16, 2022
Do you or your employees need an OSHA 10 Card?
Is your OSHA 10 Card over 3 to 5 years old, then it's time for a new one! Standards are constantly changing; it's good to keep up-to-date.
OSHA 10 Training is designed to ensure that workers are able to identify, predict, prevent and stop potential hazards in the workplace and on your jobsites!
OSHA 10 topics Include: Occupational Safety and Health Act Overview, Materials Handling, Personal Protective Equipment, Fall Protection, Electrical Safety, Health and hazard communication, Hand and power tools, Stair and ladder safety, Scaffold safety and Excavation and trenching safety. Upon successful completion of this course participants will receive an OSHA Construction Safety Health 10-Hour Card.
Class registrations will be taken on a first come first serve basis. Class will hold 40 – limit 4 per company.
Co-Sponsored by CRA, Moody Insurance Agency and Pinnacol Assurance.
CRA Member CIU's = 4 per person.
---
Awards Dinner | 2.23.23 | Job of Year & Lifetime Achievement Awards
Call for Nominations - Due by Dec 2, 2022
Get started now!! Let's make this year's Awards Dinner the most successful yet. All entries must be received by December 3, 2021 by 5 pm (no exceptions!) and judging will be conducted by a panel of roofing industry experts selected by CRA.
Check out these tips for an award winning entry.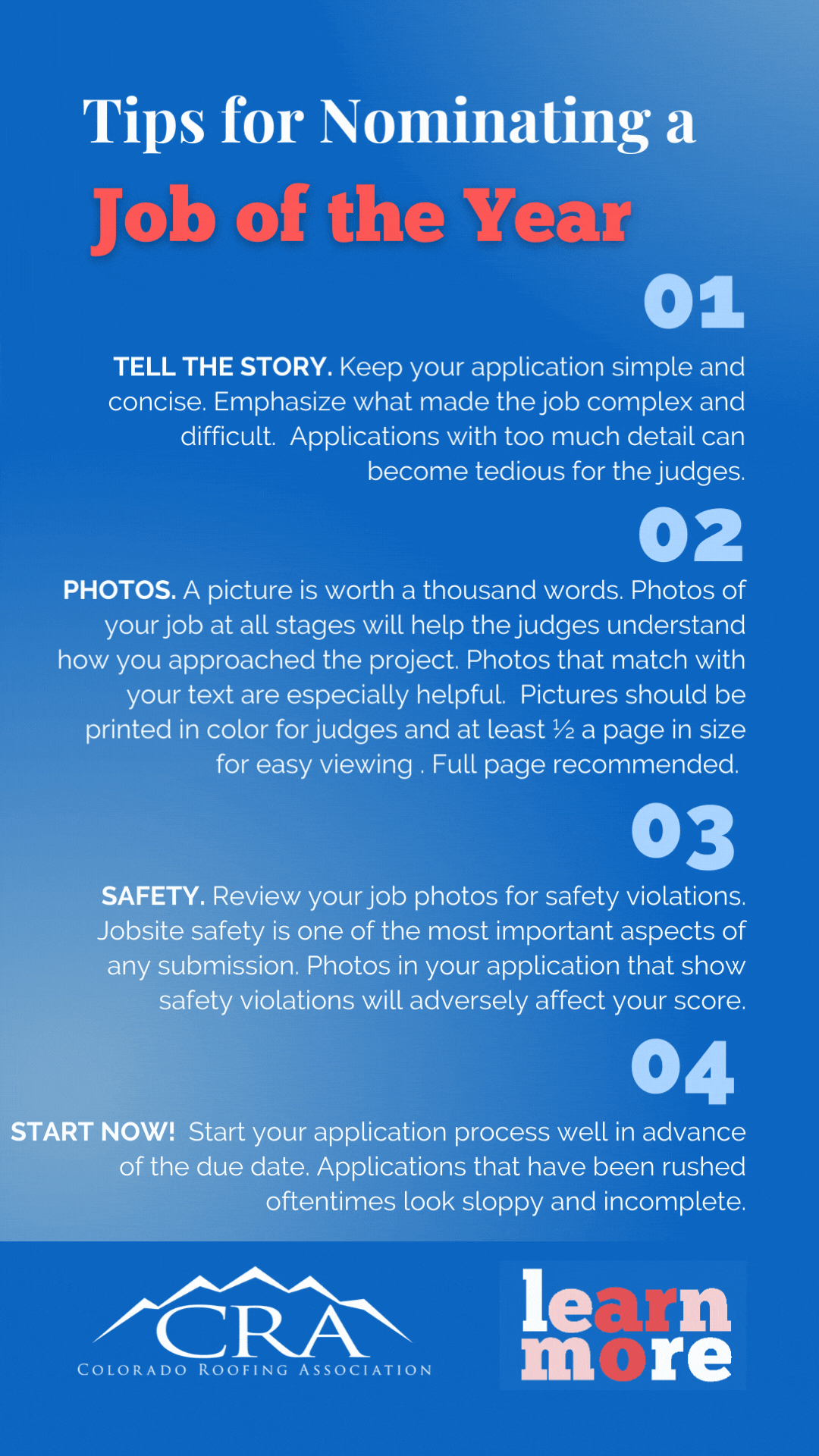 AWARDS DINNER ENTRY FORMS:
JOB OF THE YEAR/FIRST TIMER NOMINATION FORM
LIFETIME ACHIEVEMENT AWARD NOMINATION FORM
---
Trade Show | 1.26.23 | Vendor Registration

VENDORS
REGISTRATION
IS NOW OPEN!
Excitement is once again building for CRA's Annual Trade Show. We are back at Arapahoe County Fairgrounds and in our normal January timeframe... so be sure to save the date and join us on January 26, 2023.
VENDORS! CRA's trade show is designed to provide a place to share your latest innovations and the hottest trends in equipment and materials used in the roofing and associated industries. The show provides a platform in Colorado for exhibitors to meet and connect with customers and potential customers on a one-on-one basis; to generate awareness on new products and services; and allows attendees the opportunity to compare existing products and services.
We are looking for vendors to be a part of the shows continued success. Whether you want to showcase your products and services, establish a presence in your target market or build your company image, the 2023 CRA Trade Show is for you. Sign up today for this low-cost opportunity to meet face-to-face with your customers and prospects.
ACT NOW to save money… EARLY BIRD pricing ends 12.23.2022.
---
Click here to view the full 2021 Event Calendar – calendar includes additional event dates, member luncheons, pinpoint seminars, Training Center courses, etc.
CRA TRAINING CENTER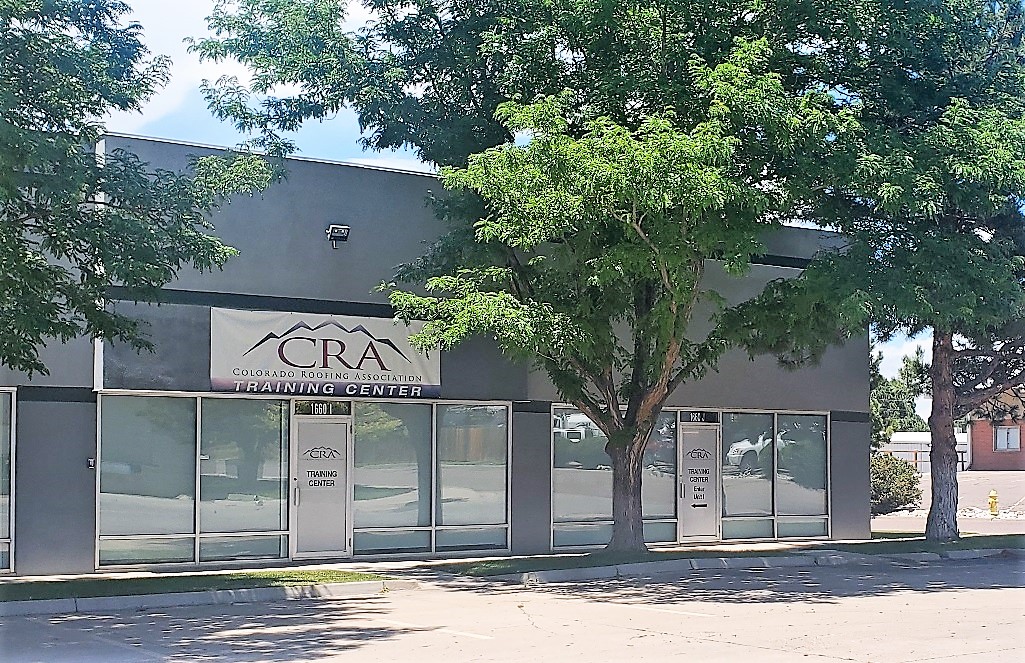 Fall Classes | Registration Now Open
Here is the list of the Fall classes and dates. Registration is open.
Coatings | 1-Day Advanced*
Nov 15
EPDM/TPO | 2-Day Advanced*
Nov 29-30
Metal | 2-Day Advanced*
Nov 17-18
Introduction to Roofing | 6-Day
Dec 6, 7, 8 and Dec 13, 14, 15
* The advanced classes have a prerequisite that you must have taken the Intro class first or provide proof from your employer that student has had a minimum of 6-months field experience.
CLICK HERE TO VEIW CALENDAR AND REGISTER FOR A COURSE!
---
The CRA Training Center is located at 1660 Jasper Street, Unit I & J in Aurora, CO and is designed specifically for roofers and roofing applications. The space can be used for all types of steep and low slope materials and roofing systems. We are 'application friendly".
Click here to view the full 2022 Event Calendar – calendar includes additional event dates, member luncheons, pinpoint seminars, Training Center courses, etc.
ITEMS OF NOTE

Help a fellow roofer!
We have a past member, Scot Sund, in need of your help. After moving to Hawaii, he has recently returned to Colorado with his roofing business. His daughter had a baby, little Maddie, that weighs 1.25 pounds and needs to be at the hospital at least 4 months. This will require housing and travel expenses, not to mention hospital bills. Ronald McDonald house has been so good to them with the assistance they have been able to provide, but this will only go so far.
Family and friends have started both a Go Fund me page and are planning to host a black-tie event in December at the Penrose House Conference Center in Colorado Springs to benefit both Baby Maddie Purdy and the Ronald McDonald House.
You can help in the following ways:
Go Fund Me | Ronald McDonald and The Purdy Family link:
https://www.gofundme.com/f/ronald-mcdonald-and-the-purdy-family
Black Tie Gala | December 16, 2022. | Colo Springs, CO
For this fundraiser, family and friends are looking for help with donated auction items. If you have an item (sports tickets, place to stay, golf foursomes, etc.) that you can donate to the auction, please contact Heather at SRS at 719-205-2082 or Heather@srsroofingservices.com.
You can also purchase tickets to attend the gala at: https://buytickets.at/fromhearttohope/794149
Thank you in advance for your consideration and help!!
---
LEAVE, LEAVE, LEAVE - Are you prepared for FAMLI January 2023 requirements?
We wanted to rem
ind you of the three leave acts every employer needs to know and specifically Paid Family and Medical Leave Insurance (FAMLI). Under FAMLI all workers are entitled to FAMLI benefits once they have earned $2,500 in Colorado at any point over the preceding year starting January 1, 2023.
We brought you this topic and two other related leave items to our membership lunch on June 1st during the presentation by Danielle Maya, Partner with Galvanize Law. We think this is a good time for you to review the information provided on the handout. Be sure to take the time to review these slides, do your homework and make sure you are prepared.
June 1, 2022 Lunch Handout - Danielle Maya, Galvanzie Law, Colorado Employee Leave Laws
---
TPO & EPDM Theft on Nov 6th!
MacArthur Company let us know of another material theft. On Nov 6th, their Denver Branch had 17 rolls of 60mil 10'x100' TPO and 1 roll of 45mil 10'x100' EPDM stolen out of their yard early Sunday morning. The TPO all have Genflex labels on them, the EPDM doesn't have any label on it. Please be on the look-out and if you have any information, please contact Gary Pietrus.
CODE NOTICES & UPDATES

This month's Building Code updates/notices:
We have a couple update for you this month:
---
Resources you can use!
The Building Code & Standards committee has been working hard to bring you a best practice resource document for low slope roofing applications. We are excited to announce that is done and ready to share with all of you.
Roofing Best Practices | Commercial/Low Slope
We have also developed a "Buyer Beware - Understanding Total System Warranties" page on our website that you can use to help your clients understand that all low-slope warranties are not the same. Check it out.
Buyer Beware - Understanding Total System Warranties
Have you been using the other resources and tools available on the Member Education Page? You should!
Material Price Escalation and Volatility Contract Provisions courtesy of HPPS Law.
Roofing Best Practices | Residential/Steep Slope
Denver's Green Building Ordinance Update - Handout
---
Have you heard of any upcoming building code changes with any of the municipalities you work with? Please share them with us by emailing the BC&S Committee via Debbie at debbie@coloradoroofing.org.
SAFETY SPOTLIGHT
Top Reasons Workers DON'T use PPE Properly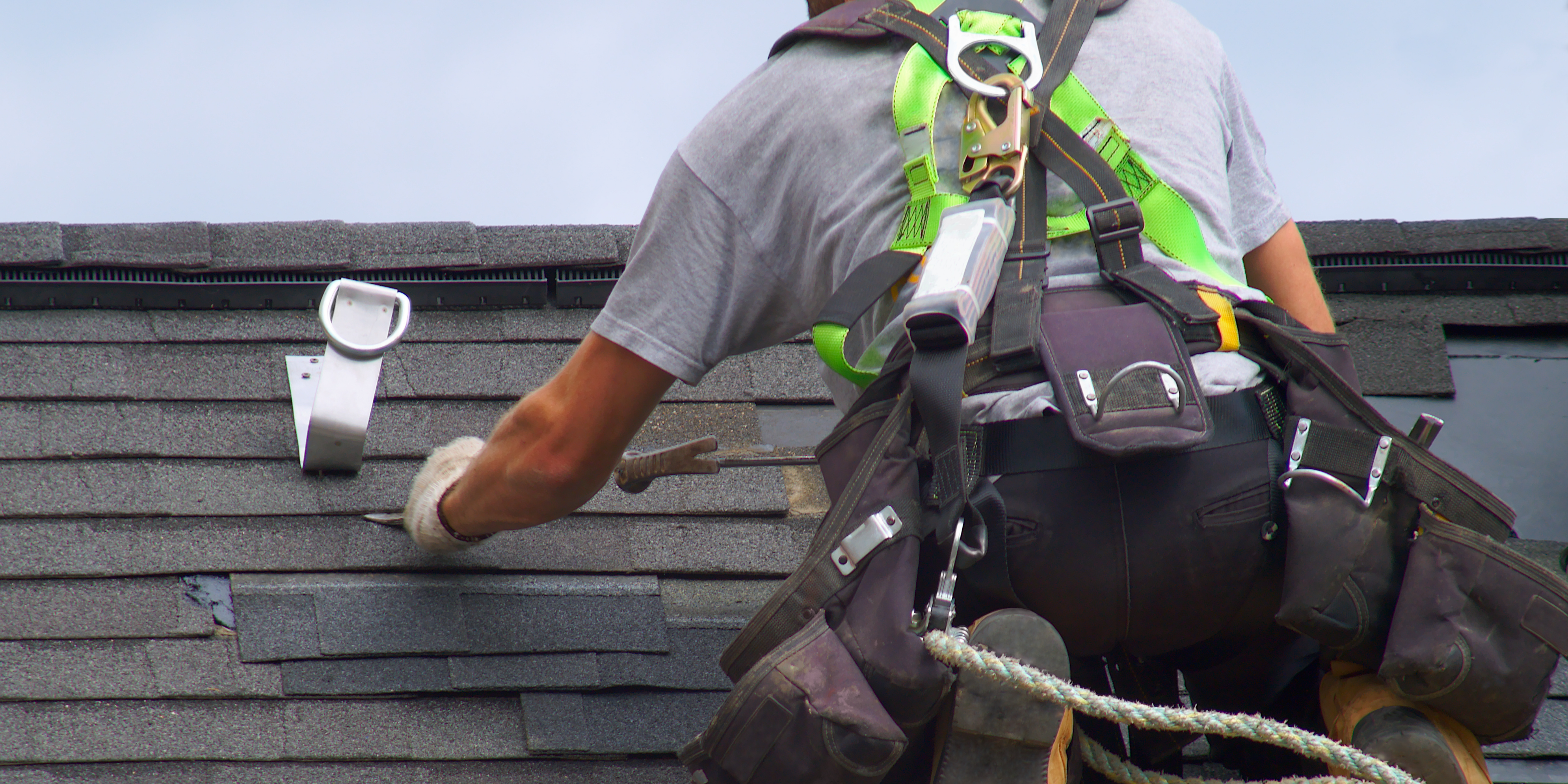 A large majority of safety managers and coordinators have trouble ensuring workers wear their personal protective equipment, according to a recent survey conducted by PPE provider J.J. Keller Safegear.
Respondents to the survey were largely from the manufacturing, transportation and construction sectors, and most of them were responsible for buying PPE as well as training on proper use and ensuring employee compliance.
Over 70% of those surveyed indicated employees simply didn't want to wear PPE, while half said employees didn't think PPE was necessary or that it made the job more difficult.
The survey also identified three major areas of current PPE struggles:
Sizing
Heat
Supply chain delays
Source: Construction Dive
---
Walk like a penguin to avoid slips and falls

Every winter Colorado sees a drastic increase in injuries due to slipping, tripping and falling on ice and snow. In fact, the spike is so significant that our data reveals the most dangerous season for Colorado workers is always wintertime because of slippery conditions.
‍
But falls on ice aren't inevitable. Walking like a penguin dramatically decreases the chances of falling on ice. This is how you can do it:
Put your arms out to the side for balance.
Take short, shuffling steps.
Go slow.
Walk flat-footed with your toes pointed out.
As you move, put your center of gravity over your front leg.
You might feel silly walking like a penguin, but you'll stay safe and upright. It's time to walk the (penguin) walk!
Read more here
Source: Pinnacol Assurance
NATIONAL NEWS FROM NRCA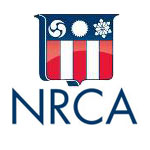 National Update: Worth sharing …
A couple key items we felt were noteworthy from NRCA this month:
Republicans make gains in the House, but red tsunami fails to materialize - The U.S. midterm elections were held Nov. 8, and we do not yet know which party will hold control of either chamber of Congress. The Senate is still too close to call. The Republican candidate is leading in Nevada, but the race remains too close to call. None of the Georgia candidates received more than 50% of the vote, and incumbent Sen. Raphael Warnock (D-Ga.) and football star Herschel Walker will head to a runoff Dec. 6. The last remaining Senate race is in Arizona, where incumbent Sen. Mark Kelly (D-Ariz.) is leading businessman Blake Masters. Republicans need to win two of these remaining three races to flip control of the Senate in their favor. On the House side of Capitol Hill, Republicans appear to be in position to take control of the House if leads hold, though by a much smaller margin than anticipated by political experts and historical averages.
DOE requests input to accelerate manufacturing and deployment of clean energy technologies - In June, the president announced new authority for DOE to use the Defense Production Act pertaining to five clean energy technologies, including transformers and electric grid components; solar photovoltaics; insulation materials; and electrolyzers, platinum group metals and fuel cells for clean hydrogen; and heat pump manufacturing and deployment. If you would like to respond to this request for information, please do so no later than 5 p.m. EST on Nov. 30. Only electronic responses will be accepted. Submit all comments to dpaenergy@hq.doe.gov and include "RFI: Defense Production Act" in the subject line.
NRCA submits comments regarding labor provisions within the Inflation Reduction Act - On Nov. 4, NRCA provided initial comments to the Treasury Department and IRS regarding a wide range of prevailing wage, apprenticeship, domestic content and energy community requirements that must be satisfied by taxpayers/developers seeking the full amount of tax credits for the construction of clean energy projects under the Inflation Reduction Act of 2022, in certain circumstances. NRCA's comments focus on asking the IRS to provide additional clarity for businesses regarding the use of registered apprenticeships, good faith exemptions, penalties for unintentional violations and enforcement mechanisms.
Registration for Roofing Day in D.C. 2023 is open! - Each year, roofing professionals meet with members of Congress on Capitol Hill to discuss the critical issues facing their companies and the roofing industry. And you know what? We're making a big difference. So far, we have increased funding for career and technical education, advanced legislation that addresses workforce development needs and secured a strong buildings component in bipartisan infrastructure legislation. But our work is not done yet. We are just getting started. Join us for Roofing Day in D.C. April 18-19, 2023, and help us make it the biggest and best roofing industry advocacy event ever! Registration is only $95 for company representatives and $35 for field workers, students and spouses. Please visit www.nrca.net/roofingday to view testimonials from last year's event and learn more. Sign up today!
Source: NRCA.NET
MEMBER BENEFITS & TOOLS
This month's highlighted member benefits and tools
ADVISORY NOTICE: Roofing Contractors Must Not Act as Public Adjusters – Check Your Contract Language
The CRA Board of Directors has issued an advisory with additional information and details about these public adjuster clauses we have seen being used in Colorado that basically state that the roofing contractor may negotiate or act as a public adjuster on behalf of the owner. This is against Colorado's Residential Roofing Law (SB38) and it is required that you must be a licensed public adjuster before you take on this role. Click here to view the advisory.
Concerning Ladder Liability. Help us in educating consumers and concerned citizens about the liability and risks involved with unattended ladders set for inspectors.
CRA Safety Group Workers' Comp Program. Receive a 4%-upfront discount, group or individual loss history dividend calculation and much, much more. Members of the program automatically belong to the CRA Safety Group whose focus is on continuing safety education and training and improving safety in the roofing community. In partnership with Moody Insurance Agency and Pinnacol Assurance. Call Kim Burkhardt. at 303-824-6600 to receive additional information regarding this program.
RoofersCoffeeShop Free Classified Ad. RoofersCoffeeShop is the premier networking site in the roofing industry, helping contractors find information, materials, services, tools, labor and training in one place. Share ideas and stories in our RCS Forum, and visit their classified ads section to sell and find items and get help. Use promo code CRA for your FREE classified ad.
Colorado Contractors Legislative Advocacy Coalition - CRA partners with several other construction associations to make our voices heard as joint members of the Colorado Contractors Coalition. Together we have successfully passed legislation including payment reform (public and private to 5%), bonding requirements, pro-rata liability and construction defect reform policies. Check out the CCC website for more information and to keep up with our CURRENT advocacy efforts.
---
Delivery of the E-Newsletter to Your Inbox
To guarantee delivery of the newsletter to your e-mail inbox each month, we ask that you add Debbie Hathorne to your address book using the following email: debbie@coloradoroofing.org. By adding this address to your contact list, we hope to avoid spam blockers/junk mail folders and ensure your receipt of the CRA newsletter in your inbox each month. Thank you.
---
© 2005-2022- Colorado Roofing Association