March 2021 Newsletter
Date posted
March 11, 2021
PRESIDENT'S MESSAGE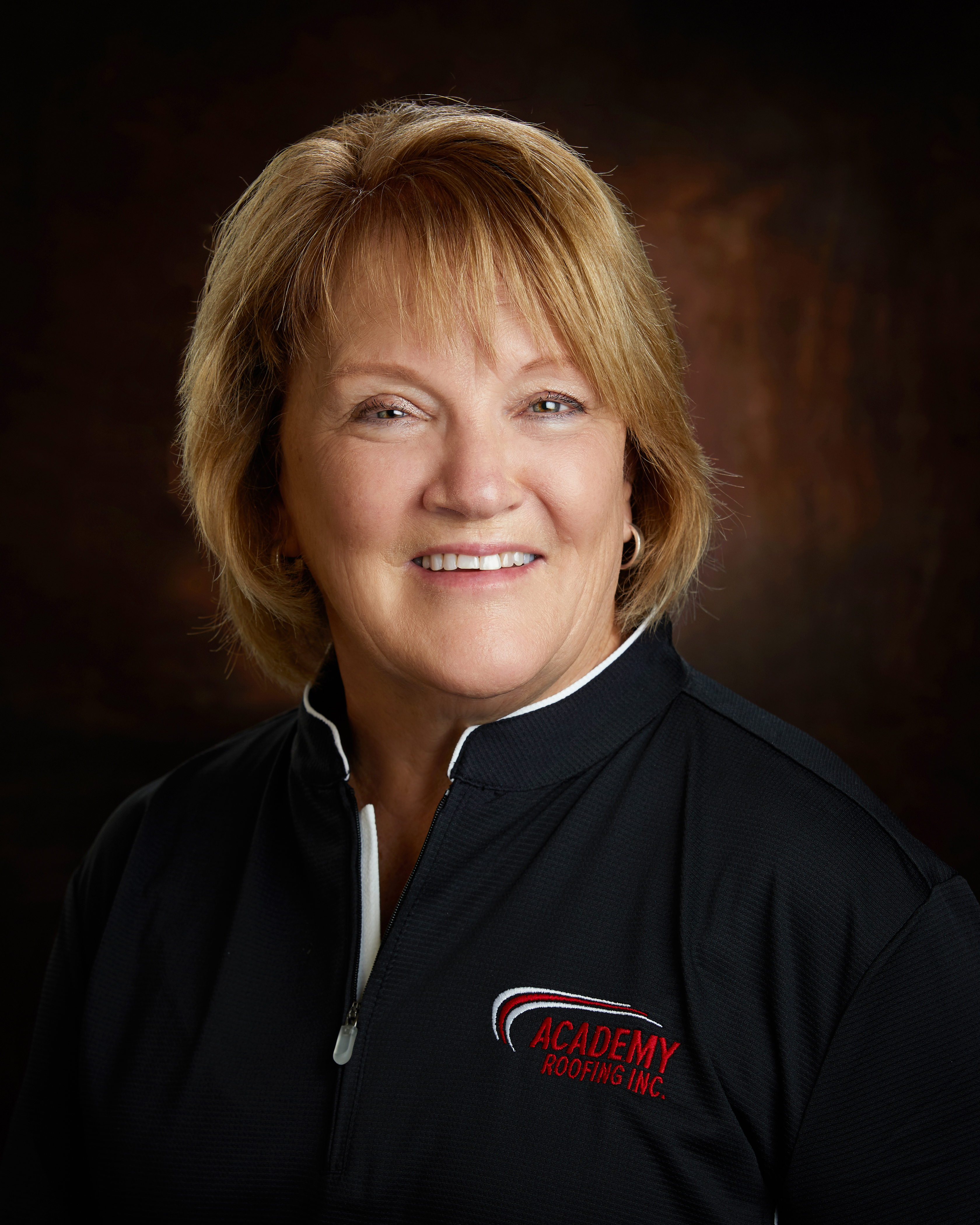 Thefts! That word describes what's happening in the roofing industry in Colorado right now. We have a group of thieves working in the metro area, and even now we're told in Colorado Springs, who are stealing roofing material from large commercial projects. The thefts include rolls of TPO (sometimes dropped from buildings as high as 4 stories), accessory materials, insulation and tools, mostly done under the cover of night. They are hitting jobsites numerous times, despite the best efforts of companies to keep their material and equipment secured. This is exactly what our company went through during the busy residential reroofing season a few years ago. Not too many weeks went by that summer where we didn't get a call from our foreman or supervisor telling us of another theft. We had insurance to cover the losses, but that did not make the thefts any easier to stomach. One astute homeowner in Northfield did recognize that three young people should not be "unloading" a roof in his neighborhood. He called the police and they were able to apprehend two people, while a third person got away. We did receive some restitution.
The only thing I believe we can do to attack this problem is to work together as an industry. I understand that we all compete with each other every day. But if you see something that seems suspicious on a construction site or at residential home, say something! Am I being a bit naïve? Yes, probably, but I guarantee someone out there knows something about what is going on. Incidentally, we are not alone in this issue. I have heard of thousands of dollars in appliances being taken out of new homes as well.
If your company has done something to curb or stop the thieves, please share it with us and we'll let others know what's working for you. If you see something suspicious, even if it's not on your jobsite, stop and call the police. If anyone contacts you and offers to sell you roofing material, obtain contact information from that person and then follow up with a call to the authorities. This problem won't go away by merely talking about it. Let's all help each other to combat this scourge. You don't want to be the next contractor whose foreman calls some morning and asks you "Where's our material?" I know all too well how that feels! Several weeks ago, Curt and I were driving home from our son's house. On East 56th Ave. in Aurora, there were three or four tables set up and the people manning those tables were selling drills, staple guns, and other small tools. On the ground were generators and air compressors for sale. We didn't stop, but in retrospect, I wish we had. Maybe it was a legitimate operation, but maybe it wasn't. Let's all do our part to get this under control!
On March 23-24, the NRCA will be hosting a virtual "Roofing Day in D.C." Over the past several years the NRCA hosted this event "in person" in Washington, D.C. I was able to attend a couple of these Roofing Days, and the experience was absolutely worth the time spent in D.C. We were able to meet face to face with our representatives in Congress and speak about the issues we face as roofing contractors. It was an invaluable experience and very empowering. Unfortunately, this year's Roofing Days will be held in a virtual format due to ongoing concerns with the coronavirus. Nevertheless, I have a feeling the experience of meeting virtually with your members of Congress will be an invaluable use of your time. Important work happens in Washington, D.C. The roofing industry MUST have its voice heard during legislative consideration. I urge you to be a part of that voice!
Last, SADDLE UP on Thursday, March 25th for the annual CRA Awards Dinner. There were a lot of amazing jobs that were submitted and we'll be announcing the winning Jobs of the Year on Thursday, March 25th via YouTube Live! Grab a beer or a glass of wine or heck, even some Kool-Aid will do, and join in the fun! We'll "see" you then.
Stay safe out there and especially stay healthy!!!
Suzie Boyd
Academy Roofing, Inc.
CRA President
---
THANK YOU to our 2021 Sponsors!
| | |
| --- | --- |
| 2021 Industry Leader Sponsors | |
| A to Z Roofing | Horn Brothers Roofing |
| ABC Supply Co. | Interstate Roofing |
| Academy Roofing, Inc. | Johns Manville |
| Advanced Roofing Technologies | Malarkey Roofing Products |
| American Roofing Supply | Metal Mart Colorado |
| Arapahoe Roofing & Sheet Metal | Moody Insurance Agency |
| B & M Roofing of Colorado | Owens Corning |
| Beacon Building Products | Pinnacol Assurance |
| Black Roofing, Inc. | SPEC Building Materials |
| CertainTeed | Superoofs |
| Daly & Black P.C. | Supreme Roofing Done Right, LLC |
| Elite Roofing Supply - CO, LLC | Tamko Building Products |
| Flatiron Steel | Tecta America - Colorado |
| Front Range Roofing Systems | The Roofing Company |
| GAF Materials | Tiley Roofing, Inc. |
| GCP Applied Technologies | Valor Roof & Solar |
| Gulfeagle Supply | |
| | |
| 2021 Silver Sponsors | |
| Calebs Management Enterprises, Inc. | RTP Roofing Co. |
| Cleasby Manufacturing | Sheffield Metals |
| F-Wave | |
| | |
Virtual Member Lunch: Achievement Now!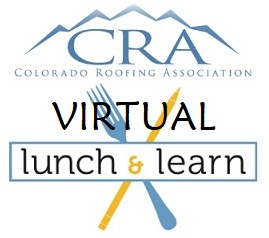 As we start to see the light to the end of the pandemic, we thought now was a great opportunity for a little self-reflection and hit of the refresh button. After the year we've all endured, we hope this topic and speaker will help everyone in some way or another, re-commit and engage with moving forward.
Yes, it is one more Zoom meeting and we hope that this too is coming to an end and that we can keep you from your typical Zoom behavior! At the end of all this we promise to gather for the new 'normal luncheon' and throw our masks in the air like a graduation cap to celebrate and welcome an in-person speaker!
Until then, let's continue to engage virtually. Grab a lunch and please join our ZOOM, March 18th. Achievement Now is a program designed to help people cultivate and recognize traits that will help you and your team prosper in today's competitive roofing market. Strategies to develop confidence, strong consistent habits with outstanding people skills and a mindset for growth and productivity will be highlighted. All are essential to winning.
Take A-Ways include:
Discover simple practices to manage mindset
Define the features of an energizing goal
Build confidence
Break out of comfort zones
Create the simple disciplines necessary for high achievement
Each attendee should leave with a clear list of their own industry specific goals, an action plan, and daily practices to manage their mindset and promote constant growth. Whether you aspire to take your career to new heights, build a successful business, improve your physical health, or personal relationships, this program will provide you with the tools that you need to thrive.
Come join us for a presentation and speaker known for contagious high energy and a presentation that promises to be relatable, witty and engaging! Yes indeed, one more ZOOM call!
Thursday, March 18, 2021

Virtual Lunch | Zoom Webinar

Noon - 1:15 pm

Cost: Free
CRA Member CIU's = 2 per person.
---
Awards Dinner | March 25, 2021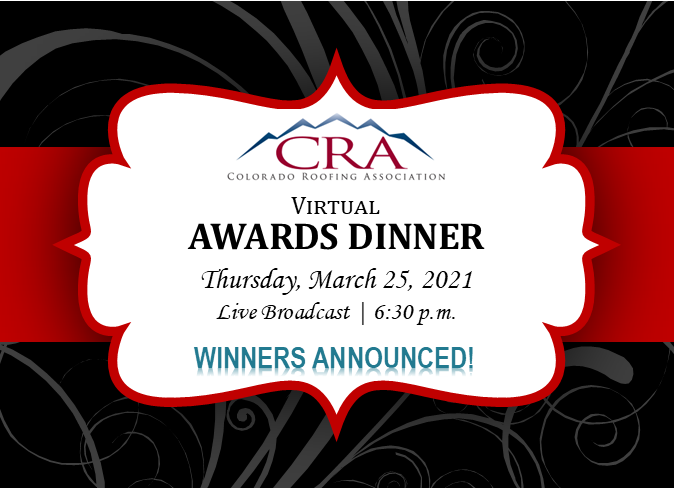 Awards Dinner Celebration | Live Broadcast | Mar 25
Join us on Thursday, March 25, 2021 at 6:30 p.m. Pour yourself a drink and grab your favorite snack and let's connect for a virtual celebration. We will celebrate 2020 and announce this year's Job of the Year Award winners. Be sure to register now so we can send you the link!
CRA Member CIU's = 1 per person. 
---
Webinar: Wind & Roofing | March 31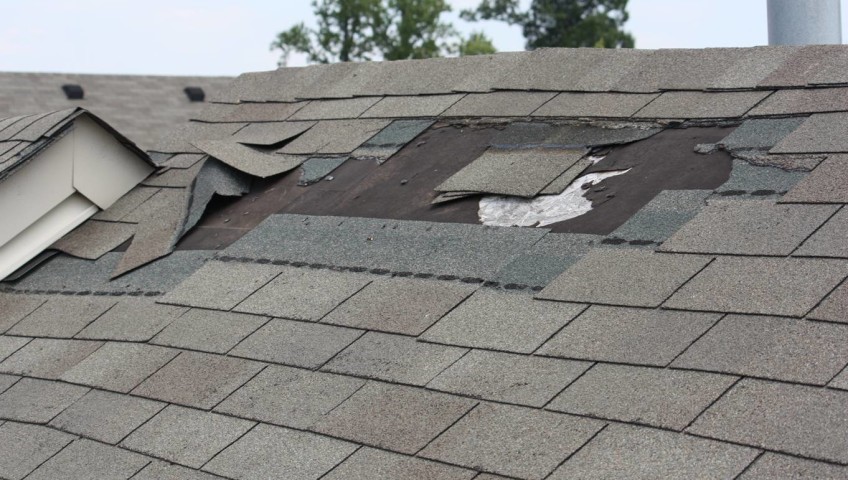 Wind...everything you should know and more!

This 2-hour virtual seminar provides a basic overview of wind types, how wind affects buildings and roof system performance and inspection tips after exposure to high wind events.
Topics Covered
Wind history and effects
How to secure a roof
Differences between shingle roofs and commercial systems
Special concerns and things to check and watch for
Related Building Codes, Factory Mutual, ANSI/SPRI and design requirements
Wind calculations
Don't miss the opportunity to gain valuable knowledge for you and your business!
Wednesday, March 31, 2020

ZOOM WEBINAR

2:00 - 4:00 pm

Cost: $30/per member and $60/non-member per session.

*Zoom meeting details will be emailed upon registration.
CRA Member CIU's = 2 per person. 
---
Trade Show | June 4, 2021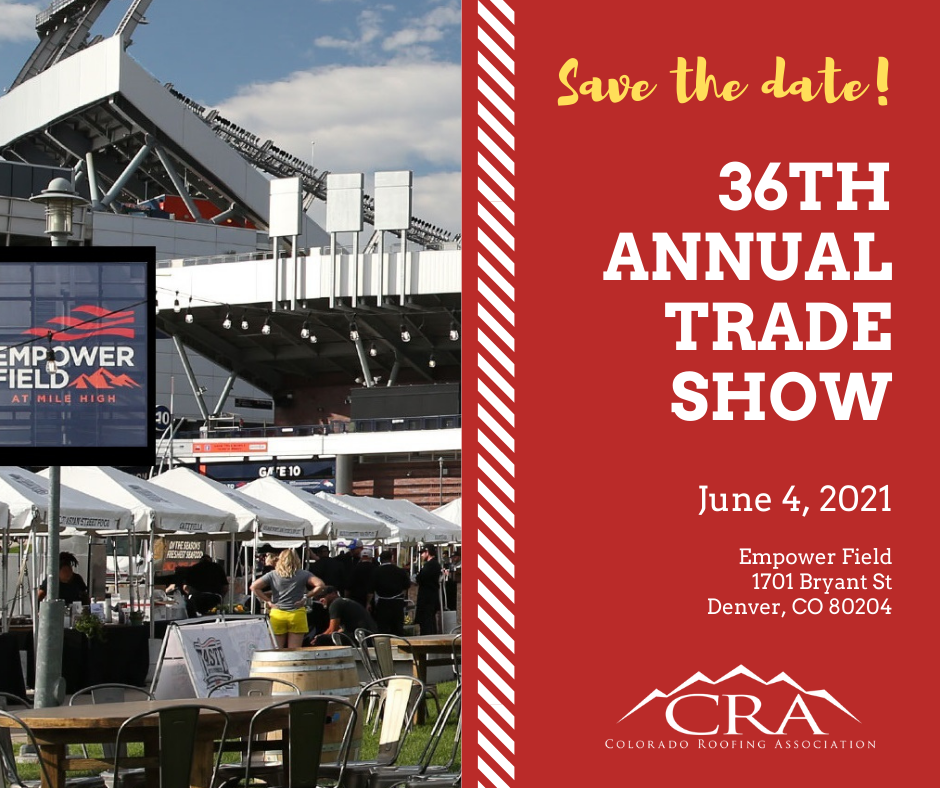 2021 Vendor & Attendee Details coming soon!
The Trade Show Committee is working hard to bring you a summer Trade Show. Vendor information will be available soon once a few more details are worked out and attendee information to follow shortly after that.
---
Click here to view the full 2020 Event Calendar
– calendar includes additional event dates, member luncheons, pinpoint seminars, Training Center courses, etc.
CRA TRAINING CENTER
Spring Training Classes | Registration Now Open
March 26 | Roof Coatings

This 1-day course is intended for installers of all levels who are seeking in depth knowledge of roof COATING systems as well as learning the types and differences between coatings, damp proofing and waterproofing along with application methods. Small class size with Covid-19 restrictions and safety protocols in place; 8 max students.
---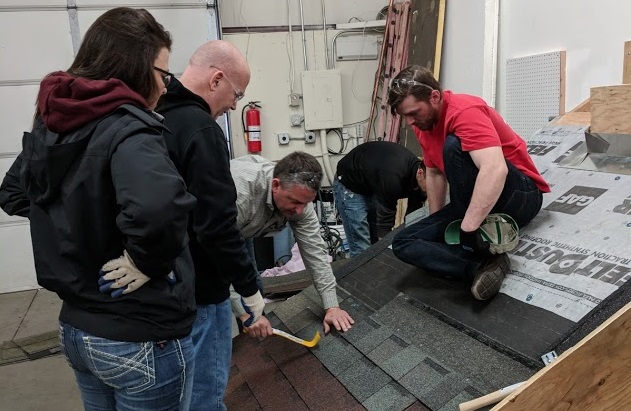 Starts Apr 6 | Introduction to Roofing
Our Introduction to Roofing class will expose students to the basics of roofing and teach them what they are doing, why they are doing it and give them an understanding that roofing can lead to several career paths within the industry. Small class size with Covid-19 restrictions and safety protocols in place; 6-day course. (April 6, 7, 8 and Apr 13, 14, 15)
---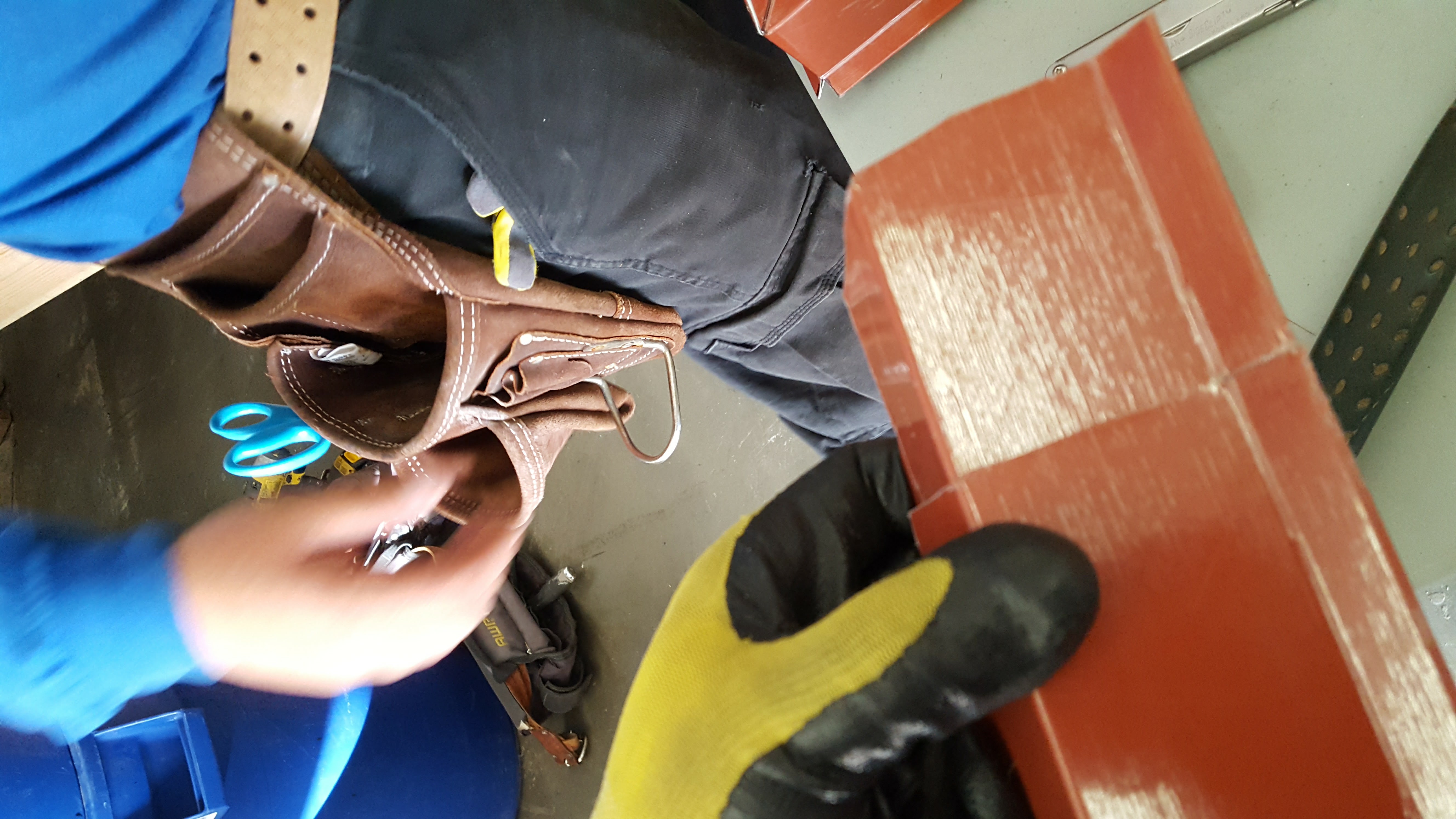 Apr 22 | Metal Roofing
This 2-day course will to expose students to working with different types of metal, issues to consider and learning proper techniques. Class is intended for students who have background in roofing and/or for installers who have not yet worked with sheet metal. Small class size with Covid-19 restrictions and safety protocols in place; Thursday & Friday, 8 max students.
---
CRA Member CIU's = 8 per person upon successful completion of course.
Click here to view the full 2020 Training/Event Calendar – calendar includes Metal 2- Day, EPDM/TPO 2-Cay, Coatings 1-Day and other Intro to Roofing dates.
COLORADO LEGISLATIVE WATCH

Get Involved! | Be a Part of the VOICE at the Capitol
Colorado
SUPPORT - HB 21-1167 - Private Construction Contract Payments - Roofing Contractors and other subcontractors commonly carry hundreds of thousands of dollars in retainage and wait on average more than five months, and often up to a couple years, for payment of retainage. During that time, those tied up funds result in a subcontractor being unable to take on new projects, hire new employees, buy new equipment and more. They must borrow money to make up for delayed capital while expending overhead resources on collection of the owed retainage. We are advocating to change this!
HB21-1167 seeks to:
Prohibits a property owner from withholding from a contractor more than 5% of the price of completed work to ensure the work is satisfactorily completed.
Contractor and subcontractors are also prohibited from withholding more than 5% from subcontractors and suppliers.
Clarify that these prohibitions do not apply to other types of contractual conditions made before payment is due.
Applies to a contract that has a price of at least $150,000; and a subcontract or supply agreement to such a contract.
HOW CAN I HELP...
HB21-1167 in being heard by the House Business Affairs Committee on Mar 17. We need you to reach out to committee members with your support this week!
Review HB21-1167 Factsheet
Copy template, customize your email and send it to the members of the House Business Committee. https://leg.colorado.gov/committees/business-affairs-labor/2021-regular-session
National
ROOFING DAY IN D.C. 2021 | VIRTUAL DAY ON CAPITOL HILL | MARCH 23-24, 2021.

The CRA is working with NRCA's efforts to promote and make Roofing Day in D.C. 2021 a big success. You—and fellow roofing professionals—will meet virtually with Congress to discuss important issues facing the industry. It is crucial members of Congress 'see you' and hear about the critical issues facing your company and the roofing industry. Learn more about Roofing Day in D.C. 2021.
Thank you in advance for your help in supporting HB21-1167 legislation in Colorado. I also urge you to be a part of and register for NRCA's Virtual Day in D.C. later this month.
Jeff Johnston
The Roofing Company
Gov't Relations Committee Chair
CODE NOTICES & UPDATES

This month's Building Code updates/notices:
Have you heard of any upcoming building code changes with any of the municipalities you work with? Please share them with us by emailing the BC&S Committee via Debbie at debbie@coloradoroofing.org.
---
GET YOUR FREE ROOFING CODE REPORTS
This is a valuable member benefit. Simply sign into your CRA member portal to receive instant access to free reports that hold the most valuable address specific building codes for roofers.

Ready to get started? Click below to pull your first report!
* If you don't know your CRA login, click here for instructions on how to activate/create your account.
** You can pull more than one report at a time, but you must return to the CRA Code page to enter each address.
WELCOME to 5 New Members(s)…
Meet our newest members who joined this past month.
2555 South Santa Fe Drive, Unit #E, Denver, CO 80223 | Ph: (303) 971-0256

Contractor - Comm/Res

409 Tia Juana St Ste C, Colorado Springs, CO 80909 | Ph: (719) 465-2788

Contractor - Residential

6475 E 56th Ave., Commerce City, CO 80022 | Ph: (877) 820-4854

Material Supplier

6225 W 48th Ave Unit 301, Wheat Ridge CO 80033 | Ph: (303) 396-6150

Manufacturer

2812 North Prospect Street, Colorado Springs, CO 80907 | Ph: (719) 368-7654

Contractor - Comm/Res
---
Planning and Flexibility Are Key to a Roofing Project's Success in 2021
Source: ABC Supply Pro Council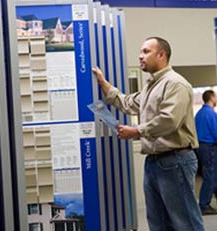 Last year brought a home renovation boom as COVID-19 prompted people to spend more time in their houses. Yet some roofing material production slowed throughout the industry, and many manufacturers changed operations to keep employees safe and healthy. As a result, certain materials were tougher to get in 2020. Whether they were working on a new construction or remodeling project, contractors and builders had to juggle their customers' expectations with the availability of materials.
The ABC Pro Council expects these challenges will continue in 2021. Here are their tips for making projects run smoothly when a material shortage is a concern:
Before discussing roofing materials with your customer, reach out to your supplier to find out what is in stock. Share only those options with your customer.
Sell styles and colors to your customers instead of brands. Recommend common colors, like black, browns and grays, that are available from many manufacturers.
Proactively communicate with your customers about availability and lead times.
Reach out to your supplier when you're unsure what to offer or need to troubleshoot a tricky customer request.
Planning ahead and being flexible is key to a successful project as the industry continues to feel the effects of COVID-19.
Continue reading other tips about roofing in 2021.
---
Stone Coated Steel Training | March 30-Apr 1

Boral is taking over the CRA Training Center at 1660 Jasper St., Unit I in Aurora, CO to help you and your team learn roofing installation and labor saving techniques on Boral's Stone Coated Steel roofing product -- including best practices on battens and direct to deck techniques. Boral is offering both crew and owner/sales training opportunities.

Mar 30 & 31 | 8:00 am-5:00 pm - Boral Steel Stone Coated Steel Roofing hands-on training (CREWS)
April 1 | 9:00 am-12:00 pm - Boral Steel Stone Coated Steel Marketing/Sales Information (Owners/Sales Managers)
Training is free; limited to 2 people per company each day. Bring your own tools. Please RSVP to Glenn Summerlin.
SAFETY SPOTLIGHT
A reminder to keep your roofing crews safe!
And to prepare for more stringent oversite by OSHA under the Biden Administration.
---

OSHA Cites Ohio Roofing Contractor After 14-Year-Old Suffers Critical Injuries in Fall

WEST FARMINGTON, Ohio — The Occupational Safety and Health Administration (OSHA) cited an Ohio roofing contractor after investigations revealed a 14-year-old boy working on a roof fell and suffered serious injuries.
According to a release from OSHA, the boy was working on the roof of a Berea, Ohio townhome without required fall protection and suffered critical injuries when he fell 20-feet to the ground. Immediately following this incident, the company's owner and three other workers put on personal fall arrest equipment to complete the roofing work in an apparent attempt to conceal the fact that fall protection was not in use at the time of the injury. The equipment had been in the employer's job trailer onsite when the boy fell.
OSHA states Double M Roofing & Construction LLC owner Melvin Schmucker attempted to hide the company's safety failures, but footage from a nearby security camera showed the boy and three other employees working without fall protection equipment on Dec. 17, 2020.
The Berea Police Department released footage related to the incident. In its report on the incident, NBC-affiliated WDTN showed video of the incident (see below) as well as 911 recordings. The footage also allegedly shows members of the roofing crew putting on safety gear after the incident occurred that was sitting in their trailer.
"A guy on a roofing crew just fell off of a roof," the caller told 911 operators. "He's unconscious. He's unresponsive in the driveway."
Continue reading full story in Roofing Contractor Magazine.
NATIONAL NEWS FROM NRCA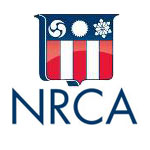 National Update: Worth sharing …
Register now for Roofing Day in D.C. 2021. Registration is open for NRCA's virtual Roofing Day in D.C. 2021, which will be held March 23-24. This year's online format only requires a couple of hours of your time for congressional meetings March 24. Visit here to register and view the agenda.
Congressional COVID-19 pandemic response. The American Rescue Plan, a $1.9 trillion COVID-19 relief proposal, likely will become law soon.
Regulatory changes to the Paycheck Protection Program. On Feb. 22, President Biden announced regulatory changes to the Paycheck Protection Program to provide special access to businesses with fewer than 20 employees and remove participation restrictions for certain individuals.
Occupational Safety and Health Administration regulations. After issuing revised guidance for employers regarding how to protect employees from COVID-19 in the workplace Jan. 29, OSHA is expected to issue an Emergency Temporary Standard for COVID-19 workplace safety rules.
Immigration reform introduced in Congress. President Biden's immigration reform proposal, the U.S. Citizenship Act of 2021, was formally introduced by Sen. Robert Menendez (D-N.J.) in the Senate and Rep. Linda Sanchez (D-Calif.) in the House.
NRCA virtual auction to support ROOFPAC closes Thursday—get your bids in now! NRCA members can support ROOFPAC, the voice of the roofing industry in Washington, D.C., by bidding on luxury items and vacations during NRCA's popular ROOFPAC silent auction, happening now at www.roofpac21.givesmart.com. You also can text ROOFPAC21 to 76278.
State tax information regarding Paycheck Protection Program taxes and deductibility. One of NRCA's largest advocacy wins of 2020 was helping to shepherd the passage of legislation that ensured expenses paid with forgiven PPP loan funds were fully tax-deductible at the federal level. Although relief has been provided at the federal level, PPP loans still are eligible for taxation in some states.
Department of Labor guidance regarding "unsafe" work and unemployment insurance. On Feb. 25, the Department of Labor's Education and Training Administration released guidance to clarify instances in which workers can refuse "unsafe" working conditions and continue to qualify for unemployment insurance benefits.
IRS releases guidance regarding the Employee Retention Tax Credit. On March 1, the IRS released Notice 2021-20, providing guidance to employers claiming the Employee Retention Tax Credit for qualified wages paid in 2020 and explaining how it relates to eligibility for the Paycheck Protection Program.
Expansion of government-mandated project labor agreements. NRCA recently signed a coalition letter to express opposition to government-mandated project labor agreements as provided for in the Department of Transportation's fiscal year 2021 Infrastructure for Rebuilding America grant program.
Source: NRCA.NET
MEMBER BENEFITS & TOOLS
This month's highlighted member benefits and tools
ADVISORY NOTICE: Roofing Contractors Must Not Act as Public Adjusters – Check Your Contract Language
The CRA Board of Directors has issued an advisory with additional information and details about these public adjuster clauses we have seen being used in Colorado that basically state that the roofing contractor may negotiate or act as a public adjuster on behalf of the owner. This is against Colorado's Residential Roofing Law (SB38) and it is required that you must be a licensed public adjuster before you take on this role. Click here to view the advisory.
Concerning Ladder Liability. Help us in educating consumers and concerned citizens about the liability and risks involved with unattended ladders set for inspectors.
CRA Safety Group Workers' Comp Program. Receive a 4%-upfront discount, group or individual loss history dividend calculation and much, much more. Members of the program automatically belong to the CRA Safety Group whose focus is on continuing safety education and training and improving safety in the roofing community. In partnership with Moody Insurance Agency and Pinnacol Assurance. Call Kim Burkhardt. at 303-824-6600 to receive additional information regarding this program.
RoofersCoffeeShop Free Classified Ad. RoofersCoffeeShop is the premier networking site in the roofing industry, helping contractors find information, materials, services, tools, labor and training in one place. Share ideas and stories in our RCS Forum, and visit their classified ads section to sell and find items and get help. Use promo code CRA for your FREE classified ad.
---
Delivery of the E-Newsletter to Your Inbox
To guarantee delivery of the newsletter to your e-mail inbox each month, we ask that you add Debbie Hathorne to your address book using the following email: debbie@coloradoroofing.org. By adding this address to your contact list, we hope to avoid spam blockers/junk mail folders and ensure your receipt of the CRA newsletter in your inbox each month. Thank you.
---
© 2005-2021- Colorado Roofing Association